View From the Legends, Gabriola Is.

Acrylic on Canvas

30"W x 15"H




The Visitor
Acrylic on Canvas
30"W x 40"H




Tofino

Acrylic on Canvas

48"W x 24"H




Royal Botanical Garden

Acrylic on Canvas

36"W x 48"H




West Coast Trail

Watercolour

14"W x 10"H




Georgian Bay

Acrylic on Canvas

40"W x 24"H




Island Time
Acrylic on Canvas
24"W x 18"H






Tuscan Sunflowers

Acrylic on Canvas

16"W x 8"H




Reflection, Virginia Lake

Acrylic on Canvas

40"W x 24"H




Venice Gondolas
Watercolour
21"W x 16"H




Grand Tetons

Watercolour




Whitemud Creek

Watercolour

14"W x 11"H




Tracy Arm, Alaska

Watercolour

14"W x 6"H




Wengweis, Germany

Watercolour

9"W x 9"H




Fjords of Tracy Arm

Watercolour

11"W x 14"H




Winter Cottage

Watercolour

6"W x 4"H




Rain Dance

Watercolour

14"W x 6"H




Sulpher Ridge 2

Watercolour

6"W x 4"H




Wildflowers, Devon

Chalk Pastel

11"W x 14"H




West Coast Trail 2

Acrylic on Canvas

24"W x 36"H




Wildflowers at Peyto

Chalk Pastel

10"W x 8"H




Approach To Cochrane

Acrylic on Canvas

30"W x 30"H




Kapiti Coast

Acrylic on Canvas

24"W x 34"H




Skagit Valley, WA

Acrylic on Canvas

36"W x 24"H




Lunch At Quail's Gate

Acrylic on Canvas

36"W x 24"H




Sisters

Acrylic on Canvas

36"W x 24"H




Gunkholing

Watercolour

28"W x 19"H




October Snow

Acrylic on Canvas

60"W x 30"H




Winter in Edmonton
Oil on Canvas
30"W x 30"H




Spring Breakup
Oil on Birch Panel
30"W x 30"H




Hope, A Portrait of Ericka

Mixed Media on Canvas

24"W x 20"H




Wisdom, A Portrait of My mother

Oil on Canvas

20"W x 24"H




Can I Come In Now?
Acrylic on Canvas
16"W x 20"H




Ericka, Dockside

Watercolour

14"W x 11"H




Black Magic

Mixed Media on Canvas

16"W x 20"H




Arianna with Levi

Acrylic on Canvas

30"W x 24"H




Monique With Sam

Oil on Canvas

20"W x 24"H




Monique

Watercolour

8"W x 10"H




Sofia, Child of the Universe

Acrylic on Canvas

20"W x 16"H




Schneider Children

Watercolour

14"W x 11"H




We're On Next
Oil on Canvas
16"W x 16"H




Pretty Boy
Oil & Marker on Canvas
20"W x 20"H




Modern Mona
Oil on Canvas
12"W x 12"H




Spotlight
Oil on Canvas
18"W x 24"H




BlueSuedeShoes
Oil on Canvas
24"W x 18"H




ErickaWithAzia
Oil on Canvas
30"W x 30"H




Snap Chat
Acrylic & Oil on Canvas
12"W x 12"H




Snow Day
Oil on Canvas
12"W x 12"H




Double Trouble
Oil on Canvas
12"W x 12"H




Miss Thrift
Oil & Metal on Canvas
12"W x 12"H




Hide
Oil on Canvas
12"W x 12"H




Justeaff
Oil on Canvas
12"W x 12"H




Summertime
Oil on Canvas
12"W x 12"H




NoLies
Oil on Canvas
12"W x 12"H




Love Me

Oil on Canvas

12"W x 12"H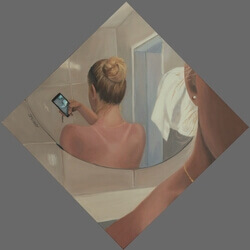 Girl With A Pearl Earring
Oil on Canvas, Pearl Earring
12"W x 12"H




Marry Me

Mixed Media on Canvas

20"W x 16"H




Model Behaviour

Mixed Media on Canvas

16"W x 20"H




Postcard from Paris
Mixed Media on Canvas
16"W x 20"H




Ericka
Mixed Media on Canvas
16"W x 20"H




Bon Voyage
Mixed Media on Canvas
16"W x 20"H




Goo Goo Over Gaga
Mixed Media on Canvas
16"W x 20"H




Forever Love

Mixed Media on Canvas

16"W x 20"H




Joy Ride
Mixed Media on Canvas
20"W x 16"H




Rehearsal

Mixed Media on Canvas

36"W x 48"H




The Gift

Acrylic and Marker on Canvas

16"W x 16"H




Banff In Winter

Mixed Media on Wood Panel

11"W x 14"H

Price Range:
Johanna Wray

Biography:
JOHANNA was born in the Netherlands and moved with her family to Alberta, Canada at a young age. Her upbringing in a European household focused on the importance of art and music as part of daily life. She practiced piano diligently, but in her teenaged years started to focus on art, which came more naturally to her.

Having received excellent instruction in art at the high school level, Johanna decided to continue her art training at the University of Calgary, receiving her Education degree majoring in Fine Arts. A couple of trips to Europe in the 70's included a "Study Abroad" program in Florence, Italy. Johanna has had the privilege to study the art of many European countries. When she came home, she continued studies at the University of Alberta and Summer Series at Red Deer College.

In 1991, Edmonton Public Schools changed art classrooms into computer labs at the elementary schools. Seeing a niche market for her training, Johanna started her own business, "Originals Art Studio," mentoring many award-winning students over the past 30 years.

Johanna was recently named as one of the "Top 60 Masters of Contemporary Art" by Art Tour International Magazine, New York. Recent shows in New York and Paris have raised her profile to an international level.

Johanna's work can be found in private collections and public spaces across Canada, in the United States, Europe and Japan.

ARTIST STATEMENT

Currently, I am working on my "Selfie-portrait Series," a series consisting of twelve works sized 12 inches (30 cm) square. I am inspired by "selfies" taken by students on my Instagram feed. For the first time in art history, the models are taking pictures of themselves en masse, creating a new genre in art. I am attracted by the unique compositions and perspective this square format dictates. I have also started a new "Fashion Series" where I make select creative cuts from a variety of magazines (recycling) and paint the resulting compositions. Both these series have recently garnered the attention of the international market and have also appeared in a number of well known magazines.

Exhibitions:

* European Exhibitions Represented by Monteoliveto Gallery
* 2020 Exhibitions Postponed to 2021
| | |
| --- | --- |
| 2021 | "Members Show: The Art of Belonging", Gallery @ 501, Sherwood Park |
| 2021 | "Emptiness", Exhibizone, Canada |
| 2021 | "1st Art Palermo International Biennial", Rome, Italy |
| 2021 | "2021 Annual International Representational Exhibition", Federation Gallery, Vancouver |
| 2021 | "365 Project", Federation Gallery, Vancouver |
| 2021 | "Curated Collection", Federation Gallery, Vancouver |
| 2021 | "Virtual Solo Exhibition", MGParis, Paris, France |
| 2021 | "Artists Choice Exhibition", Federation Gallery, Vancouver |
| 2021 | "Active Member Exhibition", Federation Gallery, Vancouver |
| 2020 | "Le SM'ART AIX 2020", Aix-en-Provence, France * |
| 2020 | "Lausanne International Art Fair", Lausanne, Switzerland * |
| 2020 | "Paris International Contemporary Art Fair", Paris, France * |
| 2019 | "Luxembourg Art Fair", Luxembourg * |
| 2019 | "London Contemporary", Coningsby Gallery, London, U.K. * |
| 2019 | "ATIM Top 60", Viviana Puello Gallery, New York |
| 2018 | Galerie Etienne de Causans, Paris * |
| 2018 | "Solo Exhibition", Studio YEG Art, Edmonton |
| 2017 | "Unbound Perspectives", Agora Gallery, New York |
| 2016 | "Big, Big Portrait Show", Naess Gallery, Edmonton |
| 2014 | APEGA, Shaw Conference Centre, Edmonton |
| 2011 | "Solo Exhibition", CIBC Wood Gundy, Manulife Place, Edmonton |
| | "The Last Picture Show", Coordinator, Jeff Allen Gallery, Edmonton |
| 2010 | Spruce Grove Art Gallery, Spruce Grove |
| 2008 | "Young at Art", Coordinator, Jeff Allen Gallery, Edmonton |
| | Spruce Grove Art Gallery, Spruce Grove |
| 2006 | "Art Walk", Edmonton |
| 2005 | "Art With Heart", Coordinator, Jeff Allen Gallery, Edmonton |
| 2004 | "Solo Exhibition", CP Station Gallery, Virden, Manitoba |
| 2003 | "Three Broads with Brushes", Johnson Gallery, Edmonton |
| | "One For the Show II", Coordinator, Jeff Allen Gallery, Edmonton |
| 2001 | "Solo Exhibition", Robert's Creek, B.C. |
| | "One For the Show", Coordinator, Jeff Allen Gallery, Edmonton |
| 1999 | "Show Your Colours", Coordinator, Jeff Allen Gallery, Edmonton |
| 1998 | Collection's Gallery, Edmonton |
| 1997 | Collection's Gallery, Edmonton |
| | "Spring Debut", Coordinator, Jeff Allen Gallery, Edmonton |
| 1996 | Collection's Gallery, Edmonton |
| | "Solo Exhibition", Jeff Allen Gallery, Edmonton |
| | Snowbird Gallery, Edmonton |
| 1995 | Snowbird Gallery, Edmonton |
| | "Curator's Choice", Edmonton Art Gallery |
| 1994 | Snowbird Gallery, Edmonton |
| | "Curator's Choice", Edmonton Art Gallery |
Public Art & Awards:
| | |
| --- | --- |
| 2021 | Collector's Choice Award, "Art Tour International" Magazine, New York |
| 2021 | International Prize, "Ambassador of Art", Rome, Italy |
| 2020 | ArtYa Award, Art Tour International Magazine, New York |
| 2019 | EAC Travel Grant, New York |
| 2019 | "Top 60 Masters of Contemporary Art", Art Tour International Magazine, New York |
| 2017 | EAC Travel Grant, New York |
| 2016 | YEGCANVAS Billboard |
| | YEGCANVAS Transit Poster |
| 2014 | Grey Nun's Hospital |
Publications:
| | |
| --- | --- |
| 2021 | "Emptiness", Exhibizone, Canada |
| 2021 | "1st Art Palermo International Biennial" Catalogue, Rome, Italy |
| 2021 | Art International Contemporary Magazine, September/October Edition, Rome, Italy |
| 2021 | "Art Tour International" Magazine, Collector's Issue, New York (Six Page Feature) |
| 2021 | "50 Artists to INVEST IN", Catalogue, Rome, Italy |
| 2021 | Art International Contemporary Magazine, July/August Edition, Rome, Italy |
| 2021 | Art International Contemporary Magazine, May/June Edition, Rome, Italy |
| 2021 | "Ambassador of Art", Catalogue, Rome, Italy |
| 2021 | "Art Tour International" Magazine, 10th Anniversary Edition, New York |
| 2020 | "Art Tour International" Magazine, Fall Edition, New York |
| 2019 | "London Contemporary", Catalogue, London, U.K. |
| 2019 | "The World of Interiors" Magazine, March, April, and May Issues, Condé Nast, UK |
| 2019 | "Art Tour International" Magazine, Spring Edition, New York |
| 2018 | "Tombola" Catalogue, Paris |
| 2017 | "Unbound Perspectives" Agora Gallery Catalogue, New York |
| 2004 | The Virden Empire-Advance, Virden, Manitoba |
| 2003 | The Edmonton Journal, Edmonton, Alberta |

Interviews
MG Paris Live