The Church of St Stephen holds two services in-person: 9:00 AM and 11:00 AM.
Under lockdown requirements, a maximum of 10 people can be in the building at one time - including the people with roles in the service such as usher, and reader. If your preferred service date and time does NOT appear on the registration form, this means no open places remain.
Please sign up by the preceding Thursday to attend the in-person worship service using the online form below. This form will...
Here are a few things to keep in mind:
We want you to know that this service is for those who are comfortable attending. We will continue to offer an online service during this time. Your safety is our main priority.
Use the graphic below to ASSESS YOURSELF for COVID-19 symptoms. If YOU feel COVID-19 symptoms, quarantine yourself, and worship online rather than in-person.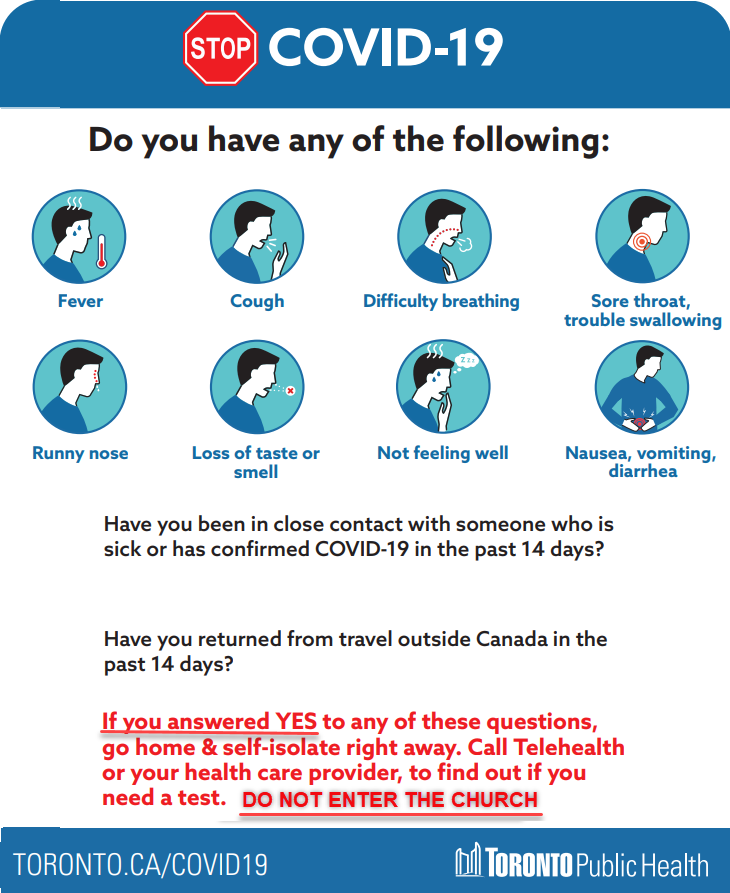 If you answer "no" to all of the screening questions, and only if you answer "no" to all of the screening questions, complete the form below to register.
When you "1-Select Week", select the DATE AND TIME. Note that you have to register BEFORE THURSDAY for this coming Sunday as we print the package for the ushers on Friday. If your preferred DATE AND TIME does NOT appear, this means all places have been reserved.
Remember to click SUBMIT when you are done. If you entered an email, you will receive an email confirmation from ststephensdownsviewoffice@gmail.com. If you entered only a phone number, you will receive a confirmation text message from 416-241-4639.