Programs and Services
Financial Assistance
DC Candlelighters is pleased to offer financial assistance to families of children in treatment for cancer. We know first-hand how families often struggle with the financial stress of treatment, compounding the strain on the family. While our funds are limited, we hope to reach as many families as possible in the DC metro area to ease this burden, at least in part.
Click here for our financial assistance policy and application, with instructions on where to send the completed application for consideration.
New Patient Care Bags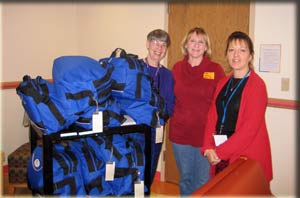 We provide Patient Care Bags to newly-diagnosed families who find themselves in the hospital after their child's cancer diagnosis. Care bags are age/gender-specific to the newly diagnosed child, and include items for both the child and the parent(s), such as toiletry essentials; information and resources on the child's cancer, a hand-made blanket, books/toys; a binder and journal to help parents keep track of treatments; gas cards; book lights.
If you are aware of a newly diagnosed family in the Washington, DC Metro area (including Northern Virginia and Maryland), who might benefit from the Patient Care Bags, please contact us at info@dccandlelighters.org.
Books on Childhood Cancer

Through our partnership with the national American Childhood Cancer Organization office, we provide books to families at little or no cost. These include age-specific books for the preschooler with cancer, children with cancer, teens with cancer, and siblings of cancer patients. Resource books are also available for parents that cover the various aspects of a diagnosis of childhood cancer, including information on clinical trials, chemotherapy, radiation, surgery, financial help, emotional and social issues, late term effects, educational issues and more.
Educational Seminars
In association with the Life with Cancer Center, DC Metro Candlelighters sponsors periodic seminars on such topics as "Educating the Child with Cancer" and "Survivorship: What's Next?" The seminars are usually scheduled around a complimentary dinner (hosted by DC Candlelighters), and childcare is provided when available.
Caregiver Teas/Meet & Greets
These are informal teas/coffee time hosted by DC Candlelighters and held at various times throughout each month at Inova Fairfax Hospital, Children's National Medical Center, Georgetown University Hospital, and the local out-patient clinics. These teas provide a chance for families/caregivers who are currently in-patient and/or receiving treatment at an out-patient clinic to speak with others who have walked in their shoes and been through the childhood cancer experience. During these visits, our goal is to reach out to as many childhood cancer families in the DC metro area as possible and offer our services, share our own experiences, and provide a helping hand, a listening ear, or a shoulder to cry on if needed.
Quarterly Newsletters
DC Candlelighters distributes quarterly newsletters to anyone who would like to sign-up to be on the newsletter distribution.