Breaking: Our Spoof Coke Christmas Event!
---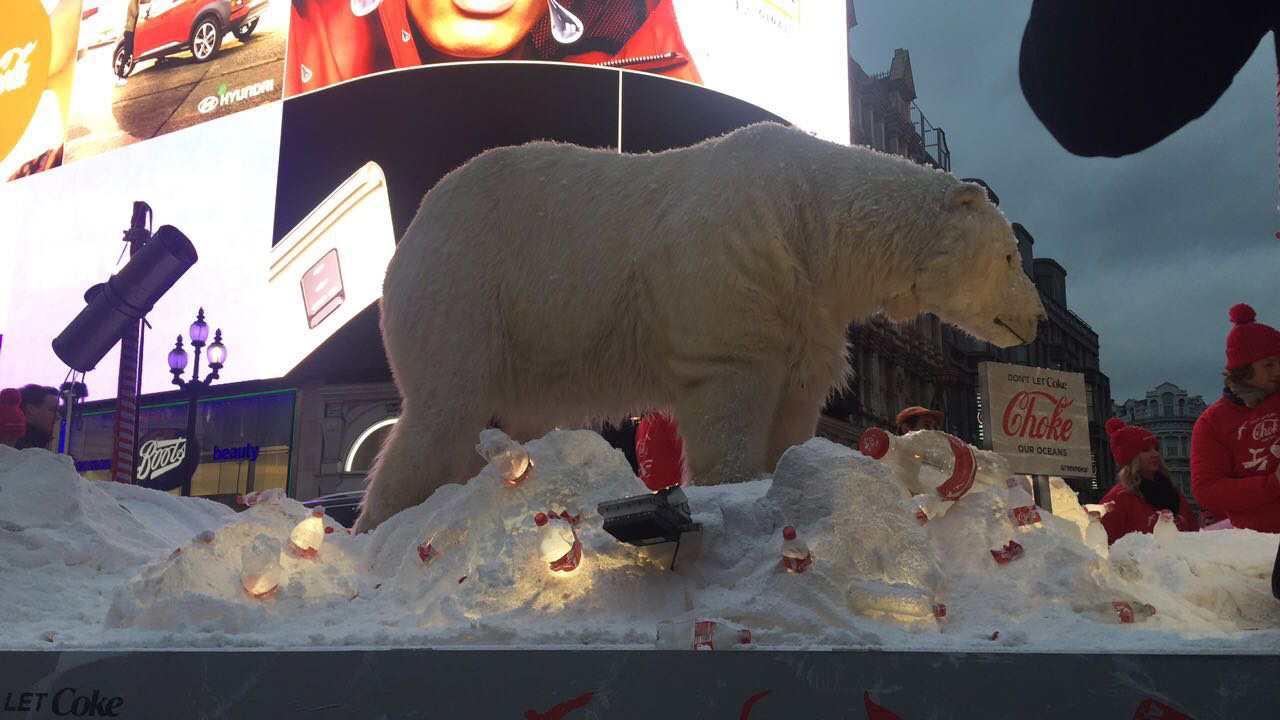 We're in Piccadilly Circus hosting a spoof pop-up Coke Christmas event, to expose the damage that is done by this global drinks giant's single-use plastic bottles. Using one of their most enduring characters – the Coke polar bear – we've created a polluted snowy icescape outside their largest billboard in London. Complete with a choir, snow and paper Christmas decorations, we're asking members of the public to take a photo with the Coke bear and ask Coke to stop choking our oceans!
As Coca-Cola ramp up their Christmas marketing with Christmas adverts and Coke truck tours, it's important to remember that every second, they produce 3,400 plastic bottles.  That adds up to a shocking 110 billion single-use bottles every year around the globe. Many of these bottles will end up in our oceans.
Whilst ocean plastic pollution usually makes us think about polluted beaches, floating plastic islands and injured sea creatures, the problem is so severe that it's also ending up in the Arctic. Although the impact on polar bears is unknown, we do know that 90% of seabirds and 1 in 3 sea turtles have ingested plastic. Microplastics have been found in everything from drinking water to beer and even our sea salt!
Plastic bottles are one of the most commonly found items on the beach surface and during beach cleans. And as one of the world's largest soft drinks companies, Coca-Cola must do more to ensure that their bottles aren't choking our oceans.
Coke have already mentioned that they are concerned about the amount of plastic in the ocean and that they want all of their bottles back. This is a noble request but the best way of stopping bottles from entering the oceans is to make less plastic bottles in the first place! We want Coca-Cola to declare the end of the age of single-use bottles by switching to reusable and refillable bottles as well as invest in alternative drink delivery systems. Join us in calling on Coke to reduce their plastic footprint. Our oceans can't bear anymore plastic !
I am a campaigner on the oceans team.
Other posts by Tisha Brown