Climate leaders don't build tar sands pipelines
---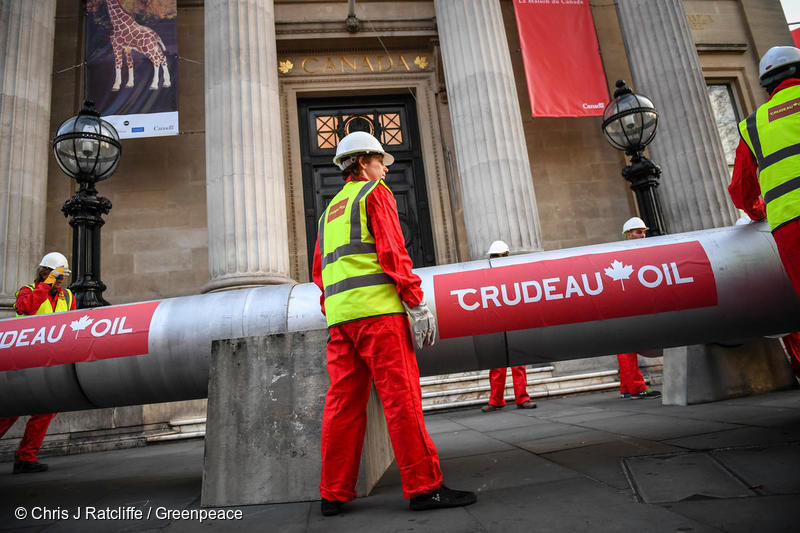 You may have seen the news recently that Justin Trudeau has gone hell for leather and committed to a bail-out for the controversial Trans Mountain Expansion Project – a tar sands pipeline due to be built in Canada.  The Canadian Finance Minister, under pressure from Kinder Morgan, announced that the federal government had reached an agreement with the company to purchase the existing Trans Mountain pipeline and infrastructure related to the Trans Mountain Expansion Project for CAD$4.5 billion ( that's £2.6 billion!) with the hope of selling it on to a new owner or owners
Pipeline companies want to build three new oil pipelines from Canada's tar sands to the west coast and down through the midwestern United States. The furthest along, and most urgent threat, is the Trans Mountain Expansion running from Alberta to Vancouver/B.C.  The other two pipelines are Enbridge's Line 3 and TransCanada's Keystone XL which are still in the planning stages.
If these pipelines are built they will cause climate chaos everywhere by locking in incredibly polluting tar sand production past 2060, using over 15% of the world's entire carbon budget.
So whilst Trudeau dines out on his reputation as a climate golden boy, his decision is in stark contrast to his supposed climate credentials and his commitment to Indigenous rights.
This is the latest in a series of desperate moves from the Trudeau to keep this flailing project alive in the face of mounting resistance. An Indigenous-led movement in Canada, the local provincial government in British Columbia and thousands of people around the world have all been taking action to show that this pipeline will cause untold damage – to people, the climate and wildlife.
All three pipelines threaten to cause untold damage to people, nature and the climate so here at Greenpeace we have been working on tar sands for many years in many different ways – and now we are building our campaign to support Indigenous Peoples, Greenpeace Canada and the many others who will stop this pipeline from happening.
And here's where you come in.  For pipelines to be built they need funding from banks. And as things stand, Barclays is the only UK bank still offering to fund these toxic tar sands pipelines.
By funding these pipelines, Barclays would actively impact Indigenous communities, threaten natural water sources, endanger wildlife in Canada and accelerate climate change everywhere.
Right now Barclays are the only bank in the UK still interested in funding new tar sands projects and over the next few months, we are all together going to be sending them a strong, clear message – no new funding for tar sands pipelines.
Change is possible.  On the same day that Trudeau made this decision, the Royal Bank of Scotland became the latest global bank to scale back financing for tar sands projects – following the lead of both BNP Paribas and HSBC.
Kinder Morgan ran away in the face of an Indigenous-led movement of people against oil pipelines. These communities have already put one pipeline company on notice – now it's time to topple the rest.
Other posts by Hannah Martin