Why, with your help, we're taking the Norwegian Government to court
---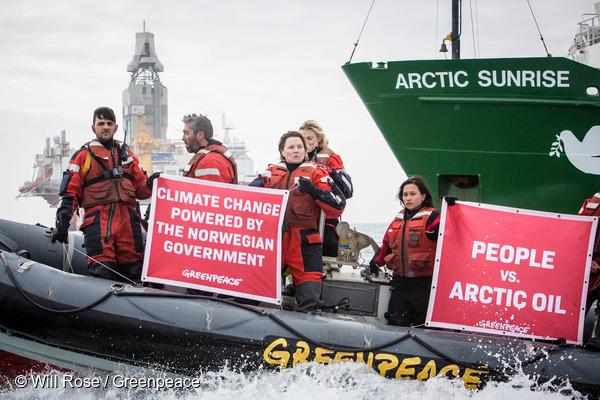 For the first time in 20 years the Norwegian government is opening up a new oil frontier in the Arctic and it puts our precious wildlife and planet at risk.
We believe this contravenes their own constitution that says the State shall ensure for everyone, including future generations, the right to a safe and healthy environment. And if that wasn't enough it also violates the Paris Agreement which exists to prevent a dangerous rise in global temperatures of more than 1.5 degrees. So we're going to court to prove it.
We can't allow governments to put short term profit before the planet and it's people like us that need to hold them to account.
So on 14 November, we'll be going up against a powerful government and the interests of the richest industry in the world. That's why we need you – to help us show the court that there's a global movement backing this case. Because we know that what happens in the Arctic happens to us all.
Will you stand with us? Donate now
Burning oil fuels climate change and there is already more oil in existence than we can afford to burn – we don't need new areas being opened for oil drilling especially in fragile environments like the Arctic.  Burning oil melts Arctic ice and fuels extreme weather events such as the recent hurricanes and floods we've seen around the world. We believe it's not legal or logical so we're taking the Norwegian government to court to stop them.
And It's not just the Arctic at risk; BP and Total want to drill near the mouth of the Amazon Reef the Great Australian Bight is under threat from Chevron and vast areas of northern Alberta, Canada are all in immediate danger from expansion from tar sands affecting the people, land, water and wildlife. Big oil companies won't stop unless someone takes a stand against them. That's why we need you, to help us show in court there's a global movement backing this case.
It takes time and money to take on a government so we're currently asking our supporters to help fund the best legal team to block the Norwegian government's decision to drill for oil in the Arctic. It could make sure no new oil drilling sites are opened up in the Arctic and set an international precedent that could stop oil expansion in other fragile places around the world. That, to me, would make it worth every penny.
Your financial support could help us gather the evidence needed to uncover and broadcast Statoil's drilling plans and make sure we have the strongest case possible to win. With your help we stand a good chance of keeping millions of barrels of oil in the ground.
Greenpeace and it's supporters are uniquely placed to make an example of this court case because we've been to the Arctic and showed the world what we have to lose if there is an oil spill in the treacherous waters there. We're also working with our Norwegian friends Nature and Youth who have already helped us get more than 390,000 people to sign a petition that we'll submit as evidence of the growing global movement against Arctic drilling.
Will you join them? Donate now
We've taken on Big Oil in the past and won; in 2015 Shell backed out of drilling in the Arctic and earlier this year we stood with the Inuit people of Clyde River, Canada to stop an oil project that threatened their wildlife.
Winning this case would be a massive blow to the expansion of the oil industry. And even if we lose we will continue to protect the planet, now and for future generations.
Thanks to you we can make a real change from dirty fossil fuels to smart, cheaper and renewable energy sources. With your help we will do everything in our power to keep oil in the ground to safeguard our planet.
Please support us today –  Donate now
Please note your gift is vital and will fund the campaign area of greatest need, if appropriate.
Other posts by Neilza Polidore