Holland & Barrett: Help stop the krillers
---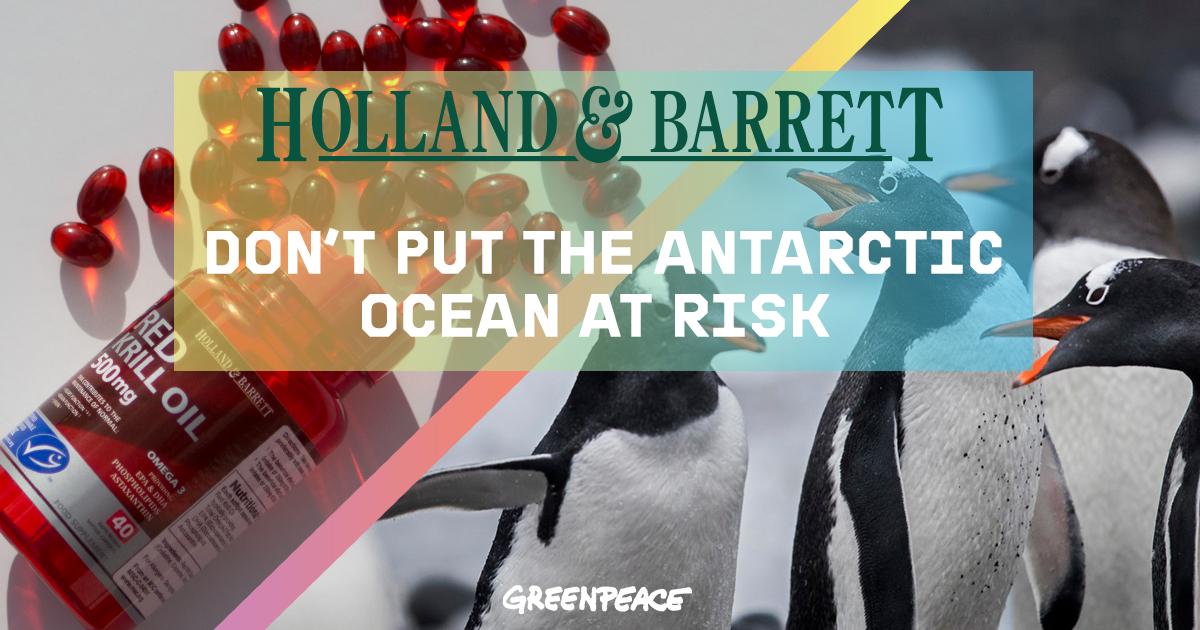 With a changing climate already placing penguin and whale populations under pressure, an expanding krill industry is bad news for the health of the Antarctic Ocean. Krill may be a tiny, shrimp-like creature – but it sustains all life in the Antarctic Ocean, from massive blue whales to colossal squids to penguins.
Yet over the past decade, krill fishing activity has become more and more concentrated around the Antarctic Peninsula, and on the edge of the Weddell Sea – areas that have been recommended for protection by government scientists, as the foraging grounds of whales and penguin colonies.
Sales of krill oil health supplements are fuelling the expansion of krill fishing in these sensitive Antarctic waters. The krill industry is in its relative infancy, but has a big ambition to grow quickly in coming years with plans to rake in nearly $400m from lucrative krill oil supplements in 2021 – the lion's share of the overall krill oil market.
The UK is the fourth largest krill oil market globally, with krill oil products sold and marketed on the high street and online as a source of omega-3 fatty acids. That means even though Antarctic fishing is happening thousands of miles away, we have a big opportunity to influence this global industry – through the well-known UK retailers that stock krill products on their shelves.
At the moment, UK sales are helping to fuel and justify the krill fishing industry's expansion plans. Yet over 275,000 people are backing our call to protect the Antarctic, and put its waters off-limits to fishing vessels. That's why we're calling on Holland & Barrett to be on the right side of Antarctic protection, and urge its suppliers to get out of waters that need protection.
Holland & Barrett is one of the leading stockists of krill oil products in the UK, and even sells own-brand packs of krill oil on the high street and online. The krill fishery that supplies all these products is fishing in areas under consideration for protection, meaning Holland & Barrett can use its influence as a buyer to pass on the message to its suppliers: no krill should be fished in areas that are being considered for protection.
Holland & Barrett claims leadership on environmental issues, telling Greenpeace that Holland & Barrett "take great pride in our ethical and environmental friendly policies". It sells a range of alternative omega-3 fatty acids, from algal oil to brown seaweed and flaxseed linseed oil. Holland & Barrett have defended their sales of krill oil as "harvested from sustainable sources", certified by the Marine Stewardship Council (MSC). Yet with vast uncertainties over krill numbers and how climate change will affect krill populations in the Antarctic, how can it be possible to call krill fishing sustainable?
Even worse, a Greenpeace investigation recently revealed that krill vessels are undertaking risky practices in Antarctic waters. Krill companies and retailers need to be doing far more to protect the Antarctic – namely, making sure that no krill is fished in especially sensitive areas earmarked for protection.
Holland & Barrett have previously taken action to protect our oceans, and were the first major UK retailer to ditch plastic bags and ban microbeads. But it is lagging behind on krill oil – several UK retailers such as Sainsbury's, Co-op and Waitrose do not or no longer stock krill oil products. With ambitions to become a leading global health and wellness retailer, Holland & Barrett can play an important role in sustaining or undermining the expansion of krill oil products globally.
It's time that Holland & Barrett recognised the role they can play in protecting the Antarctic – rather than justifying industrial expansion in the homes of penguins and whales.
I'm a campaigner in Greenpeace UK's oceans team, leading our campaign to create the world's largest protected area in the Antarctic ocean.
Other posts by Louisa Casson