London election: What do the candidates have to say about solar power?
---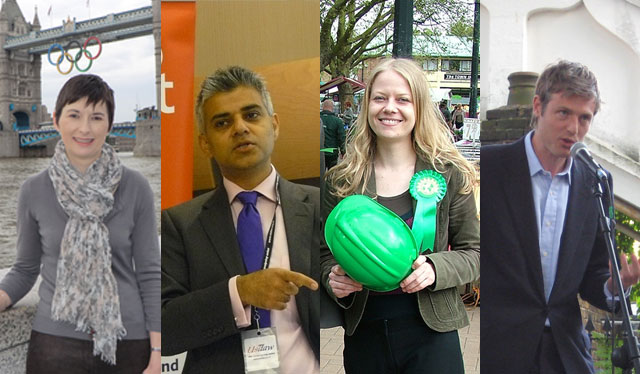 It has been two months since Greenpeace called on all mayoral candidates to set out clear plans to solarise London and commit to delivering a tenfold increase in solar power over the next 10 years. This target would see solar rolling out across an equivalent of nearly 200,000 rooftops across the capital by 2025.
A few weeks later we asked mayoral candidates Zac Goldsmith (Conservative), Sadiq Khan (Labour), Caroline Pidgeon (Liberal Democrat) and Sian Berry (Green) at an environmental hustings event if they would sign up to our solar target. It was great to hear all four committing to our ask.
But looking at the small print, what has each candidate actually said, and who fares best when it comes to our ambitious but realistic target to solarise London? Let's take a look (in alphabetical order)…
Caroline Pidgeon – Solar target in her manifesto
The Liberal Dem candidate has put our solar pledge at the heart of her manifesto. It says she will: "set a target to roll out solar across an equivalent of close to 200,000 London rooftops by 2025 and argue for a higher feed in tariff regime for London. Delivering 750MW of solar power by 2025 would increase London's solar capacity by tenfold over the next 10 years – bringing huge benefits to millions of people across the capital, including lower bills, new jobs and investment and cleaner, greener energy to power our city."
Sadiq Khan – Cares about solarising London, but nothing in writing on the target
Despite previously giving a verbal commitment, it is disappointing that Sadiq Khan has hasn't featured Greenpeace's solar target in his manifesto. However, there's no question Sadiq is signed up to promoting clean energy across the capital. On solar specifically, Sadiq told us: "London is a city of roofs and we should be making much more of this potential for generating green energy. I'm committed to being the greenest Mayor London has ever seen, and I'll make sure we take the lead on this with GLA and TfL buildings and land, installing solar panels, and generating the clean and green energy we need".
Sian Berry – Passionate about turning London renewable – with solar playing a key role
The Green mayoral candidate has a lot to say on clean energy, with a commitment to run London completely on renewable energy by 2050, and solar playing an important role. Sian told us: "I have pledged to set up a new London Energy Company as the first step towards a renewable energy revolution in a city that could supply 20 percent of its electricity from solar power alone – compared with the present 1 per cent. The company will start by installing solar panels across TfL's own 5,700-acre estate of stations, depots, offices, other commercial units and brownfield sites. These steps will deliver at least 750MW of solar power by 2025, equating to a tenfold increase in London's solar capacity over the next 10 years."
Zac Goldsmith – Solar is a priority; signed up to the target, with some good plans for delivery
Unsurprisingly there's quite a bit from the former Ecologist magazine editor and green campaigner on solar. His manifesto says: "I will spark a solar revolution. Only one per cent of London's energy is currently produced from solar power. I will aim for a tenfold increase by 2025, which would mean 200,000 London homes powered by the sun."
Zac's manifesto also outlines plans to encourage developers to promote solar, to launch a new programme of "solar powered estates" – bringing together housing associations, community energy groups and investors, and to champion the latest building techniques that combine solar and battery power.
So there you have it: strong support for solar from all of the main London mayoral candidates, and commitments in writing to our solar pledge from three out of the four. With three weeks to go until voting day on 5 May, let's hope we can get 4/4. All is still to play for – and we will be watching closely to see which candidate proves greenest of them all.
Other posts by Diana Vogtel