Microbeads ban creeps closer as MPs demand action
---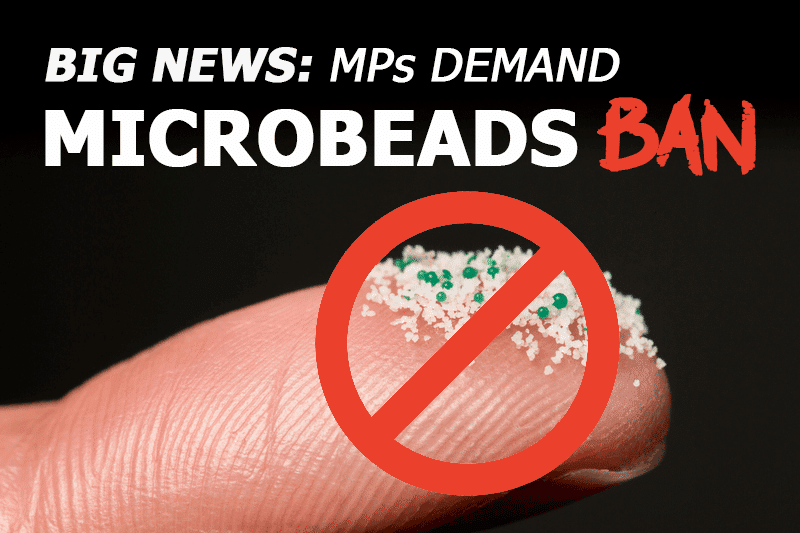 Great news this morning – an influential government committee just backed our call for a ban on microbeads!
Sign the petition – ask Theresa May's Government to show leadership on this important environmental issue and ban microbeads.
It's rare that MPs from across the political spectrum agree – but today Environment Committee MPs united to say that microbeads are harmful to our oceans and should be banned.
That's a huge victory for the 330,000 of us who signed a petition for a ban on these ocean polluting bits of plastic being added to household products.
It seems like everyone is now in agreement with what seems really obvious – adding tiny bits of plastic to products that go straight down the drain, past sewage filtration systems and out to our rivers and seas to be eaten by wildlife is not such a good idea…
The report had lots of interesting facts – here are the ones that grabbed our attention:
A single shower can result in 100,000 plastic particles entering the ocean
Between 80,000 and 219,000 tonnes of microplastics enter the marine environment across Europe per year
We find pieces of plastic in every sample of seawater we study from round the world
An average plate of oysters could contain up to 50 plastic particles
Our chair @MaryCreaghMP explains why we're calling for a ban on microbeads in cosmetics. https://t.co/a8uP0zUAE9https://t.co/VZdjS9mnoq

— Env Audit Committee (@CommonsEAC) August 24, 2016
The committee also trashed the idea that voluntary 'phase-out' commitments by companies will work. As the committee chair Mary Creagh put it, "Cosmetic companies' voluntary approach to phasing out plastic microbeads simply won't wash. We need a full legal ban."
We recently ranked the 30 biggest cosmetics companies – including Chanel, L'Oreal, Revlon and others – by their microbead commitments, and while some are doing better than others, none of them are going far enough. Companies define microbeads differently, they have different time frames for phasing them out, and some of them are limiting that phase-out to certain products. A weak voluntary 'phase-out' of microbeads like this will lead to plastic still entering our oceans.
So great news today – but as ever the devil will be in the detail. That's why we need to work hard now – first to get Theresa May to support a ban and to second ensure that corporates can't continue to try and limit the ban to specific products.
While people have mostly heard about microbeads being in face scrubs and shower gels they can be found in a wide range of products – including deodorants, sunscreens, shaving foam, household cleaners and washing powders.
Whether a plastic microbead comes from a face scrub or household cleaner makes no difference to a turtle or fish who can easily mistake these tiny pieces of plastic for food. That's why we need to ban microbeads from being added to any products which can go down the drain. It's the only way we're going to eradicate the problem of microbeads for good.
So what can you do?
Sign the petition – ask Theresa May's Government to show leadership on this important environmental issue and ban microbeads.
And while we wait for a ban you can use the Beat the Microbead app to identify which products are microbeads free!
Twitter: @fifinicholls Instagram: @fifinicholls35mm
Other posts by Fiona Nicholls