In pictures: penguins rise up across the UK to call for Antarctic protection
---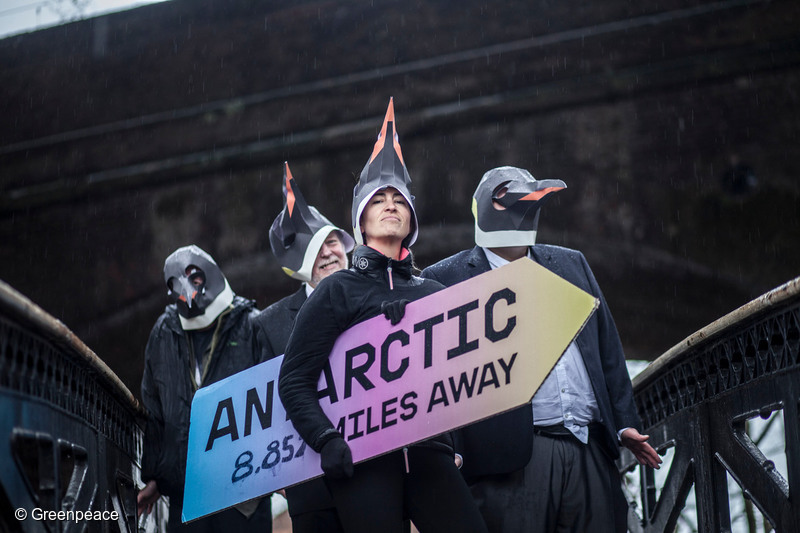 On Saturday January 20th, penguins rose up in their thousands, taking on town centres and tourist hot spots all around the world. Here in the UK, volunteers were undeterred by the January drizzle, donning tuxedos, onesies and paper penguin masks to raise awareness about the plight of the penguins and the campaign to Protect the Antarctic.
Events coincided with Penguin Awareness Day and volunteers collected signatures for a petition calling on world leaders to create the largest protected area on Earth — an Antarctic Ocean Sanctuary. If realised, this would put the waters off-limits to industrial fishing vessels and create a safe haven for the penguins, whales and seals that call the Antarctic Ocean home.
So what better way to deliver this message than to take to the streets in a waddle (the correct term for a group of penguins)?
In Walthamstow, penguins enjoyed a spot of yoga in the park. In central London, they tap danced outside the National Theatre. In Edinburgh, they marched on the castle and in Bath, they decided against a dip in the Roman baths.
And it didn't stop there. In Croydon, penguins visited an art gallery and in Huddersfield, they looked longingly at food in the fish market. In Norwich, they took over the Royal Arcade and in Bournemouth; they gave flight to the famously flightless birds by braving a zip wire that propelled them across the ocean. The lengths Greenpeace volunteers will go to to protect our natural world never ceases to amaze!  
Although the wind and rain tried to dampen spirits and masks alike, the penguins persevered and the campaign to Protect the Antarctic marches on – with over half a million people around the world now calling on governments to create an Antarctic Ocean Sanctuary.
Join the call for protection – protecttheantarctic.org.
I'm a creative producer for Greenpeace UK
Other posts by Emily Buchanan