Rebecca from Belfast – Why Barclays needs to stop funding tar sands pipelines
---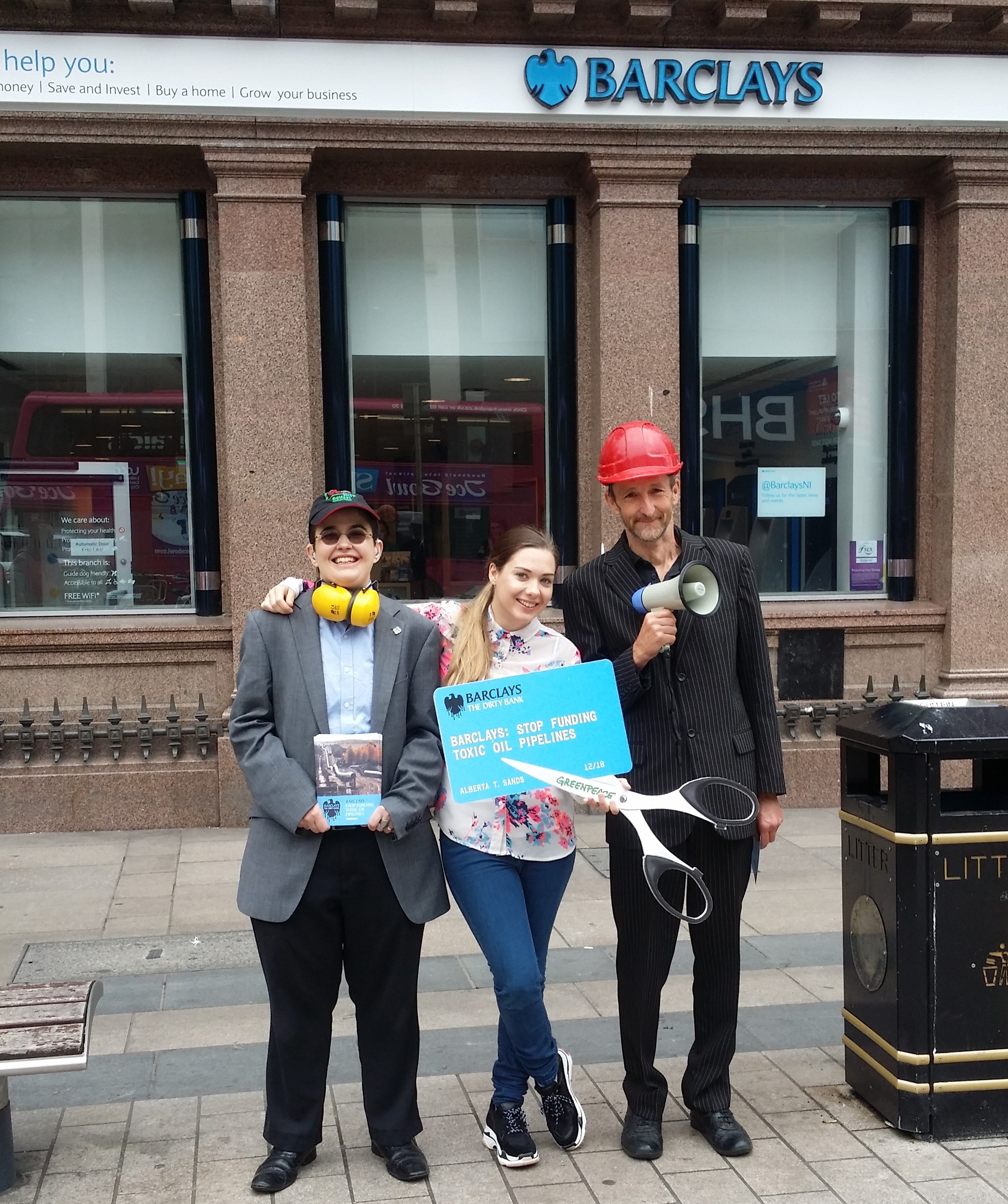 My name's Rebecca and I am a self-published author, writing science fiction based on current environmental issues. I've been running the Belfast Greenpeace group since February this year and of the campaigns I've been involved in, I find the current pipelines campaign against Barclays really important.

The reason I feel strongly about tar sands pipelines in general is because they will distribute millions more barrels of dirty oil to the world, and all in the name of profit. The more I think about the issue, the more compassion I have for the Indigenous communities and the vulnerable, wildlife affected by them.
Imagine three gigantic pipelines running through two of the biggest countries in the world, over many miles of forests, mountains and rivers. For the oil companies and the banks involved in their construction, the pipelines are supposedly 'necessary'. Yet never at a point in our history has the need to take action against climate change been greater and it is not too late for Barclays to choose to be on the right side of history.
So when other volunteers and I were standing outside a Barclays branch in Belfast with a stall and materials, it was a priority of mine to make sure I was sending a clear message to the bank that local people, including their customers, won't stand for it.
We collected signatures from Barclays customers and other members of the public, calling on the bank to stop funding these toxic tar sands pipelines in Canada. For a bank whose operations in the UK largely focus on serving local customers, it's so important that campaigns like this raise awareness among the same people.
One of the people we spoke to that afternoon, a Barclays account holder said, "I will transfer bank accounts if they don't stop future funding. It's an absolute disgrace that a bank I once admired, who helped fund me through university, is now propping up a company who helps destroy our planet".
For the sake of Indigenous communities, water, wildlife and our shared climate, we need to join the global movement in stopping the tar sands being exploited before it's too late.
We have the technology to make this kind of devastating exploitation a thing of the path. The future is in renewables and the sooner major funders of tar sands oil pipelines realise the true cost of funding this archaic source of energy the better.
Other posts by Greenpeace UK