A wrist of luxury
Luxury wristwatches at the centre of new corruption allegation against Obaidul Quader, the Bangladeshi minister of road transport and bridges.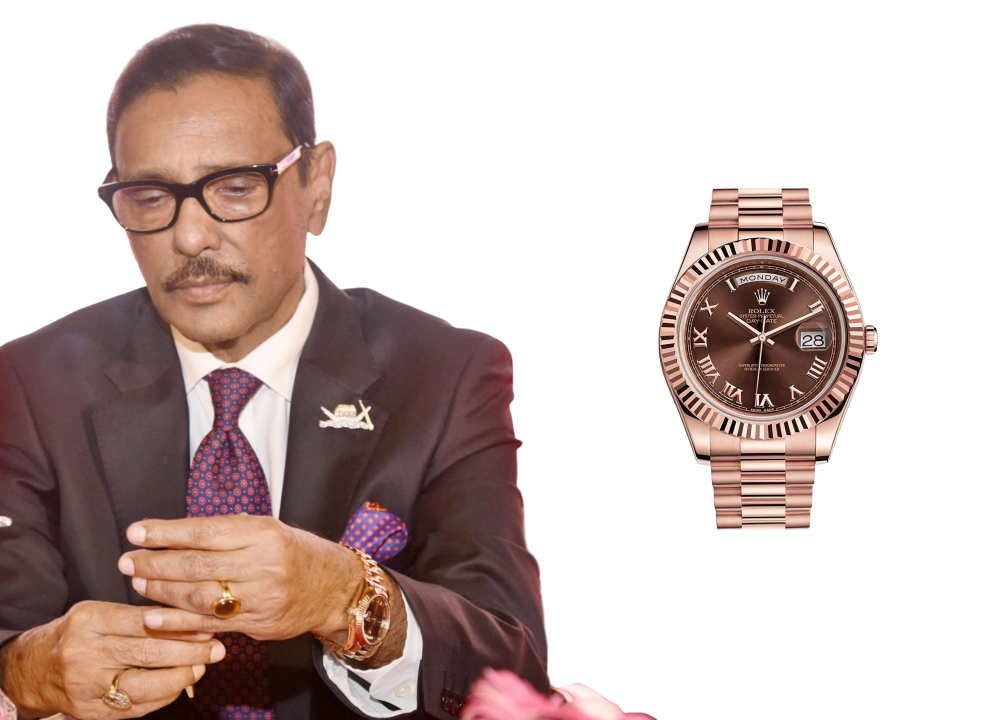 Allegations of corruption against Obaidul Quader — the newly-reelected general secretary of the Awami League — are nothing new. According to his own affidavit filed with the Bangladesh Election Commission, there were at least six corruption cases pending against him in 2008/2009. Most of these cases were filed by the military-backed caretaker government which took over in 2007. These cases were quashed by the courts when the Awami League returned to power in 2009. Now, after all these years, a new allegation of corruption has surfaced against this influential Bangladeshi minister, albeit with a very novel element.
A whistleblower contacted Netra News with the claim that Obaidul Quader prefers to receive bribes in the form of expensive wristwatches. This individual was closely involved in a deal in which the minister of road transport and bridges received a luxury brand watch in exchange for awarding a lucrative contract. They showed us photos of the watch, its serial number and other details of provenance. They were also able to show us a photo of Quader proudly sporting the watch at an important event. The whistleblower also claimed that the fact that the minister has a very special fascination for expensive brand watches, and that he prefers to take them as "gifts in return of big favours" is an "open secret" among Bangladeshi and foreign contractors — "anyone who walks through the corridors [of the ministry]."
According to our agreement with the whistleblower and to ensure source protection, we are not disclosing the details of the specific watch and other corroborating information that may reveal the identity of the individual and jeopardise their security.
We can, however, reveal that, while trying to verify the whistleblower's allegation, we found strong evidence of a large collection of luxury brand watches in Obaidul Quader's possession. Many of these watches are worth tens of thousands of dollars, and the evidence was hidden in plain sight: on his verified Facebook profile, the minister who is well-known for his sartorial display, has been posting photos of himself wearing these watches. We were able to gather hundreds of such photos.
We enlisted the help of horologists (experts on watchmaking), watch collectors, watch enthusiast groups on Reddit, and luxury watch dealers in the famous jewellery quarter of Hatton Garden in London. With their help, we were able to definitively identify some of the watches in Quader's collection. These watches — from brands such as Rolex, Ulysse Nardin and Louis Vuitton — are worth tens of thousands of dollars.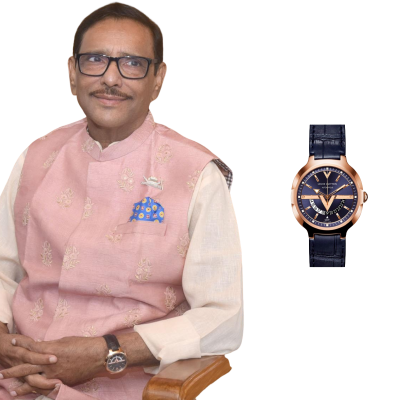 [Photo: A watch on Obaidul Quader's wrist closely resembles a Louis Vuitton GMT Voyager (pink gold version), $15,000/Tk. 12,72,000.]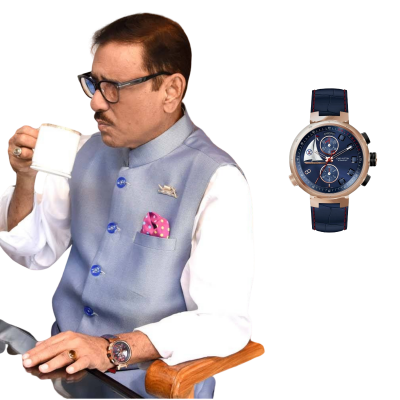 [Photo: This watch on Obaidul Quader's wrist closely resembles the special Louis Vuitton Tambour Spin Time Regatta watch which was sold for €40,000 ($44,000/Tk. 37,31,500) at the Only Watch 2013 charity auction. A spokesperson for Only Watch told Netra News that they do not keep any records of the buyers who bid at the auction.]

While it is possible that he bought these watches himself, neither his publicly disclosed wealth statement nor his income declaration confirm such an assumption.
The figures simply do not add up.
According to an affidavit Obaidul Quader himself filed with the Bangladeshi election commission in 2018, and to which he attached his income tax certificate for that year, his total yearly income was Tk. 31,17,651 ($36,790). This included Tk. 12,60,000 salary as a minister and Tk. 4,89,651 as royalty for the books he has written. One of the Rolex watches we identified on his wrist, a Day-Date, is worth $34,000. Nowhere in the affidavit or the tax certificate there is any mention of this or the other watches, in apparent violation of Bangladeshi election code and tax laws.
[Photo: A watch closely resembling a Rolex Datejust on Obaidul Quader's wrist, $11,000/Tk. 9,33,000.]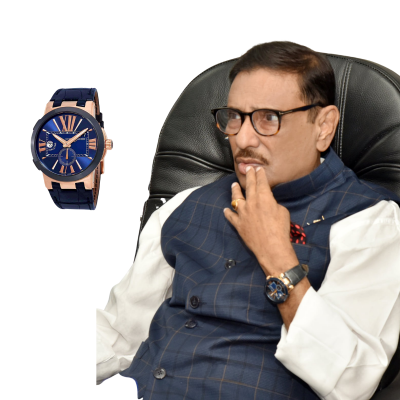 [Photo: A watch on Obaidul Quader's wrist closely resembles an Ulysse Nardin Executive Dual Time, $12,000/Tk. 10,16,200.]

To test the hypothesis that these watches are not genuine, we consulted an expert-cum-dealer who specialises on fake, replica watches. We were told that while it is possible that some of the watches in Obaidul Quader's collection may well be fakes, the most expensive timepieces in his collection are too recent to have been made into replicas. Moreover, some of these watches contain some features so complex that even the replicas are often worth thousands of dollars.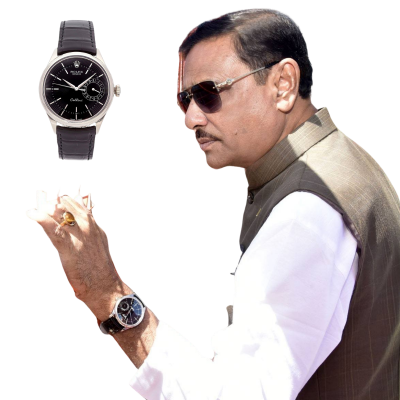 [Photo: A Rolex Cellini (white gold), $11,000/Tk. 9,33,000.]

We sent a set of specific questions to Obaidul Quader, through his public relations officer, offering him a chance to comment on the allegation of corruption and to explain his possession of such luxury brand watches. We have not yet received any response to our query.
[Photo: Rolex Datejust (diamond dial), $11,000/Tk. 9,33,000.]

In recent weeks, Obaidul Quader has been very vocal about taking action against corrupt politicians in his own party. This was since the government launched its much hyped-up anti-corruption drive with much fanfare. On one occasion, during a press briefing in October, he advised journalists to "write [freely] about allegations of corruption and irregularities against the ministers and lawmakers [of his party]." We were unable to identify the wristwatch he was wearing during that press briefing.●