Sealcoating
The Pinx Group professionals are trained in all aspects of seal coating and repairs from proper preparation of existing surfaces, applying multiple coats of high-performance topcoat materials, blending and matching colors to existing driveways and patios, repairing potholes and cracks, filling expansion joints to prevent further damage. The Pinx Group offers the most comprehensive solutions in asphalt maintenance services.Pinx Group sealcoating is a performance-based, eco-friendly process of pavement preservation that enhances the look, safety, and functionality of your existing driveway. We can help protect asphalt from the damaging effects caused by erosion, water, and ultraviolet light. We know you want your driveway to look good as long as possible. For that to happen, we will apply topcoat sealer in a way that reduces the amount of traffic on the surface and help protect it from UV rays and water infiltration that will accelerate the process of fading and deterioration. You can take advantage of our excellent value discount services at very competitive prices.We are your trusted professional and guarantee you will be satisfied with our services. The Pinx Group of Companies has a 100% customer satisfaction rating, year after year. We use only the highest quality products available on the market today that include: topcoat sealer, gravel base overlays, waterproofing membrane overlay UV resistant coatings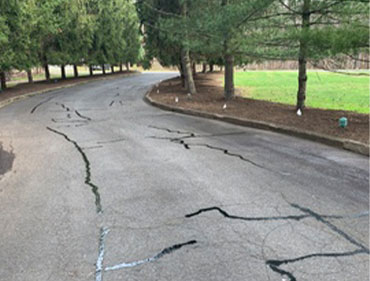 Concrete Repair
Pinx Group specializes in concrete repair and other services we specialize in sidewalk repair, crack-filling, and total removal & replacement. Pinx Group is the expert at repairing concrete problems of any size or shape. Whether it's sidewalks, driveways, patios, or foundations we can help you with all your concrete needs.Unsightly cracks and spalling concrete can weaken the structural integrity of a sidewalk or foundation, putting property at risk from water penetration. If you've reached the point where you feel your only option is to replace it, there's an alternative; driveway repair. Driveway repair may be less costly than a total replacement which means a smaller investment on your part. You can avoid the high cost of ripping out a concrete area, and instead have it repaired at a fraction of the cost.Repairs are done without tearing out the old concrete. Instead, we remove loose debris to expose the damaged area so it can be cut away and replaced with new concrete. After this is complete, our driveway repair specialists use a high-density foam for quick drying and ideal expansion. We then compact it to eliminate any air pockets, and finally, we top the concrete with a new seal coat.By repairing concrete instead of replacing it, you are saving on time and money. You'll be able to use your driveway or sidewalk again in just one day rather than waiting weeks for the new concrete to dry completely; eliminating the risk of someone tripping, or damaging the area before completion. Another benefit is that it's more environmentally friendly. You are saving on the need for new materials which means less energy is used in producing the concrete and removing any debris from the rubble. The repair only uses a small amount of water so there is no need to worry about the runoff from rainwater or melting snow.If you are ready for your cracked driveway or sidewalk to be repaired to avoid costly replacement, contact us today! Our knowledgeable staff can answer any questions or concerns that you may have about this process.
Driveway Repair
At the Pinx Group, we are proud to offer top-quality asphalt maintenance services across the region and surrounding areas. We know that you care about your home or business property, which is why we provide a wide variety of high-quality solutions to keep your property looking new and extending the life of existing asphalt pavement.No one wants to deal with the hassle of a pothole in their driveway. We know that you want your asphalt pavement to last as long as possible and avoid costly repairs, which is why we offer quality repair services for all types of asphalt failure. Pinx Group's driveway repair team can quickly assess and diagnose the issue so that it doesn't get any worse, and then help fix the problem by applying permanent patches or overlays where needed. You don't need to worry about your curb appeal deteriorating either because our team will leave your property looking new!We provide a number of long-term solutions for asphalt pavement, depending on the needs of your property. Pinx Group team can apply a water-based sealant or polymer emulsion to existing asphalt or paving stone to protect your home or business from cracking, buckling, and early deterioration due to environmental exposure or improper drainage.When removing existing asphalt or paving stones, Pinx Group can reclaim the materials for later construction projects. This means that instead of completely removing and disposing of the problematic asphalt, you can save money while reducing your environmental footprint since there is no need to convert new topsoil into a usable property.In some cases, you can resurface your existing asphalt to extend the life of your pavement. The Pinx Group team can use some different methods such as micro-planning and milling to remove extremely thin layers, crack filling for smaller cracks that aren't a threat to driving safety or the environment.
Solvent-based sealers produce an unmatched, high gloss shine that lasts. Asphalt that has been coated with a solvent-based sealer will typically last up to many years longer than asphalt that has not been maintained.We apply our products using two methods: low and high speed. Low speed is best for small joints or cracks, and can also be used on existing coating for small maintenance jobs. High speed is used on large joints or cracks, and if the pavement needs a brand new coat of sealer.Our application process includes a thorough inspection and comprehensive preparation. When your pavement is finally ready, we'll bring our equipment to your location…Don't stress about the condition of your asphalt surface. Let our technicians do what they do best, and in no time you'll have a sturdy seal that will protect your asphalt from the elements.
Pinx Group
467 Sykesville Road, Wrightstown, NJ 08562
732-756-1361
https://pinxgroup.com/service-area/wrightstown/