10 Things You Need to Know about SMMT's 10 "Facts" about Diesel
---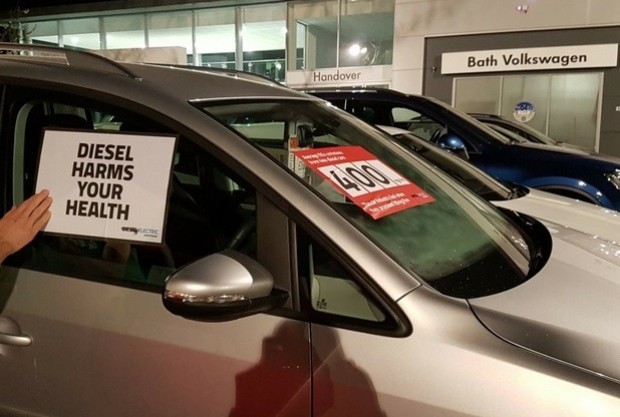 The Society of Motor Manufacturers and Traders (SMMT) is a car industry lobby group. Their members include most major car manufacturers and therefore, it is no surprise that the group has been at the forefront of bravely defending diesel recently.
But right now everyone else from Bloomberg to JP Morgan to prestigious newspapers – and even some car companies themselves – are predicting the inevitable demise of diesel. But SMMT seem to be making a last-ditch attempt to save the fuel everyone else is edging out of the door. So who's got their finger on the pulse?
Below, we take a look at their recent claims about diesel and why we think that their 10 "facts" about diesel really don't add up:
1. WHAT THEY SAID: In 2016, a record 1.3 million new diesel cars were registered in the  UK, up 0.6% on the previous year – a trend that's continuing.
WHEN ACTUALLY…
That trend – if you can call 0.6% trendy at all – has not continued in 2017. Bloomberg reported that diesel registrations in January 2017 were 4.3% down from January 2016. And that 0.6% pales even further compared to the massive 22% increase in registrations of alternate fuel vehicles, including electric, from 2015-16.
Globally, diesel is a European problem – diesel sales in Europe exceed those in India, China and the Americas combined. But across Europe diesel sales are starting to hurtle down, due in part to various European capitals' mayors bringing in restrictions on diesel engines. Last year in Germany, diesel sales dropped 5%, August diesel sales were down 5.8% in France, 5.5% in Belgium and Luxembourg, and a whopping 12.9% in the Netherlands.
SMMT itself accepted in one of its reports that "a move away from conventional powertrains towards hybrids of various forms and partly or wholly electrified systems is unstoppable." They also claim that "£290 million has been committed to 17 collaborative R&D projects that will save more than 17 million tonnes CO2 emissions while also creating or securing at least 5,300 jobs in the UK." If SMMT claims to support ultra low emissions vehicles on one hand, why are they defending diesel instead of supporting this "unstoppable" progression?
2. WHAT THEY SAID: Diesel is critical to reducing CO2 emissions, which in turn is  tackling climate change – diesel cars emit, on average, 20% lower CO2 than petrol equivalents.
Really SMMT?
Actually on average diesel cars emit more CO2 than petrol cars – because diesels tend to bigger than petrols. Your own figures tell us that in 2013 the average diesel car emitted 129.2g/km of CO2. The average petrol emitted 128.8g/km.
The bottom line is, even if the shift to diesel was a genuine attempt to reduce CO2 emissions it's been a tragic failure – a tiny CO2 saving at the cost of a huge increase in air pollution. The only way to tackle the health harm of diesel emissions and the climate change impact of petrol emissions is to go 100% electric. By continuing to push diesel on us, SMMT are holding back the necessary and inevitable transition to electric vehicles.
3. WHAT THEY SAID: Almost one in every two new cars registered in the UK is a diesel, with buyers valuing their high performance and low fuel consumption.
WHEN ACTUALLY…
Fuel efficiency claims by diesel cars remain questionable at best. As Which? says: "with the average UK motorist now covering less than 9,000 miles per year, the potential fuel economy savings [of diesel cars] aren't that impressive."
There are extra costs associated with diesel engines, from increased initial outlay to potentially thousands of pounds to replace the diesel particulate filter. Which? directly compared petrol and diesel models and found these extra costs undermined fuel savings leaving the buyer worse off.
4. WHAT THEY SAID: Commercial vehicles are powered by diesel and they transport people, essential goods and our emergency services. Without them, life would be much harder.
WHEN ACTUALLY…
Alluding to the emergency services is a dangerous line of defence for diesel. According to estimates, air pollution is costing the NHS and wider economy £27.5 billion. It is wrong to position emergency services or clean air as choices that are mutually exclusive of each other – of course they are not, they are especially connected! Air pollution can cause asthma in otherwise healthy children, can stunt children's lung growth permanently by up to 10%, and is linked to strokes, heart disease and diabetes in older people.
There is an alternative for all these vehicles with the rapid growth in electric vehicle technology. We need to move away from diesel cars first since alternative technology for cars already exists. Vans and bigger vehicles like emergency services will require more time and support to transition away from diesel as technology catches up.
5. WHAT THEY SAID: Advanced diesel technology has virtually eliminated emissions of particulate matter, with 99% of these soot particulates captured by special filters fitted to all new diesel cars since 2011.
WHEN ACTUALLY…
People regularly get garages to take their diesel particulate filters (DPFs) off to save fuel and to do so is not even illegal in the UK! In fact, one quick search online for DPF removal gives you ads by garages advertising the fact that they remove filters.
The idea is that modern diesel cars filter most of this particulate matter (PM) out but in practice these filters are often faulty or are removed to improve performance. Without a fully functioning filter system minor efficiency advantages of diesel are negated by the warming impact of black carbon. After the initial test there is no ongoing test to check on the car's filter system. Given a new car would be expected to last for ten to fifteen years, that's masses more PM emissions than SMMT claim.
Also, not even mentioning that new diesel cars regularly emit much more NOx than they should is a problematic oversight.
6. WHAT THEY SAID: The latest Euro 6 vehicles are the cleanest in history – and light years away from their older counterparts.
WHEN ACTUALLY…
As Which? describes their latest tests on Euro 6 vehicles: "We've found that of the diesel cars we've tested, nearly a quarter would exceed Euro 3 limits (passed in 2001) when faced with our more realistic tests. This means these cars don't pass the earliest emission regulations from this century."
There is no such thing as clean diesel. The car makers have gamed the tests and lobbied hard to water down regulations around emissions. Car manufacturers lied to us about emissions tests and how much their diesel cars pollute. Now, SMMT are  tasked with the unpleasant job of covering  the industry's backs by calling Euro 6 diesels 'clean'. The only way out of the diesel mess the industry got us into is to reduce diesel consumption altogether and end sales.
Given that the majority of commentators and indeed many in the car industry agree that it's a case of when not if we transition to hybrid and EV technology, defending an old, polluting technology like diesel will put the economy at a massive disadvantage compared to countries that grasp this opportunity at the first calling.
7. WHAT THEY SAID: Euro 6 technology works. Real world tests using the London 159 bus route show a 95% drop in NOx compared with previous generation Euro 5 buses.
WHEN ACTUALLY…
Euro 6 is not a standardised technology and emissions in the real world are different for bigger vehicles like buses than cars. Two thirds of Euro 6 cars have been found to be polluting between 2 to 15 times the Euro 6 standard. SMMT and car companies also know that electric and hybrid cars are cleaner and will help reduce NOx emissions on London's roads.
And just to put the pollution from diesel cars alone in perspective – diesel cars account for 41% of NOx pollution on UK roads – more than trucks and buses (29%, both combined) and vans (20%).
8. WHAT THEY SAID: The latest Euro 6 cars are classed as low emission for the purposes of the London Ultra Low Emission Zone due to come into force in 2019, meaning drivers of these vehicles will be free to enter the zone without charge.
WHEN ACTUALLY…
Right now the Mayor's proposal is to charge old diesel (Euro 5 and earlier) cars once the new ULEZ comes into force from 2019. But if London has to meet its legal limits on NO2 this needs to go farther than that and most diesel vehicles need to be phased out. We know that most new Euro 6 diesel cars are polluting 2 to 15 times more than allowed and despite promising improvements, we can't trust car manufacturers to clean up their act any time soon. The scientific evidence about how air pollution affects our health is piling up and that is why mayors of Paris, Madrid and Athens have already committed to phasing diesel out completely  2025.
9. WHAT THEY SAID: Contrary to recent reports, diesel cars are not the main source of urban NOx. In London, gas heating of homes and offices is the biggest contributor, responsible for 16%. While road transport as a whole is responsible for around half of London's NOx, diesel cars produce just 11%.
WHEN ACTUALLY…
Air pollution is complex and its sources are varied. We know that in cities like London, road transport is responsible for 50% of NOx emissions – much more than domestic and commercial gas. In London, diesel cars – not including buses – are responsible for 24% of NOx emissions on the roads. This data covers the Greater London Authority and is tracked by the London Atmospheric Emissions Inventory.
And across the whole of the UK, diesel vehicles are responsible for 90% of NOx emissions on the road.
It is also important to remember that exposure to air pollution happens when people are making their way around a city and road emissions is what matters when it comes to the public health impacts of air pollution. In London alone, we know that there are more than 750 nurseries that are close to roads that break legal limits of air pollution and that pollution is mostly coming from diesel vehicles. And in order for this to change, we need to move away from diesel vehicles altogether, starting with dirty diesel cars.
10. WHAT THEY SAID: In September this year, a new official EU-wide emissions testing system will come into force. This will be the world's toughest-ever emissions standard.
WHEN ACTUALLY…
What SMMT did not tell us was that even after the 'real world' tests, the new diesel Euro 6 cars will continue to pollute at least twice as much as they are supposed to!
This 'toughest-ever' is a staggered approach toward the actual supposed standard of 80 mg/km and September 2017 is merely the deadline for a conformity factor of 2.1 times the standard, ie 168 mg/km.
It's unfortunate that SMMT is putting its weight behind defending diesel when it has the potential to be a true champion of electric vehicles. SMMT is missing an opportunity here and risks costing the UK car industry valuable years entering the electric production market.