Can the Cosmetics Industry help win a microbead ban?
---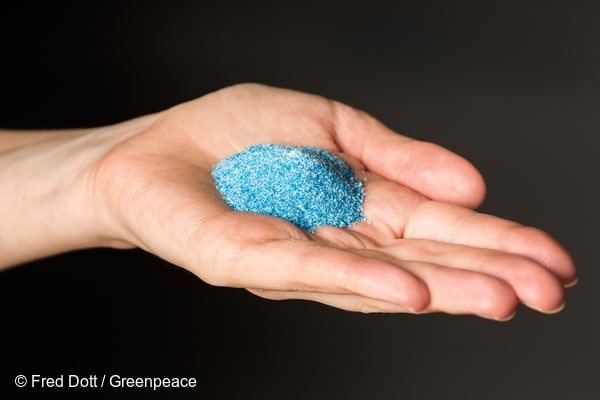 On World Oceans Day, while we handed in our BanTheBead petition, I took a trip down to Parliament to attend the Environmental Audit Committee's (EAC) inquiry into the environmental impact of microplastics. The EAC is a group of MPs from all parties who come together to review and attempt to resolve environmental issues such as climate change, flooding and air quality and last Wednesday, they looked at microplastics.
Interestingly, five of the major cosmetics brands who have publicly pledged to phase out microbeads decided not to come, which was a shame because it could have helped other companies to phase out microbeads by showing them how it can be done.
Representatives from the UK and European Cosmetics Industry did come to the inquiry and confirmed that other companies have also committed to stop using microbeads in their products by 2020.
Dr. Flower of Cosmetics,Toiletry &Perfume Association: "all members should be out of microbeads by 2020" #banthebead pic.twitter.com/nUDllaDrwe

— rosie rogers (@rorogers123) 8 June 2016
This isn't actually as good as it sounds for two main reasons. Firstly, the commitment is not legally binding because it relies on the voluntary action of companies who are members of a trade organisation called Cosmetics Europe (10% of them haven't actually agreed to phase out microbeads). Secondly, it excludes cosmetics companies that aren't members of this organisation.
Professor Richard Thompson who is an expert on marine biology and microplastics, also gave evidence at the hearing. He confirmed that microplastics are found extensively in the ocean, from British shore lines all the way to the Arctic and estimated that microbeads from the cosmetics industry could equal 1% of total marine litter.
Although the cosmetics industry is not the only perpetrator of plastic pollution, they are in the perfect position to reduce the amount of plastics that enter our oceans.
So what can the cosmetics industry do to help?
– Label products that contain microbeads so that consumers can make informed decisions before buying them
– Fully support and commit to a ban rather than voluntary action which has already allowed some companies to continue using microbeads
– Have a strong and continuous presence in the debate which will encourage other industries to recognise the issue and move away from using microplastics in their products
This is a much wider issue that won't be solved by banning microbeads alone, but stemming the flow of plastic pollution from the cosmetics industry is the first in a number of steps that must be taken to decrease the quantity of plastic in our oceans. The US has already taken action against microbeads. We must take action too otherwise we'll be cleaning up the oceans forever!
If you want to help ban microbeads and protect our beautiful oceans, you can download this app or sign our petition.
Other posts by Fariah Syed