If you care so much, Coke, why aren't your bottles 100% recycled?
---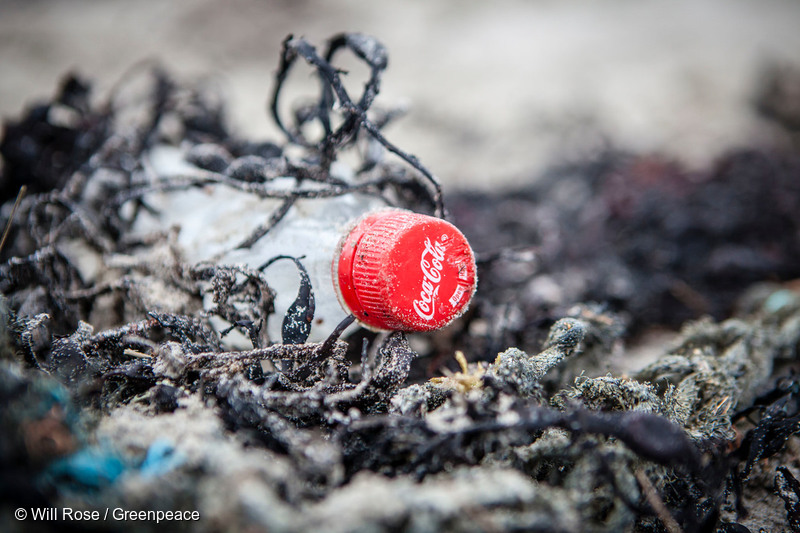 Coca-Cola's grand announcement on plastic packaging is a lot of PR fizz. But when you look at the detail, it's all a bit flat.
The news that the company is to increase the amount of recycled plastic in its bottles to 50% shows a startling lack of ambition from the soft-drinks giant to tackle one of the greatest environmental challenges facing us: the plastic pollution choking our oceans.
Coverage for the announcement was whipped up by Coca-Cola's new hire, PR firm Edelman, called on to help the company tell a better story on plastics. Turns out when Coca-Cola's distinctive bottles turn up on beaches, and contribute to the rubbish truck of plastic (pdf) entering the ocean every minute, that isn't so good for brand image.
Earlier this year Greenpeace revealed Coca-Cola is responsible for selling more than 100bn single-use plastic bottles across the globe every year – that's more than 3,000 every second. The soft drinks giant has come under attack for its meagre recycled content and failure to move away from single-use packaging that is devastating marine life.
This new plan is no game changer. Limited to operations in the UK, Coca-Cola's plans amount to increasing its existing target for recycled content by a mere 10%, launching yet another public awareness campaign to keep the focus on litterers, and trialling what appears will be little more than a promotional scheme for buying more Coca-Cola bottles.
The company's plans, which it says it will reveal later this year, may feature a money-off voucher scheme to reward customers returning small Coca-Cola bottles to shops. This would be a cheap gimmick to try and move the story on from Coca-Cola's major U-turn on deposit return schemes after Greenpeace revealed the company had been lobbying against these in Holyrood, Westminster and Brussels. If the vouchers can be redeemed on yet more plastic Coca-Cola bottles, this will only boost the already staggering global plastic bottle sales of a million a minute.
It's also worth pointing out that Coca-Cola's mildly higher goal to source 50% recycled content should be taken with a pinch of salt given the company's history of failing to keep its promises. Coca-Cola got less than half way to meeting its global 2015 target to source 25% of its plastic bottles from recycled or "renewable" material, for example plant-based plastics. Globally the company reached a pitiful 7% recycled material.
Even putting these doubts aside, is reaching 50% recycled content in three years' time significant? The truth is that 100% recycled bottles are feasible and have been rolled out for a number of soft drinks products over the past decade. In 2007, for example, Suntory's Ribena became the first major UK soft drink brand to use 100% recycled plastic. Coca-Cola, the world's biggest soft drinks company, is lagging far behind.
Nearly half of the more than 35m plastic bottles bought in the UK every day are not recycled. We need governments to step up and introduce what we know already works around the world. Deposit return schemes have a proven track record internationally for increasing collection rates of drinks containers.
After concerted campaigning, we now have clear political processes in motion for governments in Holyrood and Westminster to consider introducing well-designed deposit return schemes that can cover all drinks containers. To help these succeed, we need major players like Coca-Cola to get fully behind these processes to deal with the problem at scale.
Coca-Cola has previously claimed (pdf): "We are interested in innovations that deliver genuine, measurable long-term advancements toward sustainability and not just eye-grabbing marketing slogans that will earn us public relations points in the near term."
The company's new plastic packaging strategy is far from genuinely innovative. As the biggest drinks company on the planet, that's not good enough.
John's blog originally appeared in the Guardian. 
Executive director of Greenpeace UK.
Other posts by John Sauven