Coca-Cola's Love Story: where's the happy ending?
---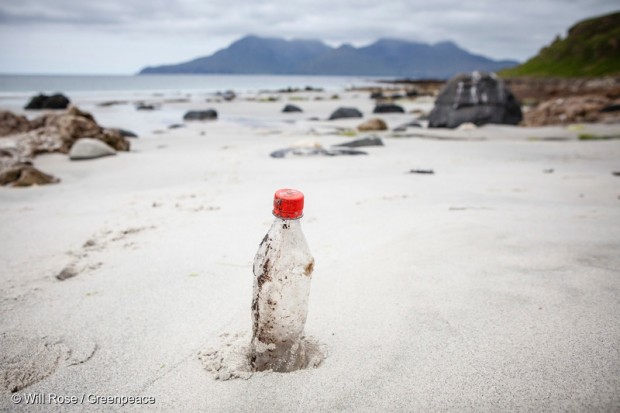 Dear Coca-Cola, I feel like our relationship is on the rocks.
Take for example, your big romantic gesture to woo me with your cutesy multi-million pound Love Story advert – coming to a cinema near us all this autumn.
Showing me we still have so much in common, like a shared love of the oceans, is important. However.
I can't help but feel this expression of your love for recycling, complete with very cheesy lines, is more about you trying to get me off your back, and doesn't really address my concerns about the size of your plastic footprint – which I know we've talked about over and over again. But you never seem to listen.
I'm sceptical that what's really at the heart of this grandstanding is your own self-promotion. Any opportunity to talk yourself up in front of 35 million people: same old you. But 35 million plastic bottles are being sold every single day in the UK, with nearly half going unrecycled – and simply getting dumped. Not quite the happy ending of butterflies and roses that your advert shows.
I need you to show way more commitment to reduce the amount of single-use plastic you're using. Plans to slightly increase your recycled content target from 40% to 50% by 2020 isn't the kind of long-term future I'm looking for. I see right through your smooth talk that you're doubling your recycled content – that's only because you're doing so badly at keeping to your previous promises. Actions speak louder than words, babe.
How do you expect me to trust you, when, if we take a look at the bigger picture for a sec, your 2016 sales in single-use plastic bottles jumped by nearly a fifth in a single year? And when you use just 7% recycled content globally? I feel like we're going backwards.
You tell me your bottles are 100% recyclable. So are most people's – in the words of Shania, that don't impress me much, as you continue to pump out bottles at rates that our recycling systems can't cope with. It's all getting a bit too much.
Your big showy message ends by encouraging everyone to recycle. But if this relationship is going to work, you'll need to stop blaming other people and step up. Given you sell over 100 billion single-use plastic bottles every year, I think it's only fair that you take on the lion's share in our shared task to stop plastic getting into the ocean.
That means you need to reduce your plastic footprint. I don't think I'm asking for the world – just healthy oceans free of plastic pollution. You tell me that "everyone relates to love". Well sadly, everyone relates to beaches covered in plastic waste too.
The response from my friends says it all. Far from winning the hearts and minds of customers, Coca-Cola have faced a barrage of abuse – even some break-up tweets. Ouch.
This all gives me a horrible sinking feeling – think the Titanic crashing into the mountains of plastic stacking up in our oceans. My heart won't go on, while your plastic does.
I'm a campaigner in Greenpeace UK's oceans team, leading our campaign to create the world's largest protected area in the Antarctic ocean.
Other posts by Louisa Casson