Coca-Cola's marketing strategy = a gift for the End Ocean Plastics campaign
---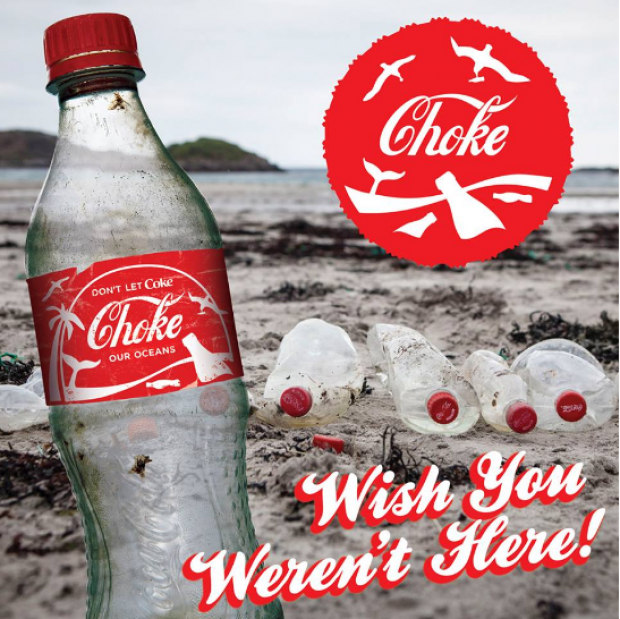 Oh the irony. As part of a millennial-focused marketing strategy to associate Coca-Cola with beach holiday fun and sunkissed selfies, Coke last month launched its summer campaign. This year's gimmick? Coke bottles labelled with exotic beach destinations and a competition to win glamorous holidays every day.
Why ironic? Because it's these very plastic bottles that are polluting the beaches and rivers of many of these holiday hotspots.
Plastic bottles are a major part of the problem of plastic in our oceans. Over 1.5 million plastic bottles were recovered as part of an international beach clean-up last year. Plastic bottles and bottle caps combined make up the top beach polluter globally.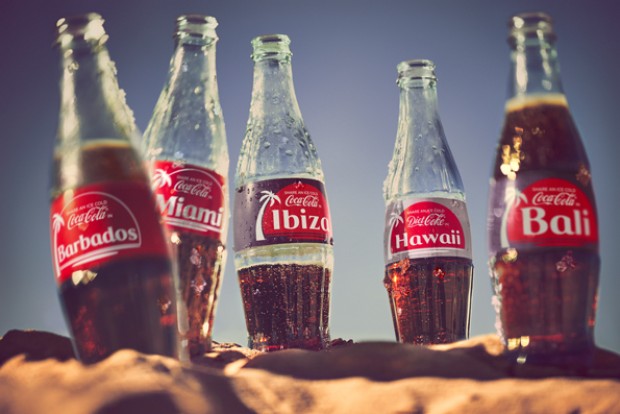 We know that Coca-Cola sells over 100 billion single-use plastic bottles every single year – that's over 3,400 every second.
And the problem is getting worse. Over the past decade the company has actually increased its use of single-use plastic as a proportion of its global packaging mix.
Of course Coca-Cola aren't the only culprits. Greenpeace revealed this spring that the five other top soft drinks brands sell a combined total of 2 million tonnes of plastic bottles every year. But Coca-Cola are the world's largest soft drinks company, and set standards across the soft drinks sector.
Coke bottles are also a particularly distinctive shape – making them easy to spot on beaches. The Plastic Tide project, which is using drones to map rubbish on Britain's coastlines, found earlier this year that single-use plastic bottles are the most common plastic polluters on UK beaches, singling out Coca-Cola bottles as the worst offender.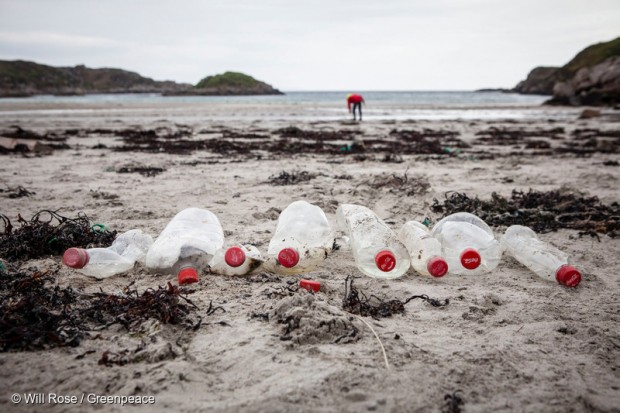 Loads of you have been snapping pictures of Coke bottles polluting your local environment, subverting their #ShareACoke and #CokeSummer hashtags on social media to reveal the grim reality of where Coca-Cola's plastic ends up.
Greenpeace volunteers have even found Coca-Cola bottles on some of the UK's most remote beaches, which we visited during our recent expedition to document plastic pollution in hotspots for iconic seabirds and amazing marine life.
Previous Coke summer campaigns have put their customers' names on bottles. We bet Coca-Cola is now wishing its name wasn't emblazoned across the billions of plastic bottles washing up on shorelines across the world. That's why we're not going to let them continue shirking their responsibility for polluting our oceans.
Whenever you see a Coke bottle in the environment – on the beach, in a river, anywhere it shouldn't be – share it with the hashtags #EndOceanPlastics and #ShareaCoke, and call on Coke to stop choking our oceans.
I'm a campaigner in Greenpeace UK's oceans team, leading our campaign to create the world's largest protected area in the Antarctic ocean.
Other posts by Louisa Casson