Government U-turn: Osborne Drops Plan To Hike Up The Cost Of Solar Panels
---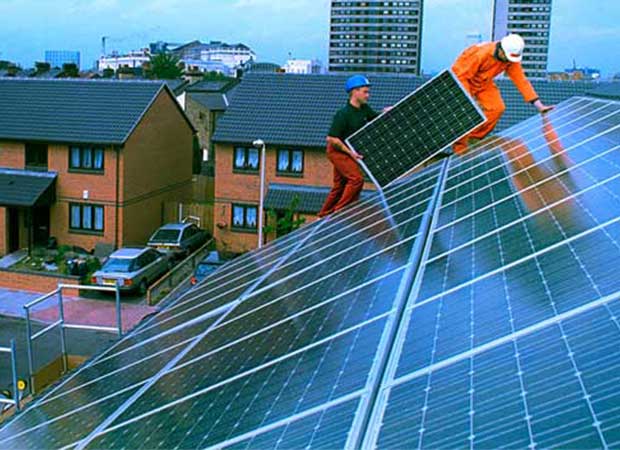 On Wednesday last week, chancellor George Osborne unveiled plans to hike up the amount of VAT on solar panels from 5% to 20%.
The VAT hike could have been disastrous for the solar industry. It costs around £6,000 to install a 4 kilowatt array of panels (the kind of installation that's typical on the rooftops of thousands of UK homes). But with the new VAT hike added in, this would have been more like £7,000.
Such a big leap in costs would have almost certainly meant less homeowners and businesses choosing to invest in solar. And ultimately it would have been another blow for an industry on which George Osborne has already inflicted sweeping cuts. 
But before the VAT hike could be introduced, a rebellion grew.
Concerned with the impact the hike would have on the solar industry, an unlikely coalition of MPs from Labour, the Conservatives and the SNP saw the need to take action and force the government to u-turn on its own policy.
In the background, Greenpeace's team swung into action too. A team of us spent last week contacting MPs, encouraging them to back a vital amendment to the Finance Bill – which was drafted by Labour – to exempt solar panels, roof insulation and domestic wind turbines from the 20% VAT rates.
Within 24 hours Labour's amendment was backed by the SNP. At the same time, it was reported that at least 25 Conservative MPs were considering voting against their own party to defend the solar industry as well.
At about 6pm on Friday, a sign of a possible government turnaround came through. The Treasury put out an email saying that the "installation of all energy saving materials including solar panels, wind turbines and water turbines will also continue to benefit from the current, reduced rates of VAT." But they hadn't really made it public – nothing was on their website or announced by a minister.
The final blow to George Osborne's VAT increase plan came on Monday morning when the prime minister's spokesperson announced that the government would accept the amendment to block a rise in VAT.
It's a relief that the government followed cross-party pressure and conceded on this one. Though representatives from the solar sector have made it clear that their hope is to be free from government support very soon, it's vital that this young – and still developing – industry doesn't get saddled with additional taxation and receives  the backing it needs while it's still in its early days of growth.
Other posts by Rebecca Newsom