Hands off the Antarctic!
---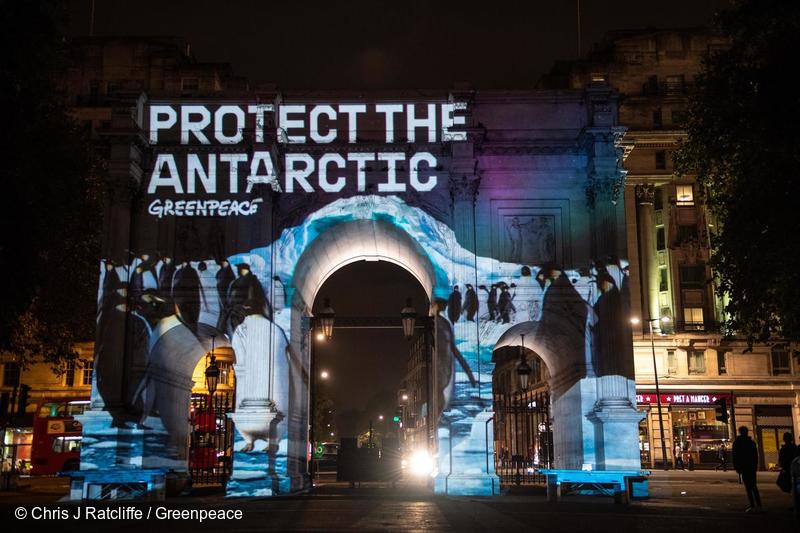 Last night, Thom Yorke's new song, written exclusively for Greenpeace's campaign to Protect the Antarctic, boomed around central London, accompanying stunning projection that brought the Antarctic Ocean to Marble Arch.
This visual feast of penguins, whales and seals lit up this London landmark – and travelled all around the world, as Radiohead shared our live feed and the Antarctic-themed music video to their 11 million Facebook followers!
This is an exciting display of the creativity and global reach movement of over 2 million people who are calling on governments to protect the Antarctic by creating an Antarctic Ocean Sanctuary this month.
Next week, the Antarctic Ocean Commission will meet to discuss protection for the Antarctic Ocean. These 25 governments have an opportunity to create the largest protected area in the world: an Antarctic Ocean Sanctuary. At 1.8 million square kilometres, it would be five times the size of Germany, or 200 times the size of Yellowstone National Park.
This sanctuary in the Weddell Sea would create a safe haven for marine wildlife like penguins and whales to recover from the pressures of climate change, pollution and industrial fishing. Creating a network of ocean sanctuaries around the world is also essential to help us all avoid the worst impacts of climate change.
To make this happen, we need 25 governments to agree – so we need to make the 2 million voices calling and mobilising for Antarctic protection visible to world leaders before they make this historic decision.
Bringing the Antarctic Ocean to London's Marble Arch, and Radiohead's millions-strong audience, marks an incredible year of campaigning. In the UK alone, Greenpeace supporters took to the streets in their thousands (along with thousands to of penguin masks!) to make news across the nation.
Together we called on Boots and Holland & Barrett to ditch krill oil fished from sensitive Antarctic waters. Not only did UK stores stop sourcing krill from areas that need protection, but the vast majority of the krill fishing industry agreed to support ocean sanctuaries and stop fishing in sensitive waters being proposed for protection.
After over 350,000 people signed our petition to the UK Government, we contacted almost every MP in the country to make sure they spoke out about protecting the Antarctic. Actor Gillian Anderson handed our petition in directly to the UK government, keeping the media spotlight on the government. British ministers, who weren't being vocal about the Antarctic, are now strongly supporting our call for an Antarctic Ocean Sanctuary – and have committed to lead global effort to create sanctuaries that protect 30% of the world's oceans by 2030, in line with science.
As a global movement, Greenpeace undertook a groundbreaking three-month research expedition to the Antarctic at the start of this year. We revealed the presence of plastic pollution and hazardous chemicals in Antarctic waters and snow, and took Oscar-winning actor Javier Bardem down to the Antarctic seafloor in a research submarine. By working with scientists, we discovered new vulnerable marine ecosystems on the Antarctic seafloor which will now receive local protection.
This breathtaking world of drifting icebergs, majestic whales and adorable penguins may feel like a world apart – but what happens in the Antarctic affects us all. Over the past year, over 2 million people worldwide have already joined the movement for an Antarctic Ocean Sanctuary. Greenpeace volunteers and activists have brought the wonder of the Antarctic much closer to home – from Germany to Chile, Japan to Russia. This is where we have been building the political will to protect the Antarctic. Now it's time to make it happen.
[aesop_video align="center" src="youtube" id="qXF4l7NPhoY" disable_for_mobile="off" loop="on" autoplay="on" controls="on" viewstart="on" viewend="on" revealfx="off" overlay_revealfx="off"]
---
Article Tagged as: Antarctic, Featured, Marine Reserves, Oceans, antarctic, antarctic ocean, antarctic ocean sanctuary, penguins, Radiohead, Thom Yorke, whales
---
I'm a campaigner in Greenpeace UK's oceans team, leading our campaign to create the world's largest protected area in the Antarctic ocean.
Other posts by Louisa Casson