Why I joined Greenpeace to close down Volkswagen's UK headquarters
---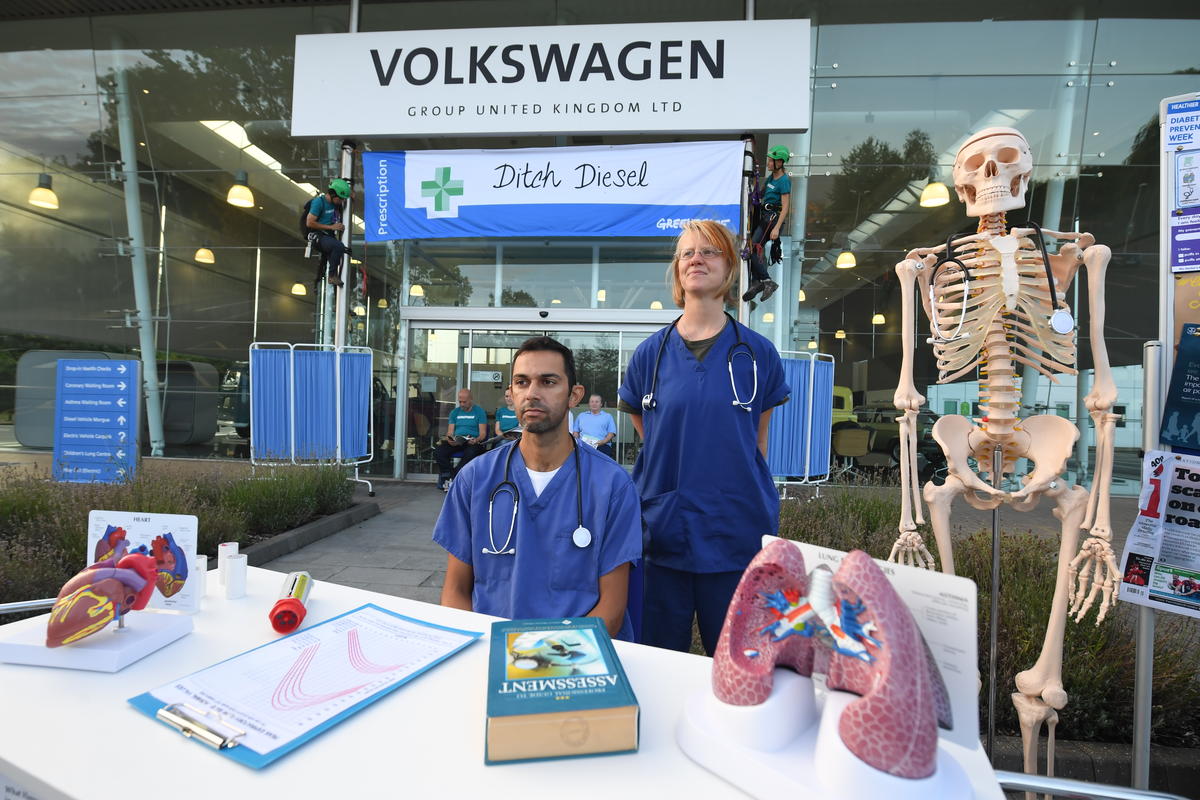 Ordinarily on a Monday morning I'd be in my consulting room as a respiratory doctor, but Monday last week I joined Greenpeace to close down Volkswagen's UK headquarters by setting up an air pollution health clinic right at their front door. We offered staff health checks and called on the company to stop diesel car production now to protect the health of people living in towns and cities across the UK.
I see on a daily basis how my patients' lives are affected by air pollution. Pollution levels push people over the threshold into disease. We see spikes in admissions when air pollution is high. It seems like medical experts bring fresh evidence every week to show the link between air pollution and the exacerbation of disease. We must clean up our air, and urgently.
Meanwhile car manufacturers aren't acting fast enough to take responsibility for their role in causing the problem. They don't see the impacts like I do. I can only do so much in the clinic to help the situation. In the city I work in, London, my patients and their families walk down streets where they are forced to breathe air of such poor quality it's illegal. Diesel vehicles contribute the majority of that air pollution. I'm working with Greenpeace today because I want to do more than offer my patients an inhaler – I want to help change the environment they live in for the better.
I'm originally from Manchester which has its own toxic levels of air pollution. In London it's so bad that friends of mine are considering moving away to protect their children from the harm air pollution could cause. My wife and I have one toddler and another child on the way, and I live with the knowledge that their lung function is likely to be impaired by living where we live.
Many of the city's schools and nurseries are close to a busy road with toxic air. Children are put at risk while going to school – like Ella Kissi-Debrah, who tragically died from respiratory failure. Medical experts have linked her deeply saddening death to air pollution levels at her home near London's South Circular road. Ella's family are bravely campaigning to show how air pollution caused her death. Their efforts call on all of us to go the extra mile to clean up our air.
Despite the growing public awareness of the threat air pollution poses, we're not seeing enough action. That's why I wanted to work with Greenpeace to demand Volkswagen ditch diesel today. I support their nonviolent, creative approach to protest, and I think they have a unique way of artistically exposing hypocrisy without causing conflict.
Our activity last week stopped VW staff going to work at the same time as offering them a health check at our pop-up clinic. While several car manufacturers – such as Nissan, Fiat Chrysler and Volvo – have told us they will phase out diesel cars, Volkswagen has said they'll remain committed to diesel in the long-term. That's not good enough for the health of people living in the UK, where Volkswagen puts the most diesel cars on our roads.
Of course government must take action as well – but the proposed plan to stop diesel car sales in 2040 locks us into another two decades of air pollution that's costing the NHS and society in general more than £6 billion pounds a year. When government isn't doing enough, the responsibility to hold those responsible to account is passed on to ordinary citizens like all of us here today.
We invited managing director of VW UK, Paul Willis, to come and visit me and the other health professionals at our clinic for a health check. It was a chance to sit down, take a deep breath and confront this pressing issue. If Paul Willis saw the harm diesel fumes cause first hand like I do, I think he might see his company's investments in a different light. In the end Paul Willis didn't visit us at the health clinic, but he has now agreed to have a meeting with Greenpeace to discuss the diesel health crisis.
Last week, I stepped out of the hospital and onto the streets to try and support my patients' lung health in a whole new way. If we act now, and Volkswagen agrees to phase-out diesel, that could significantly reduce the levels of air pollution on UK streets. And that could help the tens of thousands of people across the country whose health is impaired by breathing our toxic air.
Respiratory doctor from Manchester, working in London
Other posts by Aarash Saleh