Why I've dedicated my life to protecting the rainforests
---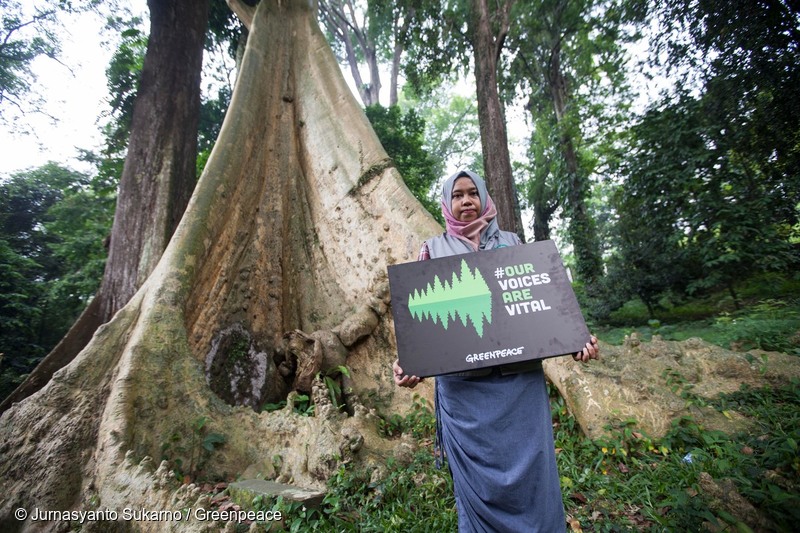 "I feel like a new person, reborn, when I am in the forest," Annisa Rahmawati smiles. While Annisa finds peace and a sense of purpose among the trees, she also works every day to protect huge swathes of forest in her homeland, where the sound of bulldozers is threatening to drown out the sound of birdsong.
An area of rainforest the size of a football pitch is lost in Indonesia every 25 seconds, much of it torn or burned down to make way for new palm oil plantations. Forests are the lungs of our planet, and our biggest defence against climate change, as well as being the most biodiverse places on Earth. And yet many of the UK's biggest brands are complicit in the rainforests of Indonesia being razed to the ground.
Annisa always knew that she wanted to work for Greenpeace – even mentioning it in her application to study resource management in Germany. "I think it's like a spell!" she laughs. "I knew this was the thing I wanted to do: the life I wanted to lead."
She spent time with government agencies in Indonesia, but felt the focus on profit at all cost was a huge threat to the rainforests. "Development should happen hand-in-hand with nature and the environment," she says, "but instead destruction is everywhere." And after joining Greenpeace as a forests campaigner, she realised many of her fears were accurate. "The impact of deforestation  here is very alarming. It is so sad and so painful to see," she says.
"Irresponsible industry wipes out the life of the people. I have visited Indigenous communities who have owned land for many years but have had their homes destroyed to make way for palm oil plantations, leaving the elderly and children with nowhere to sleep. They are even accused of stealing palm oil on their own land. "Clearing the land also causes subsidence, which makes flooding worse. When companies use fire to clear the land it creates terrible pollutants. The haze is so thick you cannot breathe – you need to wear a mask. In 2015, it's estimated 100,000 people died prematurely in Southeast Asia because of forest fires in Indonesia. And clearing peatlands also releases carbon into the environment."
Fighting for orangutans
Perhaps Annisa's greatest fear is for the future of the orangutan. The Bornean orangutan population has decreased by half since 1999, with over 100,000 lost in the last 16 years. "Their habitats are being destroyed and employees of the palm oil plantations see them as a pest and shoot them," she says. "We found a new species in 2017 and it's already critically endangered. They could be wiped out, but if we lose the orangutan we lose our identity. In our language, orangutan means 'human of the forest'. They are on our banknotes. They are part of who we are."
Annisa has been linking up with International Animal Rescue (IAR), which helps to rehabilitate orangutans whose habitat has been destroyed. Illegal forest clearance is now even taking place around the sanctuaries IAR uses for its rehabilitation work. "We are asking the government to make that area protected, so nobody will touch it," she explains. And she has also helped to  plan Greenpeace's new campaign targeting brands that use dirty palm oil. In recent years, Annisa has helped Greenpeace successfully persuade global and Indonesian companies to clean up their act – but then watched with frustration as they failed to make meaningful progress on the ground.
Have the companies agreed to change?
"Yes. Is deforestation stopping? No. They source from palm oil suppliers and traders that still have dirty operations, cut down forests and violate human rights.  "But my mother always said: 'Don't lose hope. If you are persistent, if you know what you want, everything will come to you,'" she says. "This industry is so dirty, so nasty, but we have the power as citizens and consumers. The brands will listen. We never see change as impossible."
What can you do now?
Join Annisa and more than one million people worldwide who have told big brands to drop dirty palm oil.
Create your own Oreo flavour oreovideomaker.com/en/ and share on social media to spread the message
---
Article Tagged as: Featured, Forests, Global, Palm oil, Uncategorized, carbon, deforestation, destruction, Environment, forest fires, forests, haze, Indigenous, indonesia, International Animal Rescue, orangutans, palm oil, peatlands, Southeast Asia
---
Other posts by Annisa Rahmawati