A joint mission: ending plastic pollution
---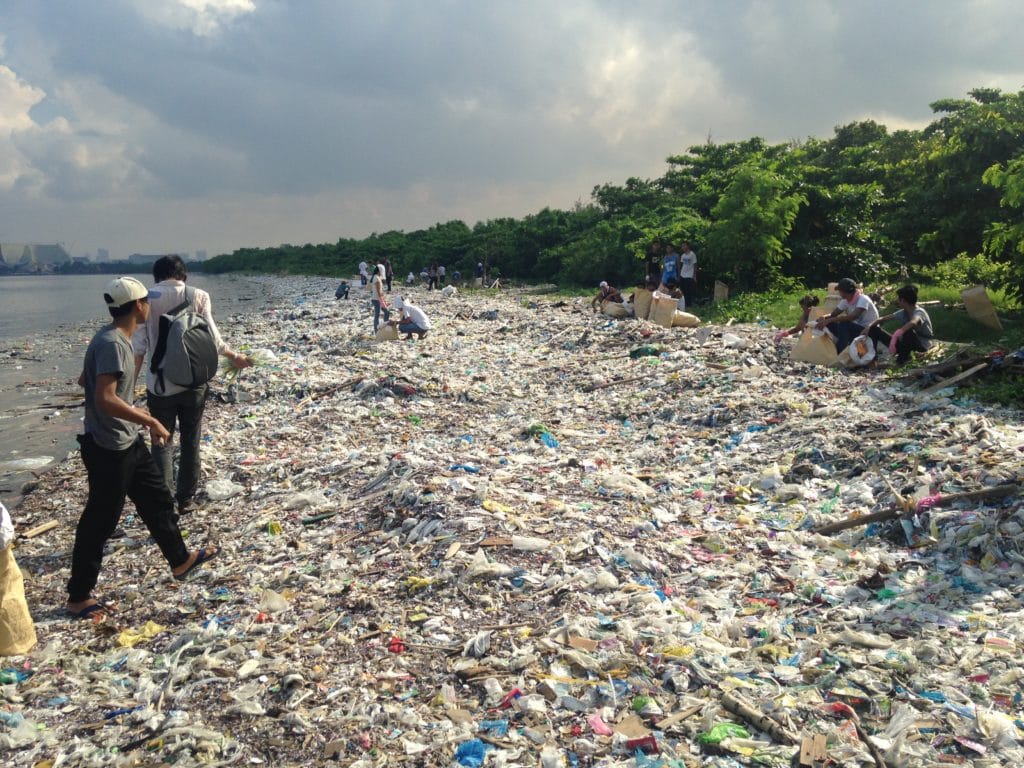 Back in July I was lucky enough to be one of 100 people who spent the day cleaning up a heavily plastic polluted beach on 'Freedom Island' in Manila Bay, Philippines. The beach was in an appalling state – piled high with throwaway plastic wrappers, straws and bottles which also littered the water. This was just a snapshot of the estimated 8-12 million tonnes of plastic that scientists tell us goes into our oceans every year.
So why was I lucky? Well, because that day kicked off an intensive 3 day conference exploring how we can put an end to this plastic pollution. Over 100 campaigners participated, and it was an amazing experience- a chance to work with people from across Asia, Africa, North and South America and Europe and get a whole range of different cultural perspectives on the challenge of plastic pollution.
The breadth of experience in the room was inspiring – activists building zero waste communities ocean biologists, oil and plastics industry experts, and representatives of waste-pickers unions all swapped tips and insights. All of us focused on the shared aim of ending plastic pollution.
Today #breakfreefromplastic launched its joint mission statement – just ahead of an oceans conference in Washington DC where Froilan Grate, who led the bean clean-up I participated in, will be speaking.
Delivering this mission will involve challenging governments, corporations and ourselves. It will involve searching for solutions and maybe finding them in unexpected places.
But the facts are clear. The oceans are sending us a message – from the plastic clogged beaches of Freedom Island – to the ocean 'garbage patches' – to the Arctic ice packed with microplastics.
We simply cannot continue using plastic, a material that lasts for hundreds of years, for throwaway packaging. We need companies to reduce packaging to a minimum, and to ensure that the packaging they use is designed to be reused or recycled. Plus we need governments to act to ensure we have zero waste approaches to dealing with our waste – where materials are separated at source and reused, repaired, composted, or recycled.
If we fix this, we fix a huge part of the ocean plastic pollution problem.
Key ocean plastic pollution facts:
More plastic has been produced in the last 10 years than in the previous 100 years.
Globally, we produce roughly 300 million tonnes of plastic per year, and an estimated 8 to 12 million tonnes of this ends up in our ocean. That's equivalent to one garbage truck every minute.
Plastic litter can be found at all depths of the water column, from surface to ocean floor, at all latitudes, including within Arctic ice.
Between 60% and 80% of ocean plastics pollution originates on land, and much of this is packaging, including styrofoam, plastic bottles and plastic bags. These plastics are intentionally designed with one-time use in mind.
A growing number of studies have found plastics in the guts of fish, seabirds and bivalves, and recent science has reported reduced growth and reproduction in oysters and other creatures that have eaten plastics. The UN has described this as a potential "toxic time-bomb."
And contrary to common belief, biodegradable plastics are not a solution – widespread adoption of products labelled 'biodegradable' will not significantly decrease either the volume of plastic entering the ocean or the physical and chemical risks that plastics pose to the marine environment. In fact, these 'biodegradable plastics' act exactly the same as 'normal' plastic in the ocean, as the salty, wet and cold environment of the sea inhibits the biodegradation process.
This is the start of ending the flow of plastics into our oceans, watch this space!
Other posts by Louise Edge