With the Paris Agreement signed, now it's back to work
---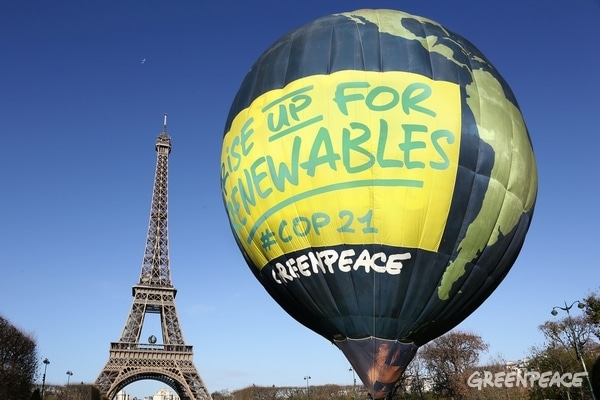 The Paris agreement, to be signed by around 170 governments today – Earth Day – in New York, is seen by many as a big step forward, including by Greenpeace. Others focussed on its shortcomings, such as the lack of enforceable timetables. Chances are that particular weakness is being addressed today – the USA and China are pushing for the process to accelerate. If that works out — and even with the two biggest economies in the world behind it, it's still a big if — then what appeared to be a bug may turn out to be a feature. Rather than allowing slippage, the absence of clear deadlines might be allowing that acceleration.
However, just as the political process on climate may be accelerating, so too might the physical process. Since December, when the Paris agreement was finalised, there have been some very worrying records being broken.
Four of the last five months have broken records for being the hottest ever, and for breaking their records by a bigger margin than previous record breakers. They're meta-record breakers, or record-breaking record breakers, or something. Anyway, they were hot.
The start of this year has been so hot that even before the end of April we can be fairly confident that 2016 will be the hottest year on record, beating the record set by 2015, which beat the record held by 2014. This is partly due to the el Niño phenomenon, but no previous el Niño's have been nearly this hot.
The consequences of the recent hot weather are a major cause for concern. The Arctic ice cap may be set for a record low, but even more dismaying is that 93% of Australia's Great Barrier Reef has suffered from coral bleaching due to the warmer water.
And the usual slow drip-feed of scientific papers saying that climate change is going to be worse than previously thought has also accelerated, including a rather concerning prediction that sea level rise will, you guessed it, accelerate.
On the positive side, supporting the faster movement in the international process, we've seen the collapse of the USA's coal industry, with nearly thirty coal companies going bankrupt, including the world's biggest. The figures for last year show record investment in clean energy, which received nearly a third of a trillion dollars (yes, 't' for trillion) of new investment globally.
But it's not all good news – SunEdison, previously the world's biggest solar power company, has managed to navigate their way through a boom market to bankruptcy, and China's economic trouble has led to a drop in global investment in renewables in the first quarter of this year.
Is there a take-away message from all these conflicting facts and numbers? Yes. Two.
One is that we are winning. Coal is dying, renewables are booming and the world's governments are taking the issue far more seriously than they were a decade ago, with 170 reasons to make this year's Earth Day worth celebrating.
The other is that we're still not winning fast enough – at least not fast enough to stop the global average temperature from increasing beyond two degrees above pre-industrial levels, and certainly not to keep to Paris's new ambition of 1.5 degrees.
Other posts by Graham Thompson