A monument to plastic pollution has arrived in London
---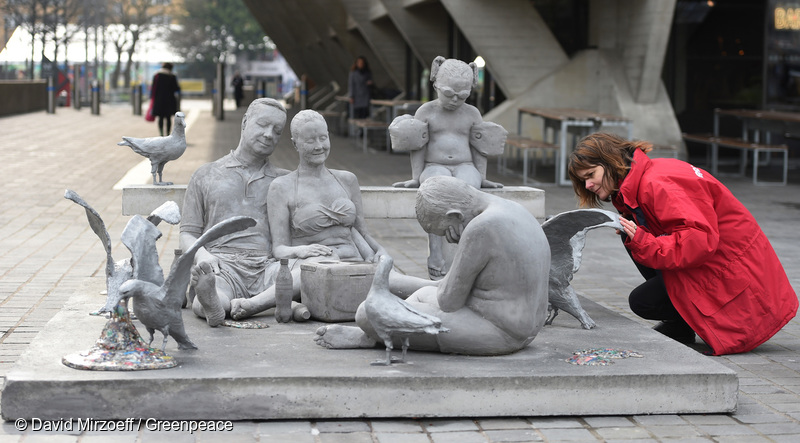 Plasticide is back! Greenpeace's monument to plastic pollution, created by celebrated artist Jason deCaires Taylor, is showing for the summer alongside the River Thames at London Bridge City's festival. If you're in or visiting London this August, come down and see for yourself this stark portrayal of plastic waste destroying our beautiful coastlines.
Telling the story of how damaging plastic is when it gets into our oceans has been a core part of our campaign to End Ocean Plastics. The shocking visual impact of plastic bottles and plastic packaging littered across remote beaches, from Pacific islands to those visited during Greenpeace's own voyage around the coastline of Scotland, has inspired a wave of public outcry at the flow of plastic into our oceans. Everyone can identify with seeing discarded plastic packaging polluting the environment, whether on beaches, riverbanks or on the street. As the harm plastic causes for marine life becomes more evident, it's all too clear that plastic does not belong in our oceans.
Creative collaboration has been key to raising awareness about ocean plastics. We've been lucky enough to work with Jason deCaires Taylor, an award-winning sculptor whose love of the oceans has inspired his underwater designs. We were inspired by seeing his horsemen sculptures warning of the impacts of climate change in his 2015 Rising Tide installation, and were delighted when he jumped at the chance to work with Greenpeace to highlight the threat of plastic pollution to our oceans.
The result was Plasticide, a two and half tonne sculpture that makes clear how plastic is ruining our beloved coastlines. The piece depicts a typical family beach holiday scene, disturbed by the addition of seabirds vomiting up plastic. We know that 90% of seabirds worldwide have ingested plastic. This piece brings the statistics to life, with the two children mourning the destruction of the environment at the hands of discarded plastic that ends up in our oceans. Plasticide's poignancy is heightened by the artist's attention to detail: Jason deCaires Taylor collected fragments of plastic from the ocean and beaches to make the sculpture, and used his own daughter as the model for the girl in the piece.
The sculpture has had a varied life since it was created in March of this year. The piece was originally on display on London's South Bank, bringing theatrical spectacle outside the National Theatre and attracting surprised crowds to learn more about the problem of plastic pollution. While ocean plastics is a global issue, it's hugely relatable: the London Assembly found earlier this year that 7.7 billion plastic water bottles are consumed in the capital each year – yet less than a third of London's waste is recycled, the worst recycling rate in the UK. A separate study found 75% of the flounder swimming in the Thames had ingested plastic.
We've also used the sculpture to point to the change we need to see to end ocean plastics. The sculpture, which includes distinctive contoured plastic bottles and red bottle caps, was delivered to Coca-Cola's London HQ in April as a marker of the soft drink giant's role in plastic pollution. Globally Coke sells over 100 billion single-use plastic bottles every year, yet just 7% use recycled material on average. We know that when companies like Coca-Cola wash their hands of the plastic waste their products generate, the problem washes up on on beaches around the world. Plasticide's delivery to Coke's doorstep helped bring the problem – and Coca-Cola's responsibility to help end it – home, and kick started Greenpeace's ongoing campaign for the company to reduce its ginormous plastic footprint.
Now back alongside the river, we hope the sculpture can provoke conversations, reflections and a desire to act from tourists, commuters and local residents. We all have a role to play to help end the flow of plastic into our oceans – whether through individual efforts, calling on governments to act by introducing deposit return schemes on drinks containers or joining our campaign to stop Coke choking our oceans.
You can visit Plasticide for the duration of August – find it on South Bank near to HMS Belfast.
I'm a campaigner in Greenpeace UK's oceans team, leading our campaign to create the world's largest protected area in the Antarctic ocean.
Other posts by Louisa Casson