Plastic pollution: Brits are 'mad as hell and they're not going to take it anymore' – Greenpeace
Dramatic new polling shows near-universal concern over plastic pollution and a tidal wave of support for action from supermarkets.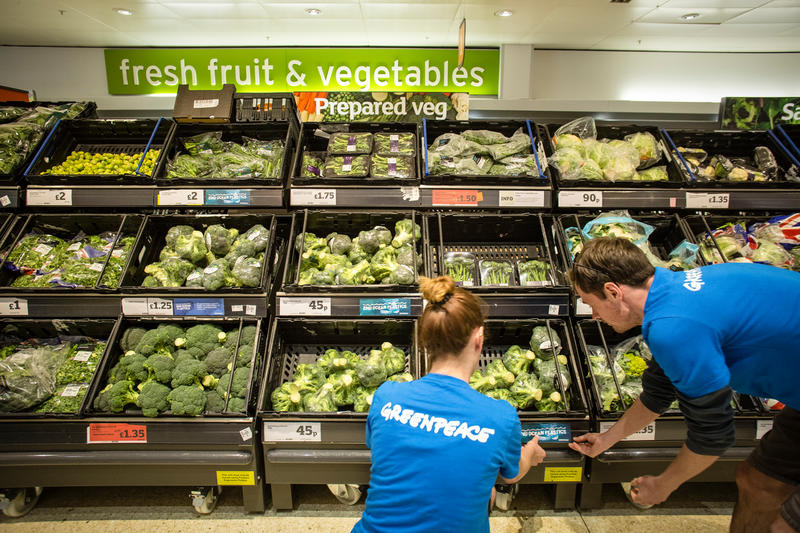 New Populus polling, commissioned by Greenpeace, shows that nine out of 10 people (89%) are concerned about ocean plastic pollution. Levels of concern over the issue have skyrocketed over the past 12 months, with two-thirds of people (67%) saying they are more concerned about ocean plastic than they were a year ago. Around one-third (32%) have maintained their level of concern, and just 1% of the public is less concerned than this time last year.
Supermarkets under fire
The polling shows that the UK public overwhelmingly feel that supermarkets aren't doing enough and that they expect more action from them in tackling plastic packaging and plastic pollution:
72% think supermarkets are not doing enough about plastic packaging to tackle the problem of plastic pollution

84% find it difficult to avoid plastic packaging in their regular supermarket shop

86% support the idea of supermarkets moving towards using more refillable and reusable packaging instead of using single use packaging

Fewer than a third of people (31%) think their regular supermarket has taken steps to reduce the amount of plastic packaging they sell, while 91% believe supermarkets should be working to reduce the amount of overall packaging they use.

Over half of people (55%) say they would choose to shop at a supermarket which doesn't over-package products.
"I'm not sure I've ever seen such stark polling. When it comes to plastic pollution, Brits are mad as hell and they're not going to take it anymore," said Elena Polisano, oceans campaigner at Greenpeace UK. "People all across the UK are on the same page: ocean plastic pollution needs tackling and it is urgent that supermarkets take meaningful action to reduce their plastic footprint now. If I was the CEO of a supermarket looking at these figures I'd be making some pretty frantic phone calls right now."
A third of those polled (33%) said they were likely to switch to a different supermarket that they feel is doing more to reduce their plastic use, including regular customers at Tesco (34%); Asda (32%); Sainsburys (30%); Morrisons (29%); Lidl (38%) and Aldi (37%).
Support for a deposit return scheme and government action
The polling also shows strong support for supermarkets backing and hosting deposit return schemes for drinks containers, which increase collection and reuse rates. 86% of people said supermarkets should be supporting and hosting deposit return schemes for plastic bottles, glass bottles and drinks cans. 73% said the government should introduce laws to ban unrecyclable plastic packaging in supermarkets.
ENDS
Notes
Populus interviewed a random sample of 2,062 UK adults aged 18+ online between 1st–3rd June 2018. Surveys were conducted across the country and the results have been weighted to the profile of all adults. The results included people who buy the majority of their food and groceries from the following supermarkets: Aldi 296, Asda 313, Lidl 136, Morrisons 259, Sainsbury's 247, Tesco 617. Populus is a founder member of the British Polling Council and abides by its rules. Further information at www.populus.co.uk.
Greenpeace's supermarket challenge is calling on UK retailers to:
Introduce transparency by publishing yearly audits of single-use plastic use

Set year on year targets to reduce their single-use plastic footprint

Urgently eliminate unnecessary and non-recyclable plastic packaging by 2019
Over 475,000 people have backed the Greenpeace petition calling on supermarkets to ditch throwaway plastic.
Media contact:
Greenpeace UK press office: press.uk@greenpeace.org  or call 020 7865 8255