Real-life Rang-tan: baby orangutan found crying and alone
---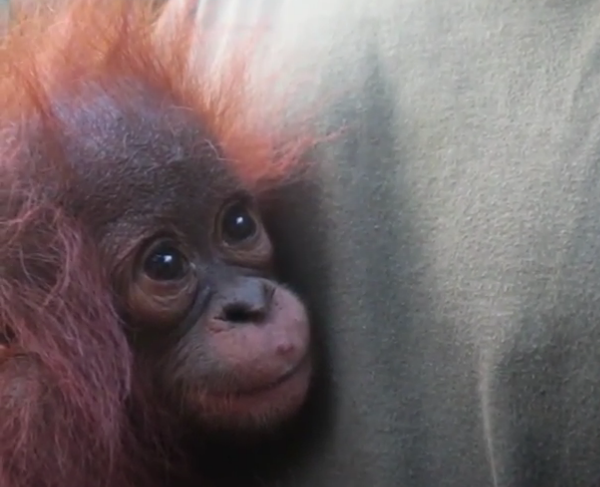 A few weeks ago, a baby orangutan was found crying and alone by workers on a palm oil plantation in Borneo, when I watched the footage of this little orangutan, I was reminded of a line I'd heard in a film you might've seen recently…
There's a human in my forest
and I don't know what to do.
He took away my mother
and I'm scared he'll take me, too.
Here's the footage of this real life baby orangutan.
When workers found the baby orangutan, its mother was nowhere to be seen. It's possible she was killed by hunters or farm workers protecting their crops, or even so disorientated by the forests fires breaking out nearby that she lost her infant. The impact of deforestation for palm oil has on the natural world is beyond devastating, leading in this instance to the separation of mother and baby for an ingredient in something simple, like a biscuit, shampoo, or a bar of chocolate.
This baby's story is just one example of a situation that's playing out across Indonesia. The baby was taken to an International Animal Rescue centre where more than 100 other orangutans were already receiving care.
We know that Wilmar – the largest palm oil trader on the planet – was buying palm oil from the plantation where this baby was found. In fact our new report, The Final Countdown – our most detailed investigation of the palm oil industry to date – shows Wilmar was buying palm oil from 18 separate growers that were destroying rainforest, and that's just the ones we know about.
Some of those growers are even expanding into Papua, Indonesia, on the Island of New Guinea, one of the most biodiverse areas on earth. It's home to 37 of the 41 known species of birds of paradise. Birds of paradise aren't endangered yet, but orangutans weren't endangered 60 years ago either.
Are we really going to stand by and watch while the palm oil industry destroys more pristine forest for financial gain?
At least 17 global brands buy palm oil from the destructive companies in our report. Nestlé, Colgate-Palmolive, Johnson & Johnson, Unilever, Kellogg's, Mondelez, Mars, Procter & Gamble – they are all guilty. And yet every single one of these promised to stop buying palm oil from companies linked to forest destruction by 2020.
With less than 500 days to go to keep this promise, brands need to step up their game. If they're serious about keeping their promise – to us, to you, and to the rest of the world – they need to drop any company linked to rainforest destruction, starting with Wilmar, until those companies can prove all of their palm oil is 100% clean.
It's a simple ask – brands need to drop dirty palm oil. Together, we can make sure it happens. We certainly won't rest until it's done.
Rang-tan is fictional, but but the baby orangutan found crying and alone on a palm oil plantation last month isn't.
Rang-tan represents the 25 orangutans we lose everyday to the destruction of the rainforest for palm oil.
Rang-tan may be fictional, but her story is happening, right now.
Twitter: @fifinicholls Instagram: @fifinicholls35mm
Other posts by Fiona Nicholls