Siemens respond, but what they say is a joke
---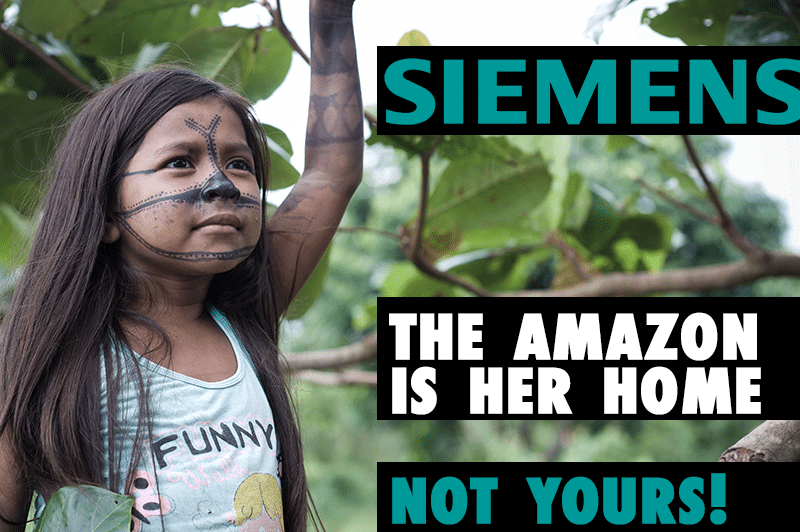 After only a week of campaigning, Siemens have broken their silence on their potential involvement with the Amazon-destroying Tapajos dam. But disappointingly, their response is a bit of a joke.
Depsite priding themselves on being green, Siemens are refusing to rule out profitting from a destructive dam in the heart of the Amazon. The planned hydro-electro dam could flood the area around the Tapajos River, destroying the homes of Indigenous People and rare wildlife. They've got form on providing parts for Amazon destroying dams too – they already helped build the Belo Monte Dam, which was damaging for both human rights and our environment.
That's why thousands of you flooded Siemen's Facebook page and you forced them to respond. They made some big claims – so let's clear a few things up.
In their statement they claim to be "talking with Greenpeace", but depsite our requests for a formal meeting, they've not agreed to meet with us yet. We'll contine to wait for the phone to ring!
They also said the project is on hold and that there is no official tender process going on. But the process for the dam could still begin in a matter of months – so the time for Siemens to rule themselves out is now!
They mention the importance of meeting "Brazil's increasing demand for energy" – it's great they bring that up! Wind and solar power could do the job of this hydro-dam without all the destruction. Even better, wind turbines are something Siemens are supposed to specialise in – so why not get involved in providing those instead?
Although this isn't the response we want, it's clear people power is working. Siemens are on the back foot. So let's keep the pressure on. Email Siemen's CEO today or write on their Facebook wall and tell them to do the right thing. Siemens is one of only a few companies that can provide parts for the dam and if they refuse to have this dam on their conscience, it'll become increasingly impossible for the Brazilian government to build the dam.
Other posts by Esther Freeman