Tell Velvet to Stop Wiping Away the Great Northern Forest
---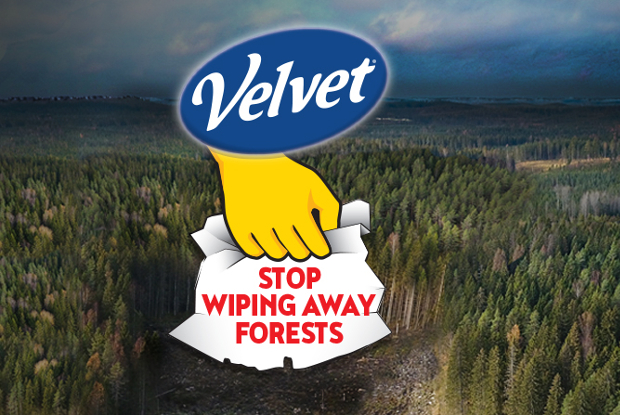 We're papering Velvet's Facebook page to tell them to stop wiping away forests, here's how you can get involved. 
Velvet are using trees from some of the most precious parts of the Great Northern Forests to make their toilet paper. Over 100,000 of us are calling on them to clean up their act but it seems they might be using some of their luxury loo roll to block their ears and not listen to us.
We want to make sure they get the message loud and clear by plastering Velvet's Facebook page with comments. We're telling them why they should protect critical parts of the  Great Northern Forest and stop using it to make their paper.
---
Update: Velvet have posted a statement in response to all the comments, claiming that they are protecting forests, but here's what the evidence says.
---
Not sure what to say? You might want to take inspiration from some of these talking points: 
First of all, if you are a customer and you've bought Velvet before, make sure you tell them.
…or perhaps you want to share that the Great Northern Forest is home to locally endangered wildlife and numbers may dwindle further without these amazing landscapes.
You can remind Velvet that the Great Northern Forest as a whole is the largest terrestrial store of carbon on earth so it's vital to leave the forest in tact to help tackle climate change.
You might want to let Velvet know that parts of the Great Northern Forest is crucial to the livelihoods of the Sami people – only these wondrous forests can provide the winter-grazing their reindeer need.
And of course, we could also encourage Velvet to use more recycled paper and make sure they source their pulp from sustainable sources.
To join others and post your own message to Velvet, just visit their Facebook page.
P.S. We know this is an extremely emotional subject, but please refrain from offensive language!
Other posts by Charlotte Gill