Tension in the Air: making Mary Poppins fly
---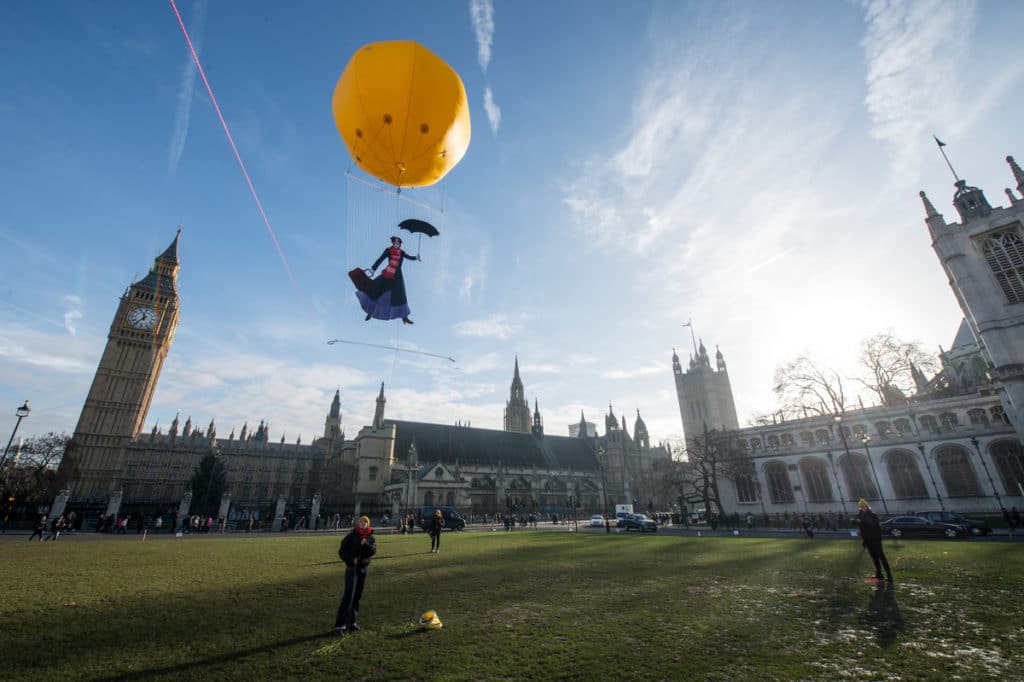 This weekend at Somerset House in London – after a week of high alert air pollution – you can see Mary Poppins fly, just like she did on 6th January, merely a week into 2017, when the UK breached its air pollution limit for the entire year. Tension in the Air, is part of Space to Breathe – a weekend of creative action in response to our city's air pollution crisis.
At the start of the year, Mary Poppins, with a little help from Greenpeace, flew over Parliament to remind politicians that their inaction is costing lives. The government isn't doing enough to fix the problem. In fact they're not even close.
Like all the best stories, Mary Poppins teaches and inspires us. She's an invitation to search for our best selves, and a reminder to care for those around us – especially children. And as a new year dawns full of fresh promise and old problems, we need her example more than ever.
Making Mary fly is of course no small feat. Mary Poppins' ability to fly has consistently surpassed even the likes of Peter Pan and Tinkerbell in casual, flawless heights. From Disney's classic film to the more recent stage show, Poppins' flight has delighted the rest of us stuck squarely on the ground, and given Mary the all-seeing power of oversight of children across the cityscape.
The 1964 Disney Film was made well before the computer-generated images today's cinema-goers have come to expect. To enable Mary's flight the filmmakers created 'matte shots', like painted theatre backdrops, but which were spliced in to become part of the film reel. In the film, this visual trick works in dialogue with the theatricality of Mary's magic performances and the fantasy adventure into the land of Bert's own chalk street paintings.
In the current theatre show, ropes and a harness are used to allow Mary to fly above the audience's heads, similar to the descent of fifty Mary Poppins figures during the London Olympics opening ceremony – and kit not unfamiliar to Greenpeace climbers! In this instance however we chose not to climb, but wanted to see Mary sail high above the buildings to recreate the iconic image of Poppins and Big Ben – with the added feature of the air pollution mask giving a nod to Mary's new smog challenge. And so we lifted a life-size figure of Mary painted by illustrator Alberto Soto by balloon – a very large, 3m diameter balloon, tethered to the ground by five women who were around the same height as Mary and wearing suspiciously similar scarves.
From these great heights Mary could deliver an important message. Diesel vehicles are a key cause of air pollution in our cities and towns.  Greenpeace is urging the government to end the sale of new diesel cars, most of which pump out between two to fifteen times above the emissions standards, and we are pushing manufacturers to first shift production to hybrid and eventually electric vehicles only.
Mary's role as protector of children makes her a fitting character to intervene in the UK diesel debate. Just like the coal smog in London in 1910, toxic air pollution on UK roads demands all the tools and tricks we can muster from a magic carpet-bag to sweep up the problem and give us all clean air to breathe.
Come and meet us and Mary Poppins in Tension in the Air this weekend at Somerset House's Space to Breathe. The installation sits alongside other creative responses to the air pollution crisis from artists. There is also an excellent programme of talks and workshops featuring the likes of Client Earth, Kings College London, the GLA and more.
Supported by: Arts Council England, The Physiological Society, King's College London, Somerset House. Part of Utopia 2016: A Year of Imagination and Possibility