What I told the government about fracking and their unsustainable 'dash for gas'
---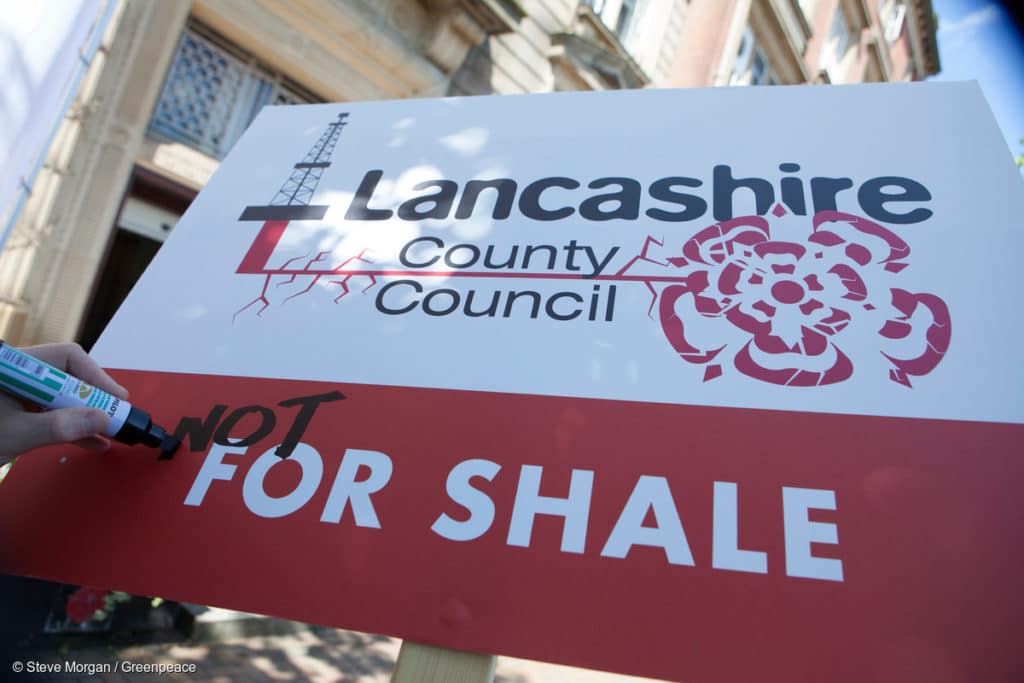 Last week I spoke at an event in Parliament to discuss "Shale Gas and Climate Change."
The event was hosted by the All-Party Parliamentary Climate Change Group (APPCCG) which is a coalition of lots of different people who have an interest in climate change. It's been running for over 15 years, raising awareness of the threat of climate change and promoting policies to counter it.
Speaking at events like this provides an important opportunity to speak to MPs, businesses and organisations about our views. It also allows us to bring voices from affected communities into the heart of democracy.
So there I was, a little nervous it has to be said, sitting in a committee room in Westminster Palace alongside members of the shale gas industry and the Committee on Climate Change. Caroline Lucas MP was chairing the panel, and we started with short presentations.
I chose to focus on two things in particular:
1. The government's 'dash for gas' is a costly distraction from investment in renewables and a truly sustainable future.
Fracking is often cited as an important energy source due to its low-carbon nature. While this is true compared to oil and coal, it makes no sense when compared to renewable energy.
Currently renewables supply around 20-25% of UK electricity, and its market share is growing rapidly. Between 2010 and 2015 it trebled.
Renewables are also providing electricity at ever falling costs. In the time it has taken the shale gas industry to push through one planning application, the cost of renewables has plummeted and the technology has improved significantly.
Yet the government continues to prioritise fracking with tax breaks and preferential treatment when it comes to planning guidance.
Meanwhile, there is an anticipated hike in business rates for renewables. This will impact solar on commercial buildings, which alongside the dramatic cuts to the feed-in tariff support also underway for the industry, will risk stifling the growth of the thriving industry.  Given the volatility in the price of solar at this time, this clunky and inflexible mechanism is not a suitable or fair way to tax the industry. It risks disadvantaging solar in the rapidly changing energy market, when it's on the cusp of taking off.
There are choices to be made between which kind of industry we focus on. Renewables are on the cusp of an energy revolution. With the right support and investment they could meet our future energy needs, as well as our carbon reduction requirements. The same cannot be said for fracking, particularly due to the risk of a long-term lock-in to this industry and infrastructure once established.
2. What is the impact of the  UK rolling out fracking on the global effort to tackle climate change?  
There is a limit to the amount of gas we can remove from the ground in Europe. University College London argue that of the existing reserves of gas in Europe, six percent of gas reserves need to be left in the ground.  So if we want to start taking our gas out of the ground in the UK, which European countries are going to agree to leave theirs in?  Unless the shale industry and its supporters can answer this then they should not be allowed to roll out fracking in this country.
We need to remember that this is not simply a discussion about our emissions; it's a discussion about our global leadership on climate change. How can we tell other countries to reduce their reliance on fossil fuels, or not exploit their own resources, when we are behaving in this way? It's all very well to go to international conferences and make promises, but we have to then act accordingly.
I ended my presentation with a message from Barbara Richardson who lives within view of the proposed fracking site in Roseacre, Lancashire:
We are particularly concerned not only about the direct impacts on local communities such as ours, our wonderful rural  environment and special wildlife,  our health and well-being but also the adverse impacts fossil fuel extraction will have on fulfilling our role to tackle climate change. We should be investing in clean renewable energy and energy efficiencies not throwing good money after bad on an industry which poses far too many risks to so many people.
Other posts by Hannah Martin