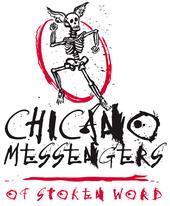 Chicano Messengers of Spoken Word
"Ortiz, in the show's most entertaining role... She adds some needed comic leavening at several points, without getting too obvious in her characterization." -- Houston Chronicle
The Chicano Messengers' dark spoken word/hip hop theater play, Fear of a Brown Planet, is the story of three Chicano archetypes – construction worker, radical lawyer, and Hispanic socialite – who find themselves in an internment camp with no memory of why or how they got there. Inspired by No Exit (Jean-Paul Sartre), Fear of a Brown Planet is a psycho-spiritual journey through internal terror, on a quest for meaning in our collective Brown existence. Directed by Tony Garcia, founder of El Centro Su Teatro. With live, original music by bebop jazz composer Marcus Shelby. After performances in Denver, San Francisco, and Miami (headlining last year's NPN Conference), they sold-out their Texas debut in Houston, June 29th and 30th.
Presented by the National Performance Network, DiverseWorks & MECA's Cullen Trust for the Performing Arts Concert Series. Chicano Messengers projects have been developed with assistance from Xicanindio (Mesa, AZ) and El Centro Su Teatro (Denver, CO).
Performances in the planning stages include a festival in Los Angeles - fall of 2007. Check in the coming months for details.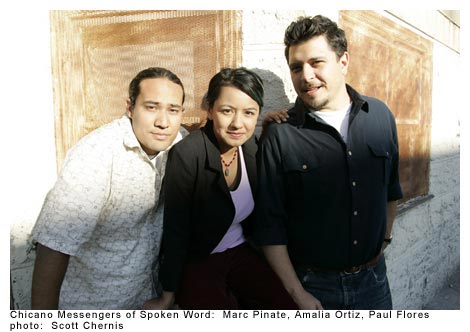 Chicano Messengers of Spoken Word are Paul Flores, Amalia Ortiz and Marc David Pinate, three of the nation's best Latina/o performance poets. Contact Chicano Messengers for poetry or theater at your venue.

Marc David Pinate is a poet, playwright, actor, organizer, and activist currently residing in Berkeley, California. Pinate is the co-founder and front man-poet of Grito Serpentino, a spoken word and music ensemble. In 1999 Pinate was a member of the San Jose Slam Team which took first place at the National Slam Championships in Chicago and which earned him an appearance on CBS's 60 Minutes.
The same year Pinate founded Los Del Pueblo Actors' Lab, a grass roots NeoChican@ theater company which has mounted several plays written by Pinate including The Mex-Files, The Tale of Johnny Hispanic, Amor Rabioso, The Lunatic and The Journey of Isis. Pinate's poetry, plays and short stories have been published in The Santa Clara Review, Razateca, Comfusion, Calaca Review, Zyzzyva and StreetLow Magazine. Pinate released Grito Sepentino (1999), and Para La Gente (2001). Pinate's achievements have been awarded by the California Arts Council and Arts Council Silicon Valley.
Originally from Arizona, he received his B.A. in Communications from Santa Clara University in 1994. Pinate also holds an M.A. in Theater Arts from San Jose State University. Along with teaching drama classes part time at SJSU, he is the Program Manager at Galería De La Raza, in San Francisco.
Paul S. Flores is the 2003 PEN OAKLAND award winning author of the novel Along the Border Lies (ZYZZYVA), and lives in Oakland. He has been performing since 1996 as a member of Los Delicados. He has featured at the National Hip Hop Festival in La Habana, Cuba, The Chicago Museum for Contemporary Arts, The Nuyorican Poets Café, and on two seasons of Russell Simmons Presents: Def Poetry. He is the author of hip hop/spoken word stage plays, including de/cipher (2001), No Man's Land (2002) directed by Kamilah Forbes, and The Fruitvale Project (2003), directed by Elia Arce.
Paul's has been a keynote speaker at the National Association of Latino Arts & Culture Conference 2001, Brown University Multi-racial Heritage Convocation 2001, Encuentro 2002 (Guadalupe Cultural Arts Center), and NPN Conference 2002. He appeared on NPR's Forum, and at The Common Wealth Club of San Francisco, twice. He is the recipient of the Creative Work Fund, twice. Paul won the California Arts Council Spoken Word Fellowship.
His poetry is heard on Handbook to the Apocalypse (Wide Hive Records), Word Descarga, Los Delicados spoken word CD (Calaca Press), and Spoken City (Noir Records). He has published in The San Francisco Bay Guardian, The San Francisco Chronicle, ZYZZYVA Magazine, and others. Paul has worked directing Youth Speaks in San Francisco, "Hecho en Califas Performance Festival," and "Collective Soul," at La Peña Cultural Center in Berkeley. Paul holds an M.F.A. in Creative Writing from San Francisco State University.
Houston Chronicle: review of Fear of a Brown Planet
Rocky Mountain Collegian: review of a Chicano Messengers poetry performance
Paul Flores' website
Marc David Pinate biography