Publications
Rant. Chant. Chisme. (Wings Press, 2015). Amalia's first published book of poetry.
The Chicano Messengers of Spoken Word (CD, 2004). Featuring Amalia, Paul Flores, and Mark David Pinate. Su Teatro.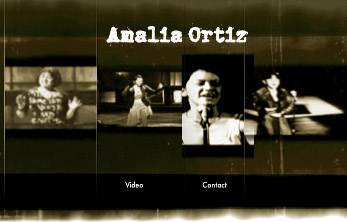 Amalia Ortiz: Promotional Disc (DVD, 2005) .
Compilations
The Line Between Us (Textbook, 2006). Bill Bigelow, ed. Milwaukee: Rethinking Schools.
Deportation Nation (Poetry, 2009). Amalia's poems "These Events" and "Old Colossus, Resurrected." Limited edition. San Diego: Calaca Press.
Rio Grande Review (Literary journal, Spring 2008). Amalia's poem "La Matadora." Volume 31. El Paso: UTEP.
Russell Simmons' Def Poetry (DVD, 2003-2005). HBO. [Amalia appears on seasons 2, 3 & 4]
NYC Urbana: the Very Best of 2003 (CD, 2003). New York: Wordsmith Press.
National Poetry Slam 2000 (DVD, 2001). Poetry Slam, Inc.
Busload of Poets (DVD, 2001). Poetry Slam, Inc.
PoetCD.com Sampler Vol. I (CD, 2003).