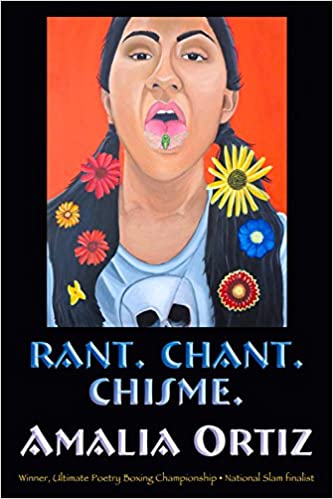 Amalia's debut book of poetry (released August 2015), available for purchase.
"Amalia Ortiz has something special in Carmen de la Calle, her San Antonio-set take on Bizet's opera Carmen." -- San Antonio Express-News
See the Latino Musical written by nationally recognized and award winning poet and performer Amalia Ortiz.
Read more...
Otra Esa on the Public Transit
"Lively poetry-driven show... a promising solo work" -- San Antonio Express-News
Created and performed by Amalia Ortiz. About destination and destiny -- this unique play follows Amalia's adventures in the public transit system. It is directed by Maria Ybarra, San Antonio theater artist. Otra Esa is an original multimedia one-woman show combining theater and spoken-word that premiered at Talento Bilingüe de Houston in March 2005. The San Antonio debut, at the Guadalupe Theater, was a great success. See photos of characters from the show, or download the Otra Esa program brochure. Amalia and Maria Ybarra debuted another original play, Real West Side Story, at the Guadalupe in 2006.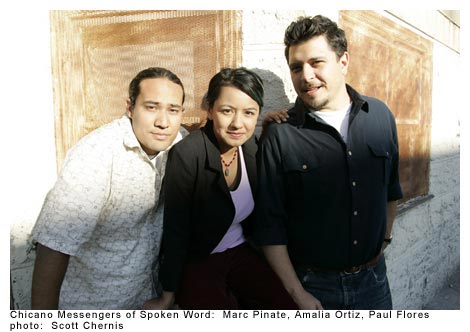 "Ortiz, in the show's most entertaining role... She adds some needed comic leavening at several points, without getting too obvious in her characterization." -- Houston Chronicle
Fear of a Brown Planet, a stage play by Paul S. Flores, Amalia Ortiz, and Marc David Pinate, three of the best performance poets.
Read more...

Def Poetry
The groundbreaking spoken word series on HBO, including Amalia and her mad skills (Season 2, 3, and 4).

"Amalia Ortiz turned out an electrifying spoken-word piece." -- San Antonio Express-News
"To go beyond entertaining and promote real activism." Onstage and in the classroom, Amalia helps students confront the murders that continue just across the river.


Watch Video
Read more

"Contains energy and enthusiasm to burn...brimming with attitude." -- Variety
Selected by SiTV for broadcast on the Not So Foreign Filmmakers Showcase.
Read more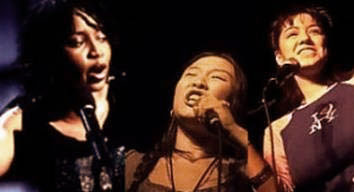 Rio Grande Valley, Texas
Amalia performs at sites throughout the Rio Grande Valley of Texas, where she grew up. She is active in the Valley International Poetry Festival, and leads workshops at school districts and colleges in Cameron and Hidalgo counties. Read a review from The Monitor newspaper, and read her interview in Valley Morning Star. She also participated in Borderplex Electronica at Guadalupe Theater, a collaborative work about growing up in the RGV.
Book Amalia for a performance or workshop

Diva Diction
A female performance-poetry troupe, including Ishle Park and Bassey. Performances include the broadcast of NAACP Image Awards. Popular at campus events nationwide. Contact Diva Diction

MadMedia/RESET Collective
"Haters, a laugh-out-loud send-off of the reality show Cheaters, is RESET at its best with on-point editing and graphics." -- San Antonio Current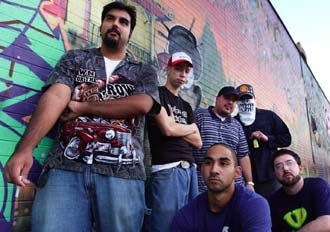 A multimedia artist group creating video, music, and theater for San Antonio, San Francisco, and Southern California. Projects include What Are You doing Tonight? (2006-2007), a touring multimedia stageplay about the dating scene;Haters (2005), a satirical short co-starring Amalia as the sancha; 4 issues of Clogged Caps, a graffiti video magazine; and Poch@ (2002-2006), a comic video-theater-poetry exploration of cultural identity. They also teach children's workshops -- Amalia directed The Land of the Past, written by and starring Westside middle-schoolers. Watch RESET's videos on YouTube.

Poetry Slam
Performance with the ¡Puro Slam! team at the National Poetry Slam. Amalia was the first Latina to reach the National Slam finals. Earned a spot on the National Finals and Slam America tour/film. Open Slam Champion and Tag Team Champion (w/ Gary Mex Glazner) at the Taos Poetry Circus. San Antonio's Puro Slam Grand Slam champion 2000, 2001, & 2002. 1999 MVP "based on skills, execution, winnings, and over all sportsmanship."

Urban Verses
At Urban15, Amalia Ortiz hosted and curated a poetry variety series, including writers' workshops, open mics, mini slams and featured performances. Headliners included Trinidad Sanchez, Jr. (en paz descansa), Oliver Grimball, and Anthony Flores. Vintage film performances by legendary poets closed each show.

Women of ILL Repute: Refute!
All-female project to raise money for the Rape Crisis Center. Performances included the Texas Book Festival, Young Tongues Festival, San Antonio Inter-American Book Fair, Latina Letters Conference, Austin Poetry Festival, Austin Book Festival, and the National Latino Alliance Conference. Performers included Francis Treviño, Yaqui Moody, Celeste Guzmán, Victoria García Zapata-Klein, Shannon McGarvey, Abril García Lin, Lisa Cortez Walden, Dragonfly, Claire Aguirre, Heather Mockeridge, María Ibarra, and Ana de Luna.