Alison from Swansea – Why I'm asking Barclays to stop funding tar sands pipelines
---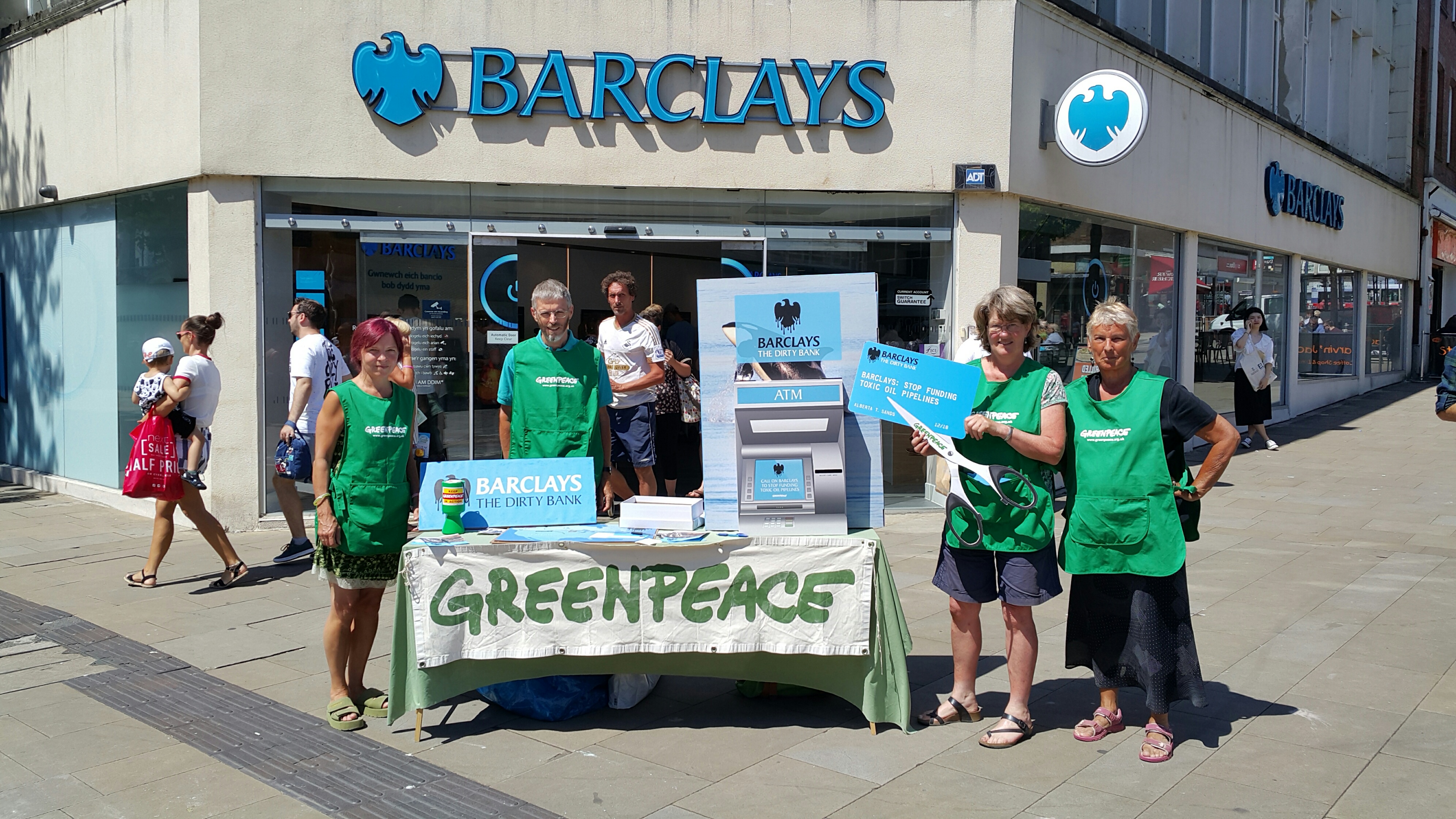 As part of a nationwide push by Greenpeace to put pressure on Barclays to stop funding toxic tar sands pipelines, we set up our table in Swansea town centre outside the bank, complete with replica ATM and its striking Dirty Barclays logo dripping black oil.  
While some members of the public and Barclays customers had their photos taken with giant scissors cutting up a Barclays credit card, others signed our replica credit cards which we would later hand in to the local Barclays branch. Barclays are a bank that serves local communities across the country, so I think talking to those communities about this global issue is hugely important.  So it was that on a sweltering July day a small group of us collected a good number of photos, signatures and handed out information on the campaign.
The tar sands in Canada are a  disaster for the environment and the climate.  Huge swathes of land have been devastated in the push to extract oil out of bitumen deposits.  This unconventional method requires huge amounts of water and the production of one barrel of oil from the tar sands produces twice as much CO2 as a conventional barrel of oil.  
This is not the first time Greenpeace has touched on this important issue. I remember in 2010, the Greenpeace film Petropolis which was brought out to support the campaign.  It showed areas of land in Canada turned from rich forest to sickening industrial wasteland with ponds of contaminated water very close to clean rivers. What struck me, in particular, were interviews with Indigenous communities whose way of life had been destroyed.  They were impacted by these toxic projects and couldn't live off the land or fish the rivers anymore which was heartbreaking. If these huge pipelines go ahead, there will be a huge increase in production resulting in even greater devastation of land and the local environment, not to mention a massive increase in CO2 emissions that would make global CO2 goals set at the Paris climate conference virtually impossible to meet.  
Barclays doesn't hesitate to tell customers and investors about green energy initiatives they support yet they haven't ruled out funding for these toxic tar sands pipelines.  For the sake of our shared climate, the livelihoods of Indigenous Communities and the defence of their land and water, Barclays needs to stop funding these pipelines.
Other posts by Greenpeace UK