Experience the Antarctic in 360°
---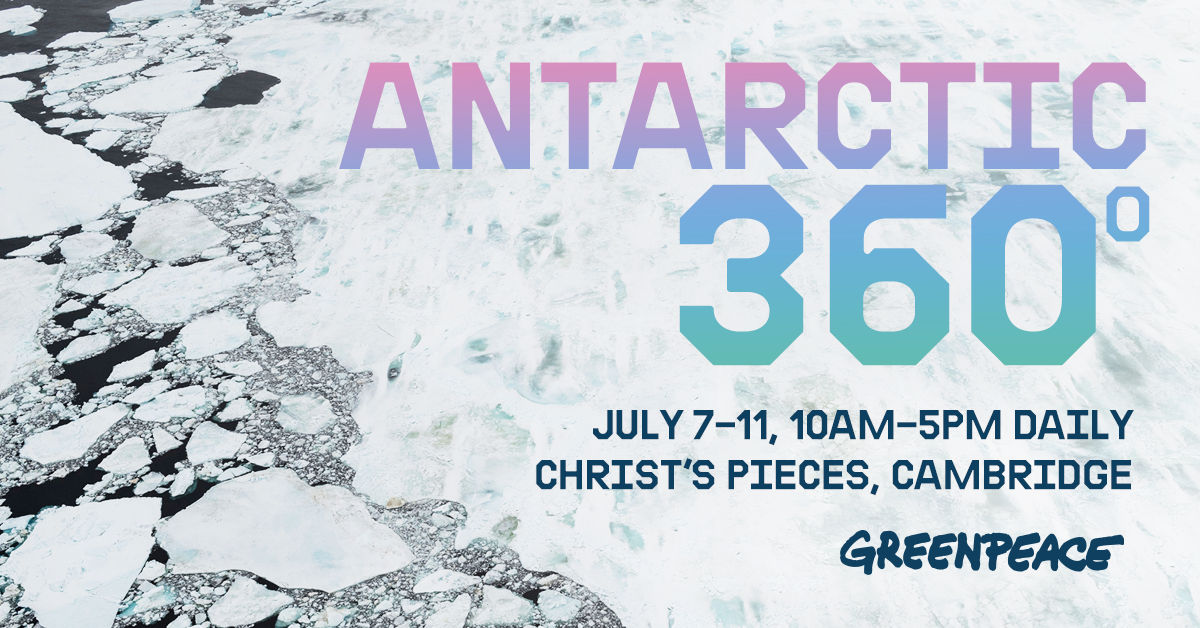 This July, the Antarctic is coming to Cambridge. Come along to Greenpeace's virtual reality geo-dome and prepare to be transported across the Antarctic Ocean to the world's last wilderness.
Visit a penguin colony, fly like an albatross and sail a Greenpeace ship – all in a spectacular 360°. Join Greenpeace at our free, family-friendly event and find out first hand why we need to protect the Antarctic.
When: July 7-11, 10am-5pm daily.  
Where: Christ's Pieces, Cambridge.
How much: It's a free, family friendly event.
Details: There is no need to book. The 360° film experience will run a few times an hour and last for around 10 minutes. There may be a short wait time when you arrive but you are welcome to take a selfie with a penguin or enter our Antarctic drawing competition while you wait.
Add the event to you Facebook calendar: 

www.facebook.com
More information…
What is Greenpeace's Protect the Antarctic campaign?
This year we have an opportunity to create the largest protected area on Earth: an Antarctic Ocean Sanctuary. It would form a safe haven for penguins, whales and seals.
In October, the Antarctic Ocean Commission (the body that gets to decide whether or not to create a sanctuary) will come together to make their decision. And an Antarctic Ocean Sanctuary will only become a reality if all of the 25 governments on the Commission give it the green light.
Then why is Greenpeace in Cambridge?
Before the meeting in October, scientists and policymakers from all over the world will meet to thrash out the details of the proposed Antarctic Ocean Sanctuary. They'll use the latest research to decide how the sanctuary should work – then recommend to their governments what to do next.
If scientists in Cambridge make ambitious recommendations, it will help clear the way for a strong proposal for Antarctic protection when the governments responsible for the Antarctic Ocean meet in October.
So help inspire them to think big and join us as we show them why the Antarctic needs protecting.
Other posts by Greenpeace UK