Anti Third Runway Activists Get Their Day In Court
---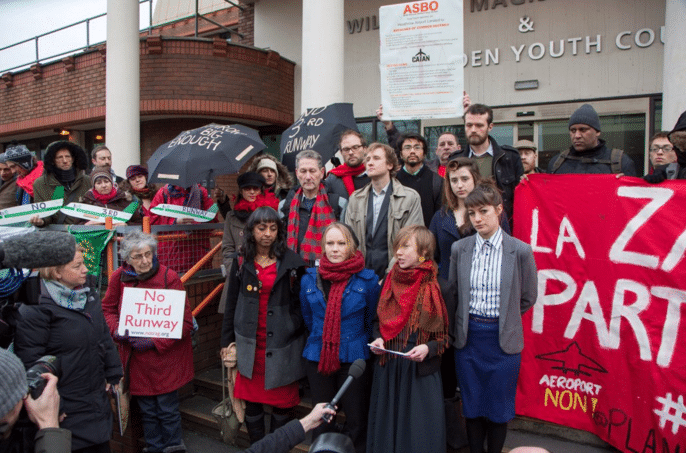 This is a guest blog by Ella Gilbert. She is one of 13 activists put on trial at court for protesting a third runway at Heathrow Airport
Last July, I was part of a Plane Stupid direct action on Heathrow's Northern runway. The action was part of long-running campaign against the third runway at Heathrow, and against UK airport expansion more generally.
Today, we were found guilty of aggravated trespass and entering a security-restricted zone of an airport. Sentencing is expected on February 24th. We took action because we saw that it was sorely needed. When laws are unjust, ordinary people must take action to change them. Like the 'Delta 5', who were recently charged with stopping a coal train in the US, we acted to minimise the climate impacts of a hugely polluting industry. Although the legal system does not yet recognise that climate defence is not an offence, in the words of Judge Wright, we have "already won".
Last year, on the 1st July, the long-awaited Airports Commission report was released, recommending the construction of a third runway at Heathrow. If the government acts on this recommendation (which appears likely) it will represent another massive U-turn on their part: in their 2010 pre-election manifesto, David Cameron's Tories asserted that they would not back a third runway at Heathrow, "no ifs, no buts". This promise was made at the height of the campaign against a third runway when there was significant pressure to oppose further development at Heathrow. Now in power, they clearly realise airport expansion is still an unpopular topic for Londoners. The decision is evidently a political one, with little consideration of the environmental impacts or necessity for more runways.
Despite claims that airport capacity in the Southeast is at its limit, in a 2012 Parliamentary Transport Committee meeting, the chiefs of four of the region's largest airports gave evidence to the effect that there is spare capacity at many airports in the UK. The final decision has been delayed until after the London elections in May so as not to hamper Conservative mayoral candidate Zac Goldsmith's chances, as he represents the Richmond Park & North Kingston constituency which sits under the flight path.
The environmental case against airport expansion – not just at Heathrow – is clear. The sector is stubbornly difficult to decarbonise and efficiency savings are far outstripped by increasing demand. If it were a country, the aviation industry would be the 7th most polluting in the world. According to DfT figures, aviation accounts for 6% of UK CO2 emissions but this figure is misleading because it doesn't account for the amplified effects of emitting pollutants at cruising altitude, where they are much less readily removed and have more significant climate effects. Add to this the emissions of non-CO2 pollutants and a more accurate picture emerges, though policy-makers are still reluctant to accept that aviation is damaging to local health and global climate.
Aviation and shipping have so far been the elephant in the room when devising climate legislation, both national and international. Excluded from the 2008 Climate Change Act and Kyoto agreements, the trend has been followed at every climate summit to date – and Paris is no exception. Although included in the EU Emissions Trading Scheme from 2012, only flights that both originate and arrive in the European Economic Area are included – or around 11% of global aviation emissions. The International Civil Aviation Organisation, the specialised UN agency that regulates the aviation industry, makes noise about efficiency improvements and climate change targets but achieves very little. Those in power are taking very little action to tackle aviation's significant contribution to climate change, so we must.
Last week, we gave evidence as part of our trial for charges of aggravated trespass and entering an aerodrome without permission. I gave evidence first, and found the line of prosecution far less hostile than I had imagined. Happily, the judge is also considerably more sympathetic than I think any of us anticipated, even making judicial note of the fact that climate change's effects are "devastating" and that aviation is responsible for emissions – according to our barristers, potentially a first in legal history.
An incredible demo on Monday morning attended by such prominent figures as Natalie Bennett got us off to a flying start (excuse the pun), and support has been pouring in from all quarters. It's been incredible, and we are very grateful for all the statements of solidarity we have received. We have been lauded as heroes and defenders of democracy, and I think the level of praise has been unexpected for all of us. We are, in the words of defendant – and fellow 'hooligan' – Mel Strickland, "13 ordinary people who find ourselves in an impossible situation…with the colossal problem of climate change. We don't have the power, influence or resources that Heathrow does and there is no political will to change things via legal procedures." Given the immovability of the government on the matter, we were all faced with a choice – to do nothing, or to take direct action.
Other posts by Greenpeace UK