Why we can't trust BP to drill near the Amazon Reef
---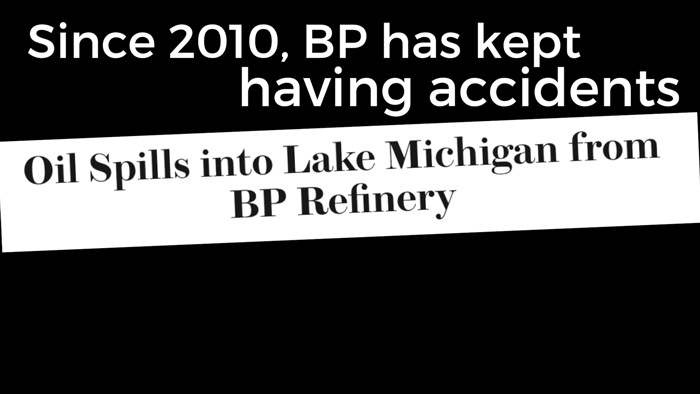 BP say they can safely drill for oil near the beautiful Amazon Reef. This video explains why we shouldn't believe them.
BP's track record speaks for itself. Since their Deepwater Horizon disaster in 2010, BP have had at least five more accidents, and two potentially lethal 'near misses'.
BP's oil has leaked into the North Sea, sprayed onto the Alaskan tundra, and spilled into Lake Michigan (see below for a full rundown of these mishaps). BP make huge amounts of money from these places – but they still can't manage to keep them clean and safe.
And as local people continue to struggle for justice following Deepwater Horizon, BP think the world should let them drill in even deeper waters and tougher conditions near the Amazon Reef.
A habitat we can't afford to lose, for oil we can't afford to burn
Of course, BP isn't the only oil company to struggle with leaks and spills, and you don't have to be corrupt or incompetent to have accidents like this. The oil industry is full of clever, dedicated people working to make their operations as safe as possible – but when all's said and done, extracting and handling oil is just a really difficult and dangerous thing to do.
Thankfully none of these accidents were anything like as bad as Deepwater Horizon. But they don't inspire much confidence either. The Amazon Reef is unique and barely-studied scientific marvel, and ultimately, nobody can guarantee its safety while oil companies are drilling into the seabed just a few miles away.
And of course, all the safety precautions in the world don't change the basic facts of climate change. If we don't want to blow our carbon budgets, new oil supplies like this one simply need to stay in the ground. BP want to endanger a habitat we can't afford to lose, to extract oil we can't afford to burn.
So here's the question: why should they be allowed to take that risk?
BP's mishaps since Deepwater Horizon
Prudhoe Bay, Alaska 2017
In April, a BP oil well sprayed a fine mist of oil and natural gas into the area. This Marketwatch report mentions that a metal 'well house' helped to contain the spray and helped to prevent injuries or harm to wildlife.
Clair platform leak, North Sea 2016
Last year, BP's Clair platform, 46 miles west of Shetland, leaked about 95 tonnes of oil into the North Sea. The Guardian reports that the leak was caused by a technical issue with a system designed to separate the mixed production fluids of water, oil and gas.
Lake Michigan, Indiana 2014
BP's Whiting Refinery in Indiana spilled up to 1638 gallons of oil into Lake Michigan after crude oil leaked into a sealed cooling system, as reported by the Chicago Tribune
Ula platform spill, North Sea 2013
According to the Guardian, An estimated 125 barrels, or 20 cubic metres, of oil flowed out of the leak, along with 1,600kg of gas. Norway's Petroleum Safety Authority said BP's maintenance systems were deficient, and added that "the incident had the potential to become a major accident, with the risk that a number of lives might have been lost."
Lisburne Field pipeline leak, Alaska 2011
A ruptured BP pipeline leaked 2100-4200 gallons of 'oily mixture' across 2040 square feet of wet and aquatic Alaskan Tundra, as reported by Reuters.
Other posts by Mal Chadwick