We brought the Amazon Reef to London!
---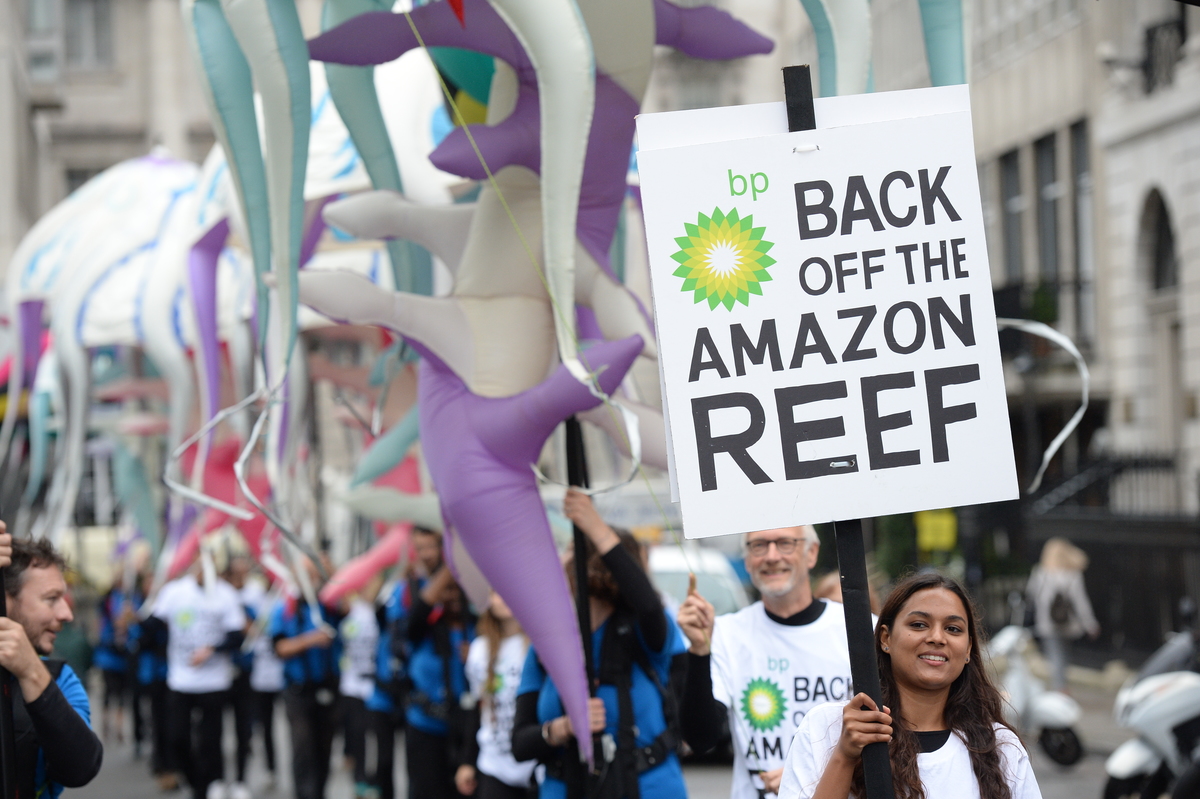 It's been a miserably grey August in London- but on Monday morning, the streets were filled with colour and energy. From Trafalgar to St James's Square, giant marine creatures floated along with a parade of passionate reef defenders, infecting people with joy and smiles. The air was filled with sounds of the ocean- with the odd intriguing whale call!! It definitely cheered people up on their commute around central.
Why did we do this?.. Well, BP currently have plans to drill near a 600 mile, newly documented coral reef near the mouth of the Amazon – which happens to be a brand new ecosystem. The area is already home to significant species, but as only 5% of the area has been mapped, it's highly likely that many new ones exist.
I've been working on the Amazon Reef campaign for a few months now, and on Monday I finally got to see all our hard work in action. I joined like-minded Greenpeace activists from all over the UK, in a vibrant march to protest against BP.
BP's plans bring the risk of an oil spill which could devastate this precious ecosystem and potentially wipe out these new species. Our success on that day may determine the future of the reef- so we were all ready to give it our all and tell BP to back off the Amazon Reef.
The reef defenders did a great job wowing the people of London- it's not everyday you see a tropical fish parade marching around Trafalgar Square at 8am. It was a smooth show, we didn't hold up traffic or cause ag to drivers. Instead, they seemed to be beeping at us in awe. They even took leaflets to find out what we were doing here!
We stayed in the area for an hour-ish, and along the way, stuck a letter on the door of the Brazilian Embassy, telling them how many people want to see drilling plans abandoned. Once we got to BP's HQ, Sara (campaigner) delivered a treasure chest containing a petition letter addressed to the CEO, and messages from supporters.
I handed in a big map of the reef, as they're clearly ignoring it. In BP's Environmental Impact Assessment (EIA), they completely missed out the Amazon Reef, as if it didn't exist in the Amazon Mouth Basin. Although a more recent statement did address the reef, it just shows that they couldn't be bothered to do another EIA! So, we brought the reef to their HQ, helping their staff visualise the reef, and refresh their conscience.
Just as we headed away from BP, the Boris Johnson himself appeared from the corner! We managed to chase after him and hand him a leaflet, informing him about the campaign. He said he hadn't heard of the reef, but realised it was an 'important issue'. Why can't BP realise the significance of the Amazon Reef?
Our ultimate aim is to stop BP from drilling in the Amazon Mouth Basin, by creating public awareness of the threat to the reef posed by their plans. We also hope to spark conversations within the BP HQ and the Brazilian embassy; emphasising the dangers of oil drilling and its impact on the Amazon Reef.
Add your voice to the 1.3 million people who've already called on BP to back off the Amazon Reef. Sign up here: http://act.gp/2xsok2J
Other posts by Priya Surendra