SpongeBob protests against BP, all over the UK!
---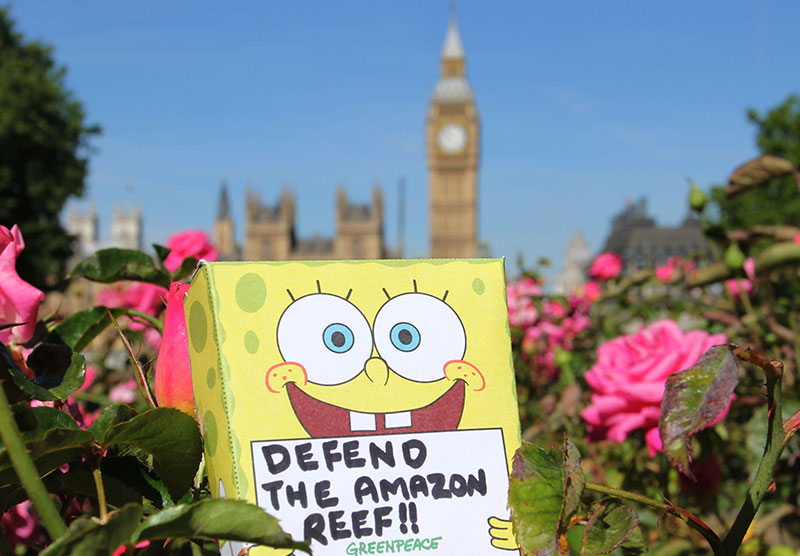 As a determined activist, SpongeBob Squarepants is on a mission to spread the word about the beautiful Amazon Reef.
He's has been on some epic travels- from vibrant cities to the beautiful British countryside. Check out the images below, shared by creative Reef Defenders who've staged their own protests against BP's reckless oil drilling plans.
The winners are:
*David James*
with SpongeBob visiting extinct creatures
(psst…a message to BP about the ecological significance of the reef!)
*& Ella Delaney (age 6!)*
with her creative representation of SpongeBob in the Amazon Reef
Runner up:
*Andrew Middleton*
Simply clever.
He also sunbathed at Brighton Beach
Toured around Tower Bridge in London
Followed by a marvellous afternoon tea
He made a friend at the Golden Hind Museum in Devon
Ahoy, matey!
He paid a visit to Charles Darwin in Shrewsbury
And walked with nature in Attingham Park
Feeling oh so gracious after punting in Cambridge
SpongeBob parachuted to BP to deliver this message
And he spent a day in Edgbaston watching the cricket!
One Reef Defender even made a short film about SpongeBob's protest!
A massive thanks to all the amazing Reef Defenders for entering the competition and sending us these incredible pictures of your SpongeBob creations.
We've loved seeing your creative inventions!
Other posts by Priya Surendra