Coke are still choking our oceans: Our response to Coca-Cola's PR spin
---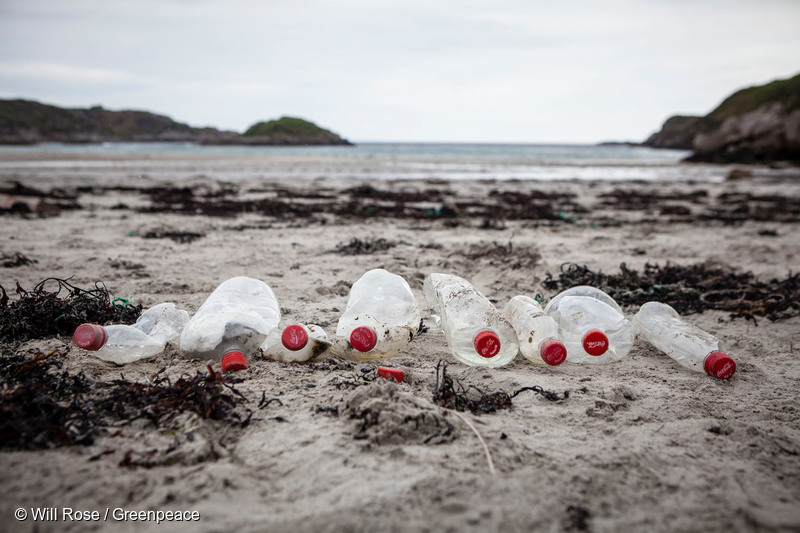 People power works. Over 90,000 of us have emailed the bosses of Coca-Cola saying enough is enough, and after 3 months of pressure from Greenpeace, Coke is finally realising the risk that ocean plastic pollution is posing to its brand. This morning Coca-Cola made an announcement in response to all of our efforts, but in honesty… it's all fizz and no substance.
So what's new? Well, first- they're announcing that in the UK they'll increase their recycled content target for 2020 from 40% to 50% (globally, they're on 7% recycled content, so… could do better is an understatement). Second, they're going to trial a new voucher scheme to encourage the recovery of their bottles.  "Doesn't sound too bad…?"
That's exactly what this announcement is designed to do, to alleviate the pressure that the likes of you and me have been putting on the company and give them some positive attention in the press.
Not so fast, let's debunk some of this announcement and go through all the reasons of why it does very little to stem the flow of plastic entering our oceans.
Upping their recycled content target by 10% is straight up not good enough. For this announcement to have had any kind of clout, this figure needed to be so much more impressive. Coke are the world's biggest soft drinks brand, but these figures show that they are lagging behind others. 100% recycled content is completely realistic and we should expect nothing less from a Coke, who produce 100 billion bottles each year. Ribena have used 100% recycled content in their bottles since 2007, and water brand Belu are planning to shift all their bottles to 100% recycled material within 12-24 months – so if Coke expect us to jump up and down at these feeble figures, they can guess again.
Coke's plans to trial a voucher scheme to reward customers for returning small Coke bottles to shops is gimmicky and risks distracting from ongoing government processes to look at a comprehensive and joined-up deposit return scheme. Coke have already U-turned to now support DRS across the UK, so they need to give a proper system their full backing. Nice try, but we won't be distracted by shiny vouchers…
So Coke want us to think this announcement is full of fizz but when you look at the detail, much like an open bottle of Coke bobbing along in the ocean, this announcement has gone flat.
They're doing nothing to genuinely challenge the culture of throwaway single use plastic bottles and what little action they're taking is restricted to Britain, and as any beach cleaner will tell you, ocean plastics is a global issue.
Coke should be pushing for an industry-wide deposit return scheme so that far fewer plastic bottles end up in our oceans, and actively reducing the amount of single-use bottles they put onto the shelves (they've increased single-use plastic bottles production by over 12% in the last nine years alone!).
This company has a history of making green announcements that sound good, but deliver little.
So today's news shows that we've got them rattled. But as Coke still aren't putting a stop to the flow of plastic entering the oceans, we're not putting a stop to the pressure.
Twitter: @fifinicholls Instagram: @fifinicholls35mm
Other posts by Fiona Nicholls