"We don't need this plastic" – what supermarket customers are telling us
---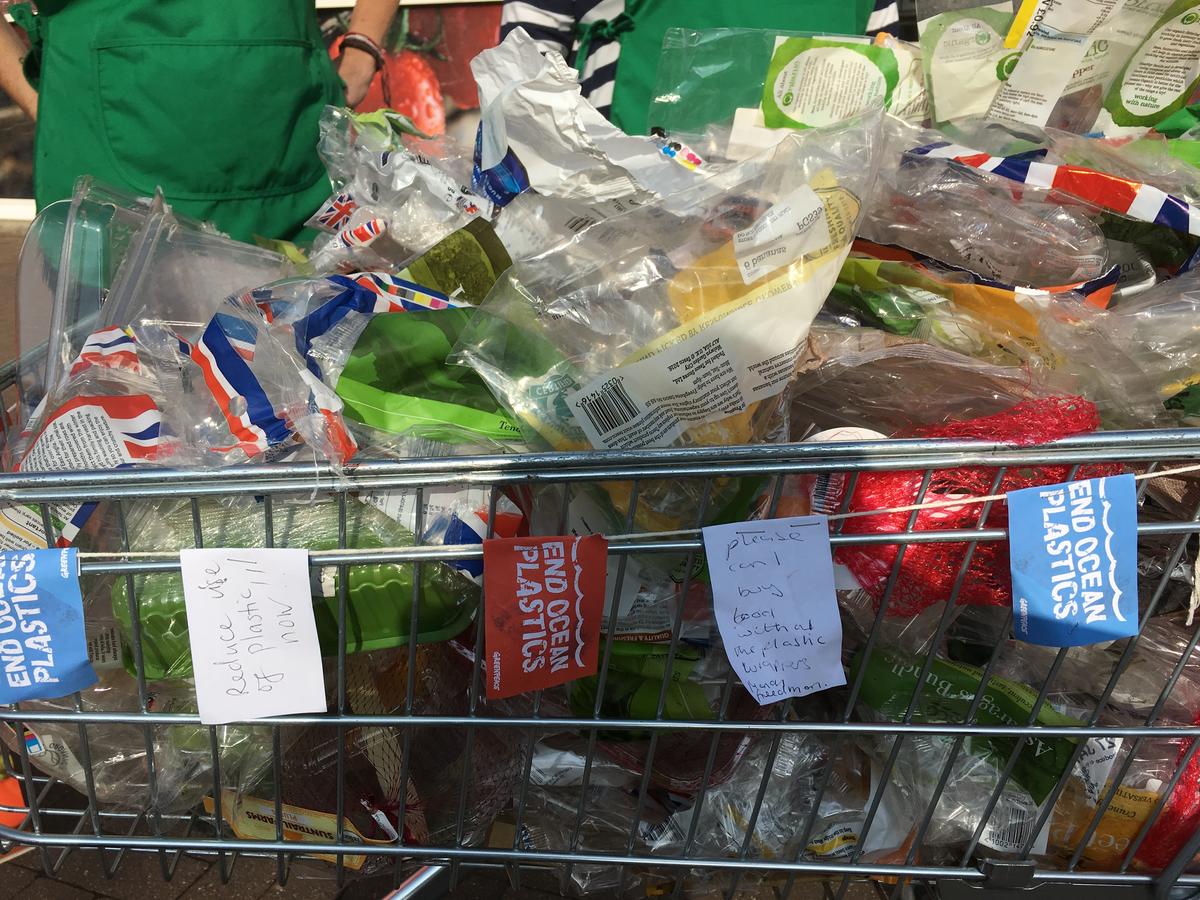 This blog is by Ken Carroll, a Greenpeace volunteer in Southampton:
It may not be everyone's idea of a good time. But the Sunday morning we spent outside a Sainsbury's in Southampton sure felt good. I was there to join members of Greenpeace in raising awareness of the plastic waste problem. A survey conducted in 2018 by Greenpeace UK and the Environmental Investigation Agency exposed how UK supermarkets are adding to the problem. Ten major retailers alone are using over 810,000 tonnes of single-use plastic every year. Seven are contributing the equivalent of 59 billion pieces of plastic packaging. Supermarkets need to reduce plastic packaging.
To maintain pressure local Greenpeace groups across the UK are collecting shoppers' unwanted plastic. And this is why we were there, standing outside that Sainsbury's on that fresh Sunday morning. We were lucky with the weather. Bright blue skies and not too cold. Perfect conditions for some quality time outside. Lyn, our team lead, arrived on her bike carrying all the necessary kit.  Signage, bright green bibs, a cardboard box, staplers, clipboards, forms, and pens. Armed with smiles we set about talking to shoppers as they left the store. It was not long before we were all busy in meaningful discussions. Those we talked to were keen to open their bags and look for plastic. Happy to unwrap any plastic covered fruit and vegetables, sign a  petition, and pose for a photo. They had a good understanding of the plastic problem and the urgency. A common response was that plastic packaging was unnecessary. And were keen to do something to help influence the supermarket's offerings.
Of course it was not long before we were attracting some attention. Two Sainsbury's staff came out for a friendly chat. We explained the campaign and talked for a while. They were unwilling to provide an official comment. But as they returned to the store I sensed they, as individuals, had sympathy for the cause. It was a positive encounter. We stayed for a few more hours, engaging with a steady stream of shoppers. As we wrapped up (:-) it was good to reflect on some of the messages they left:
"We don't need this plastic"  

"This is not necessary"

"Do they really need this?!"

"I didn't need the bag"  

"My lunchboxes didn't need to be wrapped in plastic"

"This is pointless plastic"    
The packaging included fruit and veg wrappings, wrapping around sets  of baked beans, and plastic wrapping around plastic lunch boxes!!! I learned a lot that morning outside Sainsbury's. It's fun to work together.  Every touch point matters. And it feels good to build relationships. By talking and sharing we get to see other perspectives. The bigger the picture we see, the greater the opportunities to create a positive impact. And in the right company, a Sunday morning in the cold outside Sainsbury's can be a good time. I would recommend everyone to give it a go. And it will be what you make it.    
Other posts by Elena Polisano