In Pictures: Flipper flying there under the sea, it's Dolphin Awareness Month
---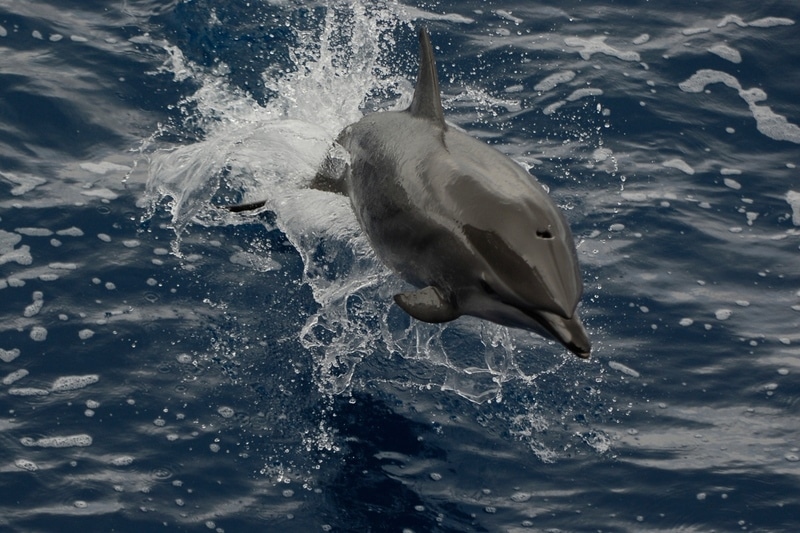 It's March and it's Dolphin Awareness Month! Dolphins are extremely intelligent and social animals that live in pods, can swim at a speed of up to 25 miles per hour and maybe able to dive up to 1,000 feet – as well as jump as high as 20 feet out of the water. These images document why we need to protect these magnificent creatures!
A pod of dolphins are pictured swimming close to the Greenpeace ship Arctic Sunrise, 20 miles off the north coast of Corsica, in the Pelagos Sanctuary for Mediterranean Marine Mammals.
© Paul Hilton 2008
Dolphins swim alongside the Rainbow Warrior in the Cook Strait, New Zealand; very close to where Texan oil company Anadarko intends to begin prospecting later this year.
© Nigel Marple / Greenpeace 2013
Common Dolphins in the English Channel.
© Kate Davison 2005
Dolphin in the Norwegian Arctic.
© Greenpeace 2014
A Long-snouted Spinner Dolphin (Stenella longirostris) swims in the waters off Sri Lanka.
© Paul Hilton / Greenpeace 2010
Two Hourglass dolphins breach. Rarely seen and little known, these are the only cetaceans to be taxonomically described from eyewitness accounts alone. Only six complete and 14 partial specimens have been examined by scientists – to see them from the Greenpeace ship Esperanza was a rare treat.
© Dave Walsh / Greenpeace 2007
Bottlenose dolphins, Tursiops truncatus, Mikura, Japan, Pacific Ocean.
© Hiroto Kawaguchi/SeaPics.com, http://www.seapics.com
Spinner dolphins (Stenella longirostris) and Short Finned Pilot Whales (Globicephala macrorhynchus).
©Daniel Beltra / Greenpeace 2006
Greenpeace activists protest against UK trawlers Ocean Star and Ocean Crest, fishing for sea bass in the English Channel.
© Kate Davison / Greenpeace 2005
Short Beaked dolphins swims in the North East Atlantic Ocean.
© Pierre Gleizes / Greenpeace 2011
Samadai reef, Egypt off Tondoba Bay, 14 km south of Marsa Alam. Crystal clear waters and unique coral reefs have made the Red Sea one of the world's prime diving destinations. Yet these reefs are threatened by problems such as overfishing, pollution and uncontrolled coastal development.
© Marco Care / Greenpeace
Other posts by Angela Glienicke