Floods: We've had it up to here…
---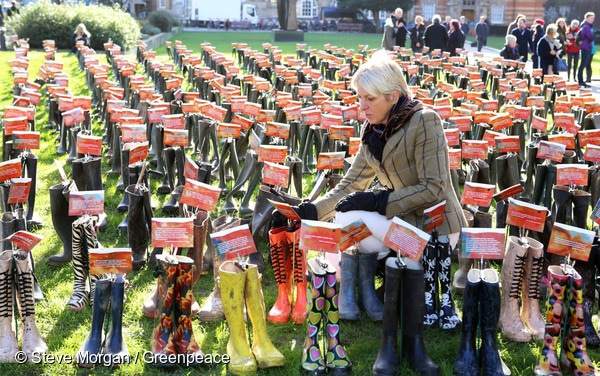 Last December, Britain experienced its wettest month since Met Office records began in 1910. Many towns, villages and communities buckled under the pressure of insufficient flood defences and were left devastated by the impact of the floods. 
For far too long, Ministers have disregarded scientists' warnings that climate change will drive up flood risk across the country. Now we want them to listen to the people who have paid a huge price for this complacency.
Today we're taking the testimonies of flood-hit communities to where our political leaders can't ignore them. Six flood-affected people and Greenpeace campaigners are arranging 480 pairs of wellies in front of Parliament, each carrying the experience of a person affected by the recent floods.Later today, we will also be delivering a petition signed by almost 100,000 people calling on David Cameron to plug the funding gap for flood defences and accelerate the roll-out of clean power.
These testimonies show flood-hit people are tired of ministers springing into action only when disaster strikes. The vast majority of the UK public want them to do more about preventing future floods. Unless we cut our dependence on the fossil fuels that are driving more extreme weather, we'll keep pumping water out of a leaky ship whilst punching new holes in the hull.
Here's a small selection of messages
"My dear friends have had to abandon their home near Carlisle, a home to 3 generations and will never be able to live there again. 10 years ago they were flooded but restored their lovely cottage to fully habitable.  This time, after 6 feet of water and structural damage to their and their neighbours houses, they can never return… I hope the government will be helping them."
Linda Chance, Carlisle
"I worry about the mammoth task that lies ahead in cleaning up and reinstating riverbanks and flood defence. About protecting our home, about not having to carry our precious children out through thigh deep water at 4am in the morning and many more things. Please help everyone affected by flooding to be protected in the future. The freak storms could become the norm and the damage they do lasts so much longer.We have been one of the luckier ones. By working relentlessly through that night, moving furniture and precious things out of our house, we managed to save a lot from the water that swamped our home."
Yvonne Rogers, Glenfarg
"Scientists are telling us that the recent floods are more likely in a warming world. To reduce these risks we must act in the UK and globally to cut our use of coal, oil and gas, and reduce greenhouse gas emissions."
Audrey Arbogast, Hoenheim
More needs to be done
A YouGov poll commissioned by Greenpeace UK shows nearly two-thirds of respondents (61%) think the government handled the flood response badly. An even stronger majority (74%) say ministers should do more to prevent future floods in areas at risk, and 61% say the government is spending too little on flood defences.
What's the soloution?
Greenpeace is calling on the government to deliver a comprehensive strategy to protect Britain from the impacts of climate change; provide adequate funding for flood defences and their maintenance; review land management and housing policies; and back the roll-out of clean energy to help curb the carbon emissions at the root of the problem.

Where are the wellies from?
The wellies used in the art installation have been donated to Greenpeace and will be either be recycled, reused, or donated to people in need.
This blog will be updated thoughout the day. You can also follow the action on Facebook and Twitter.
Digital Campaigner for Greenpeace. Follow me on Twitter - @kashnaik
Other posts by Aakash Naik