Why Greenpeace blocked Barclays' HQ
---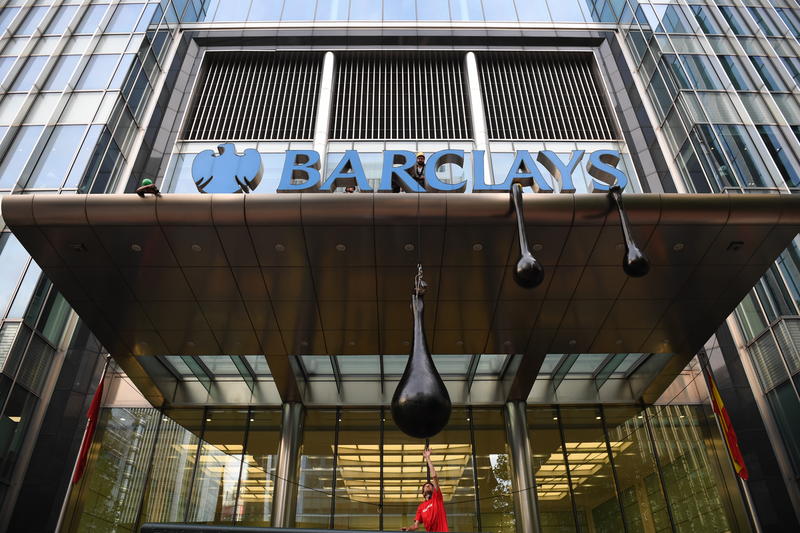 Earlier today 40 Greenpeace UK volunteers took over the main entrance to Barclays Bank's corporate headquarters near Canary Wharf in London's docklands.
Six of them were climbers who scaled the entrance's portico, where they recreated a tar sands oil leak dripping down from the bank's logo. The team also hung banners, decorated the bank with giant stickers and handed out leaflets to inform the staff about the impacts of the banks dirty funding decisions.
But why single out Barclays?…well Since HSBC's recent change in policy, Barclays is the only UK bank still choosing to fund the three oil pipelines planned from Canada's Alberta province to Canada's Pacific coast, and the USA.
Canada's tar sands produce some of the dirtiest and most polluting oil in the world. To get this oil onto the market Canada want three new pipelines built, but at a time of rapidly accelerating climate change, we just can't afford to burn any more fossil fuels.
To make matters worse, these pipelines are prone to spills, which could devastate local communities' water supplies and surrounding wildlife.
Barclays don't need to be part of this mess; they're the only UK bank still choosing to fund these toxic tar sands pipelines. Can you tell them to stop?
Join the movement of people standing up to Barclays – Sign the petition urging Barclays to stop funding climate-wrecking pipelines. 
Digital Campaigner for Greenpeace. Follow me on Twitter - @kashnaik
Other posts by Aakash Naik