Greenpeace volunteers in kayaks and boats have surrounded a 23,000 tonne ship attempting to block Volkswagen cars entering the UK
---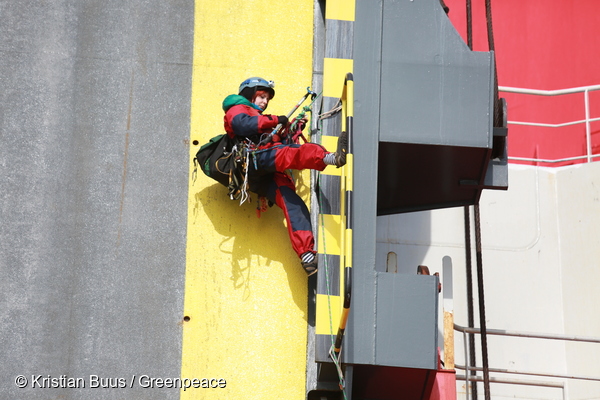 Mothers, fathers and people from all walks of life are currently doing everything in their power to stop more diesel cars entering our streets and communities.
25 Greenpeace volunteers in kayaks and boats surrounded a 23,000 tonne ship attempting to block Volkswagen cars entering the UK.
They drew up alongside the huge car carrier miles out at sea at 9am today and 2 are now hanging from the 27-metre-high unloading door.
They won't give up until VW commits to send it's toxic cars away from the UK and ditch diesel for good.
Simultaneously, 41 volunteers have scaled the fences at Sheerness port in Kent – the intended destination of the ship –and gained access to the vehicle park, where several thousand VW diesel cars are awaiting distribution to suppliers.
These brave volunteers are attempting to confiscate car keys of thousands of diesel cars.They are also lifting the bonnets and labelling the engines with messages from 8,000 Greenpeace supporters, including many car owners, calling on VW to ditch diesel.
The activists are from across the country and in many ways are like you and me. What unites them all is the determination for all of us to breathe clean air free from toxic pollution. Here is a little bit about some of the volunteers in action today and why they are taking action against air pollution.
Patrick – A doctor living in London
"I've commuted by bicycle in the city for the last 7 years and have experienced the extent of air pollution first hand. The situation is dire. My commute from Hackney to Camberwell takes me through some of the worst pollution black spots. I often find myself retching as I pass through the traffic. Early research has shown the deadly effects it can have on our health. To ignore this, or kick the can down the road, is a crime. I got involved with Greenpeace because I found the lack of action being taken on a variety of environmental issues quite depressing and distressing. Once I joined up and started to get stuck in, I realised how effective direct action and focussed campaigns can be in encouraging big business to behave responsibly. I've earned that big business often listens to us when we raise awareness and inform the public."
Frances – A trade Union worker from Herfordshire
"I live in Hertfordshire where there are illegally-high levels of nitrogen dioxide caused by diesel emissions. I studied Environmental Law at University and I've always felt a connection to the environment and a responsibility towards protecting it. Air pollution is something that is dangerous for all of us. Safer technology is available but some companies still refuse to invest in it because they put profit over our health. When businesses make wrong decisions that cause harm to people and to the environment we need to raise our voices. I know that if we work together we can make change. Of course I do get nervous when I take direct action but when the choice is to accept wrong doing or to prevent it I feel a personal responsibility to take action. To make change we need a lot of different people with different skills and abilities to work together. Peaceful direct action is something I can do to make change and I know it works."
J
o from the Black Isle in Scotland
Jo lives with her husband and teenage daughters. Her husband John and daughter Molly are also taking action at the port today!
"We are extremely fortunate to live in an area with relatively low levels of air pollution and it's easy to take that for granted, but surely clean air to breathe is something everyone should definitely be able to take for granted! If we want a healthy, habitable planet and clean air to breathe unfortunately we are going to have to fight for it because some companies still have the incredibly short sighted view that profit comes before people and planet."
Janet, A hostel support worker from Wales
Janet is a support worker at a hostel, supporting those at risk of homelessness. In her spare time she enjoys swimming, hiking and playing the trumpet. Janet explains her reasons for taking action today:
"Clean air is so fundamental to our well being that we mostly take it for granted, yet millions of us in our own little nation are unable to claim that right. Enough of the diesel. We have the brains the technology to put cleaner electric vehicles on the road, Now! I've been an active member of Greenpeace since I started studying Environmental Science at University many years ago. I thought at the time, what's the point of learning about the state of our planet if I don't do anything about it?
Jemima – A baker from Dorset
Jemima is 47 years old and lives in Dorset where she works in a bakery and as an arts educator. She has two children, a 19 year old daughter aged 17 year old son.
"I have experienced high levels of air pollution in my life when living and working in cities such as Newcastle and London. It is astonishing to me that a company such as VW would choose to continue to use and advocate unsustainable technology which damages the air that we breath and causes ill health.  I am nervous about this action but keenly aware that I have the opportunity to act for those families and children who cannot at this time – as others spoke out for my family when my children were tiny."
Phil, Cameraman from Oxfordshire
"I live in a rural part of Oxfordshire, the difference in air quality between Home and London is really noticeable. Recently I lived and worked in London for two months, when I cycled to work my eyes would sting and my nose became irritated, I noticed that i developed a cough that only got better when I went home, it made me glad that my kids are growing up in much cleaner air but also angry that other little pairs of lungs are being forced to breathe this poisonous air. I got involved in direct action when I had kids because i felt that the world they are inheriting isn't being looked after by the corporations and politicians who have the power and responsibility and Greenpeace is holding them accountable. I've now been involved with Greenpeace for 10 years. Last year I climbed a statue of Oliver Cromwell at Westminster and helped to put an air pollution mask on his face."
Other posts by Greenpeace UK