Locals come out in force to challenge BP's plans to drill near the Amazon Reef
---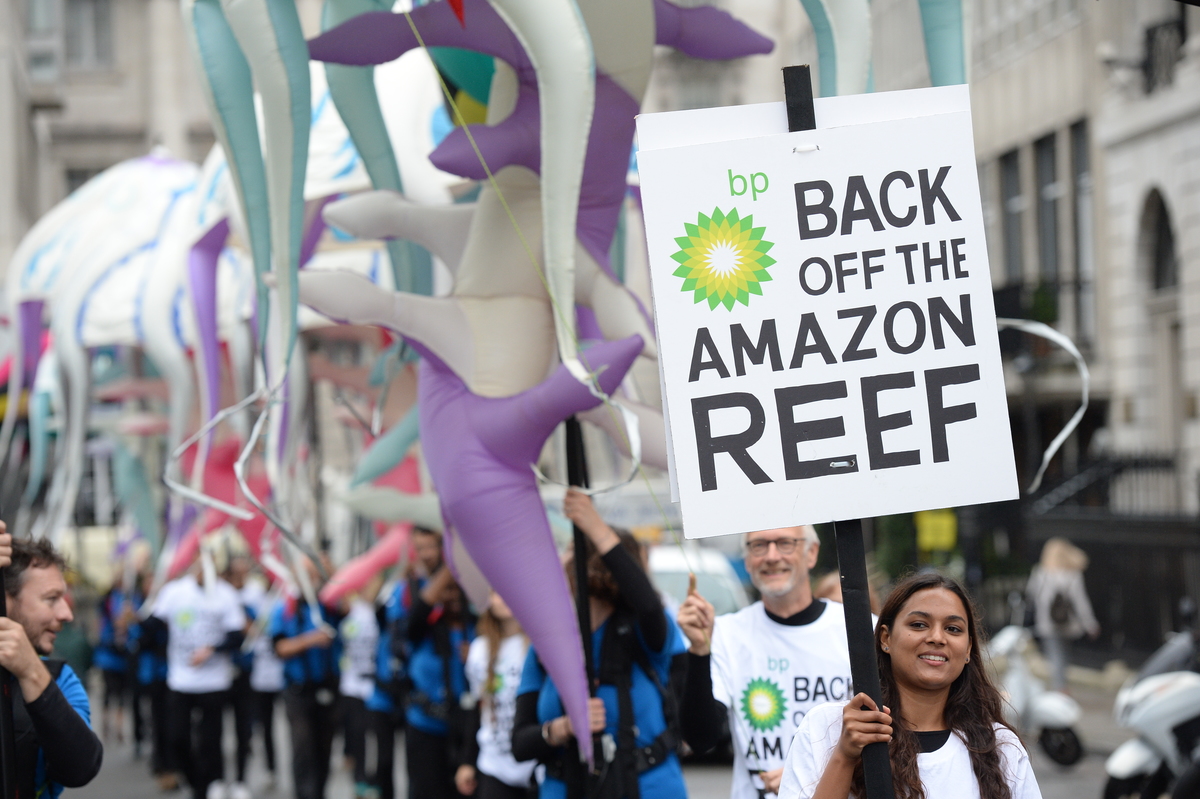 BP held three public hearings in Brazil last week, where 1,500 local people turned out to express concern about drilling in the Amazon Mouth Basin and a possible spill.

"In most of the projects that come to the Amazon, companies keep most of the profit. It's hard for people to be satisfied considering BP's project is only looking for the company's profit. In the case of an oil spill, it would be very hard to restore marine life in the region". Lucilene de Souza, from Colares, a small community in Pará state.
Lucilene was one of 1,500 people who participated in the public hearings organized by BP in Belém (Pará state), and Oiapoque and Macapá (Amapá state). These are just a few cities and communities that could be impacted by BP's search for oil.
Greenpeace was there, bringing messages from people all over the world who have pledged to protect the Amazon Reef, a unique and barely explored ecosystem.
What we saw at the meetings were people trying to be listened to; with huge doubts about whether the oil drilling would be good for them and concerns about possible oil spills. Even the few people who were in favour of the project asked BP about investments and jobs in the region, to which the company replied there would be almost no jobs created.

Gilberto Iaparrá, chief of Indigenous Council from Oiapoque, expressed concern about an oil spill reaching  Uaça river, in his land. "You come here to talk about oil exploration in our sea. And I want to know what will happen to our fishes and crabs if a spill happens. We worry about the environment because it's where we live, it's in the environment that our children live", he said.
BP told the meetings that oil could not reach the coast of Amapá. However, many citizens and researchers challenged this, saying for generations, people have seen the sea bring debris from the region where the blocks are. And the oil companies have not done key research on variations in ocean currents that would address these fears.
The chance of an oil spill is a huge worry for fishing communities in Amapá and Pará. Voyner Ravena, professor of ecology and fishing in the Federal University of Pará, said: "Today, we don't have enough information about the quantity of fish in the region where BP wants to drill. If an oil spill happens there, we will never know how the region was before the disaster. We don't have data about the fish living there", she said.
In Amapa people questioned BP about the lack of investment in Amapá state even though the drilling area is closer to their coast. BP will use Belém's infrastructure – the harbour and a maritime base. So, for Amapá's population, no new jobs will be offered. BP responded that Amapá has no infrastructure or people ready to work for them.
Teachers that spoke in the public hearing in Oiapoque asked also for investment in education in the region, as the company wants to explore oil there.
Thiago Almeida, from Greenpeace Brazil, highlighted the proximity of oil drilling to the Amazon Reef, an area with endangered and potentially new species: "Since there is a huge lack of knowledge about the Amazon Reef and the region, I want to ask that BP adopt the precautionary principle and stay out of the region".
From what we saw in Belém, Oiapoque and Macapá, people locally are not convinced that oil drilling near the Amazon river mouth is safe or beneficial, and fear the impact of an oil spill on their lives and livelihoods.

Please support them by telling BP to back off the Amazon Reef.
Other posts by Sara Ayech