In pictures: Fascinating forests of the world and what we are doing to them
---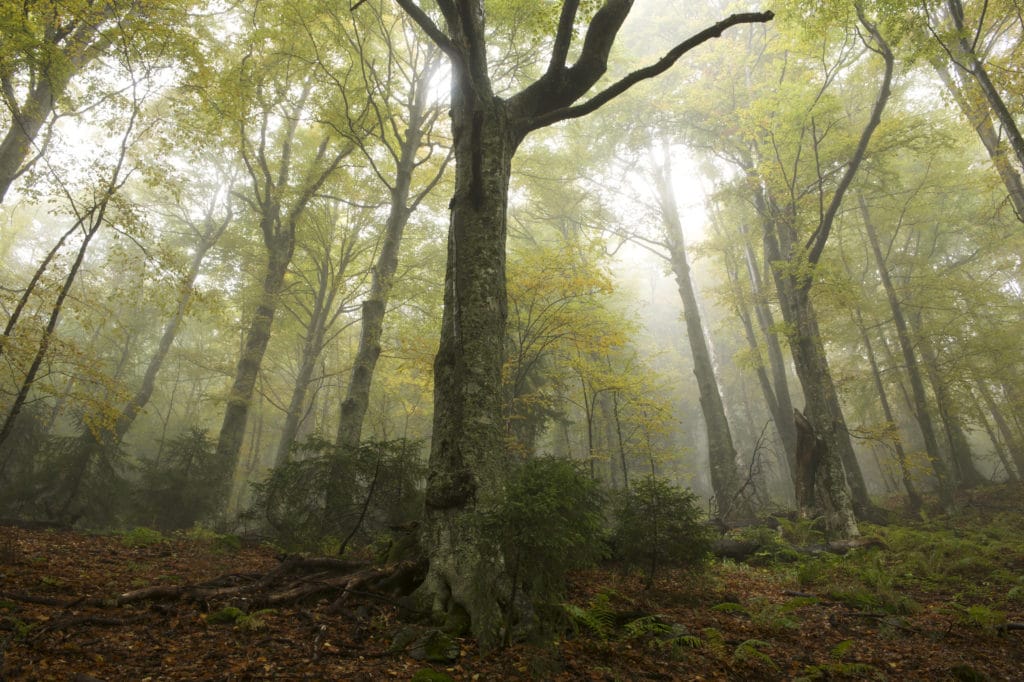 It's the International day of Forests today
and a quote by Mahatma Gandhi springs to mind: "What we are doing to the forests of the world is but a mirror reflection of what we are doing to ourselves and to one another."
Our archive pictures illustrate the beauty and importance of all types of forests and some of the threats they are facing. This year's theme is forests and water, trees are key to the world's freshwater supply with 75 percent of the planet's accessible freshwater coming from wetlands
and forested watersheds.
Help us to protect the trees and their diverse
ecosystems and put an end to deforestation by signing up to become a forest defender!
The Eurasian brown bear in the Carpathian Mountains which provide the habitat for the largest European populations of brown bears, wolves, chamois and lynxes, as well as over one third of all European plant species.
© Tomáš Hulík / Greenpeace 2015
Spring in the taiga, Lazorskiy Reserve, Primorye Region in the Southeast of Russia.
© Markus Mauthe / Greenpeace 2013
Siberian Tiger, Primorye Region in the Southeast of Russia.
© Markus Mauthe / Greenpeace 2007
Photo taken on the site of Shell's proposed Pierre River tar sands mine which is located in northern Alberta, on the Athabasca River between Fort McMurray and Fort Chipewyan.
© Ian Willms / Greenpeace 2012
Lush vegetation in the temperate rainforest of north west Tasmania in the Tarkine area.
© Markus Mauthe / Greenpeace 2013
Greenpeace documents the devastation caused by the Tasmanian bushfires in January and February 2016. More than 105,000 hectares of forest have been damaged by bushfires, including a World Heritage site with trees that are over 1,000 years old.
© Rob Blakers / Greenpeace 2016
View over the Kerumutan Peat Swamp Forest – important habitat for the critically-endangered Sumatran tiger.
© Kemal Jufri / Greenpeace 2012
Villagers in a canal transport sago logs to the sago factory in Sungai Tohor, Riau. Sago is a starch extracted from the spongy centre, or pith, of various tropical palm stems.
© Afriadi Hikmal / Greenpeace 2016
In a new oil-palm plantation near Sungaihantu, in South Kalimantan, the skeleton of a tree is the last relic of the rainforest that once was.
© Daniel Beltrá / Greenpeace 2009
Aerial photograph showing rainforest in Pará state, Brazil. The Ipê tree flowers with brilliant pink, yellow or white flowers every September. It is a valuable timber for its wood, known for its durability, strength and its natural resistance to decay. Ipê growing in the Amazon has a low population density, with an average of one tree per 10 hectares. This means that large areas of forest need to be opened up to access these valuable trees.
© Daniel Beltrá / Greenpeace 2013
Forest fires in the indigenous land (TI) Arariboia, located in Maranhão State, home to 12,000 Guajajaras and about 80 isolated individuals of the Awá-Guajá people. The fire already lasts two months and is the largest ever recorded in Brazilian indigenous lands. About 45% of 413,000 hectares of land have been destroyed. The lack of an effective policy to protect indigenous lands allows illegal logging and increases the risk that fires like this can happen in other lands, since the degradation caused by illegal logging makes the forests vulnerable to fire.
© Marizilda Cruppe / Greenpeace 2015
View of landscape at Pantanal Wetlands in Brazil.
© Markus Mauthe / Greenpeace 2013
Close up of an owl at Pantanal Wetlands in Brazil.
© Markus Mauthe / Greenpeace 2013
Nordic forest in Sweden. Muddus National Park.
© Markus Mauthe / Greenpeace 2010
Autumn sunlight on beech trees in the Kellerwald forest, in the German state of Hesse. Deciduous forests, as a CO2 sink, are of importance for the climate and provide home to numerous animal and plant species.
© Michael Loewa / Greenpeace 2013
Boreal Forest in Quebec Canada. Polar light over the trees in an autumn night.
© Markus Mauthe / Greenpeace 2011
Other posts by Angela Glienicke