Plastic is not Fantastic
---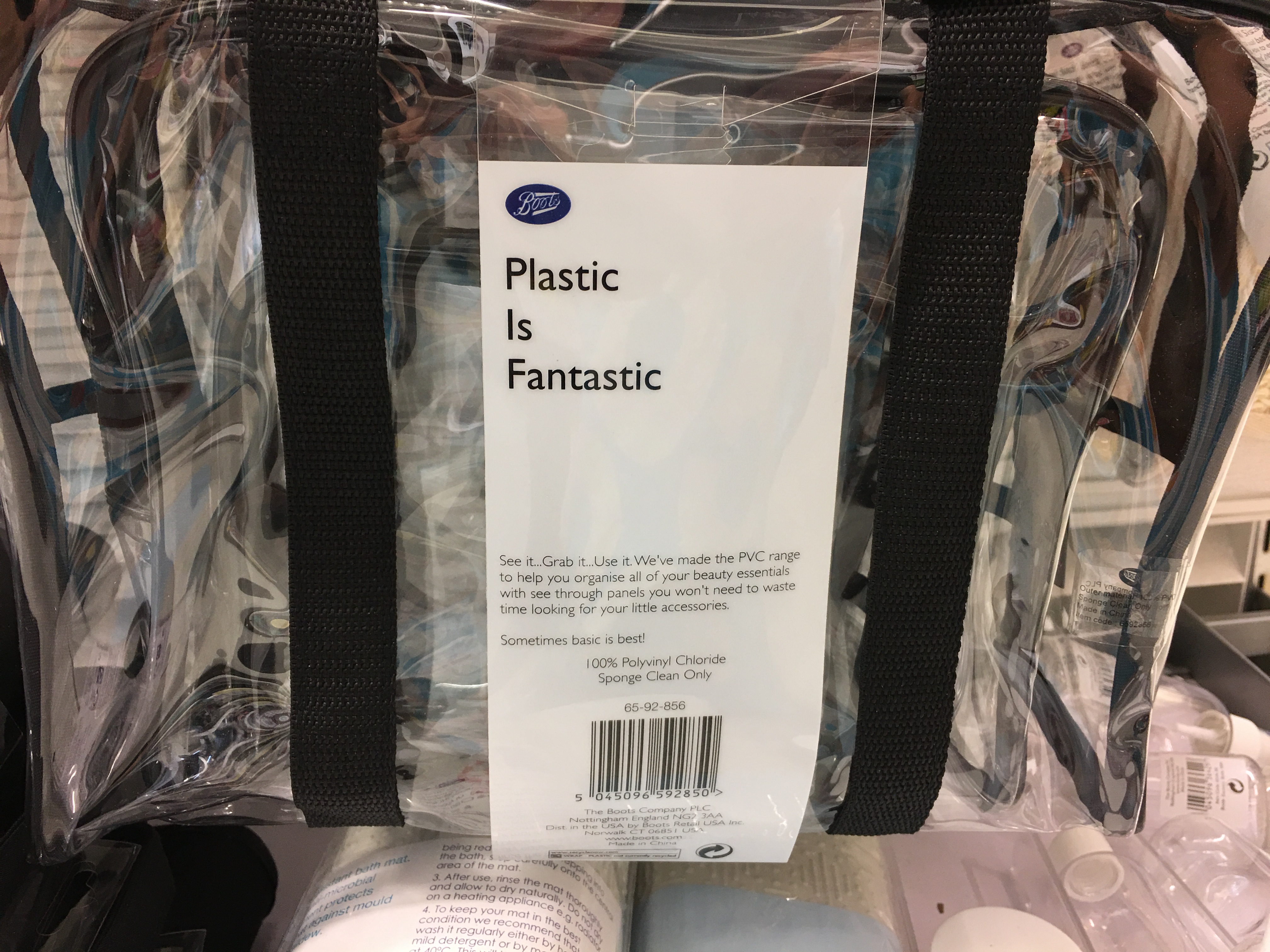 Sometimes it can feel that as individuals it's hard to make a difference. So when we heard about Leah Bromley's small scale but highly effective action against Boots, we wanted to share her story!
Leah got in touch with Boots after spotting their 'Plastic is Fantastic' range of PVC cosmetic and toiletry bags.
Leah explains: "I first came across the packaging in April of this year. I was browsing the store and I noticed the slogan on the cosmetic bags. My initial response was that the slogan contradicted everything I understand about a sustainable lifestyle and the negative impacts of the use of plastic.
"I was also struck by how, despite an increased awareness among the general public about the use of plastic, this slogan neglects to show any thought that plastic is bad for the environment."
Leah contacted the company, pointing out her concerns about the message it was sending. Boots replied to say they had passed her concern onto the packaging team, but 2 months later Leah still hadn't heard back from them.
She emailed again to ask what action had been taken – the reply simply said 'we are unable to discuss any results of our internal review meetings as this is company sensitive information.'
But after Sky News picked up on Leah's story and ran a news item about it, the company finally responded. Boots told the broadcaster that they will immediately remove the slogan from products online and will remove it from items in stores from 2018.
This is a positive step – the message that 'Plastic is fantastic' (especially PVC which is particularly bad for the environment!) is outdated and ignores the huge environmental impact that plastic pollution has.
Leah is delighted that Boots have taken action: "Plastic is on the whole, a single use, non-biodegradable product which will be present in our ecosystems for years to come. It washes up on our beaches and is ingested by fish in the oceans.
"The use of plastic is so ingrained in modern life, it is difficult to imagine an alternative. Despite this, it is so important to make changes to our lifestyles that reduce its use. Simple changes such as reusable water bottles or consuming products only made from recycled plastic can reduce its usage. It is also important to be aware of local authority regulations on plastic recycling to ensure as much plastic can be recycled as possible."
Leah's action of emailing a company may seem small but has resulted in positive real world impact!
So next time you're out and about and see something you think is just plain wrong – whether it be plastic wrapped bananas or plastic straws or stirrers – why not email the company responsible or send them a message on social media? As Leah has proved small actions can have huge impacts.
You can find our top tips to reduce your every day plastic use here.
Other posts by Alice Hunter