Saving the Sumatran tiger
---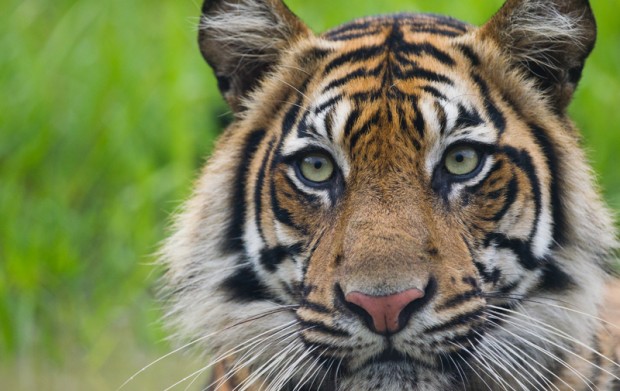 Endangered tigers are about to get a boost from an unlikely place. Renowned artist and photographer David Bailey has created an installation to draw attention to the plight of Sumatran tigers.
The installation – containing 400 brass tigers to represent the 400 or so thought to the left in the Sumatran forests – is being exhibited in the window of Fortnum and Mason in London until 1 June. With tiger numbers still decreasing, there is a very real danger they will become extinct unless we take urgent action.
For thousands of years, three species of tiger lived in the Indonesian rainforest. Today, two of them have been driven to extinction by poachers and hunters. Only the Sumatran tiger can still be found in the rainforest. But for how much longer?
The Sumatran tiger needs large areas of forest to survive. But its habitat is being destroyed: since 1990, 31 million hectares of Indonesian rainforest have been destroyed – an area the size of Germany. The Sumatran tiger population has decreased to as few as 400 today. It is now classed as critically endangered.
As unscrupulous companies expand their operations into the rainforest, the tigers' prime habitat has been fragmented into isolated patches of forest. This makes it harder for the Sumatran tiger to hunt, and leaves them more vulnerable to poaching. Fragmentation of intact rainforest is also the first step in their degradation, leading ultimately to the loss of the forest itself – and everything that lives within it. Over 26 years between 1985 and 2011, half of Sumatra's natural forest has been cleared.
The palm oil industry is one of the major drivers of deforestation in Indonesia. Greenpeace investigations both on the ground and through satellite analysis have exposed how a significant amount of the forest was cleared in order to facilitate illegal palm oil plantations.
And it gets worse. Even in protected areas like the Tesso Nilo National Park, only patches of forest suitable for tigers remain: evidence shows that less than a quarter of the National Park remains forested. All that remains in huge sections of the awe-inspiring landscapes where the Sumatran tiger had lived for centuries are plantations producing dirty palm oil.
We've been working for decades to protect our rainforests. We've persuaded Indonesia's largest pulp and paper company APP to commit to zero deforestation, along with protecting and restoring one million hectares of forest. And we're making progress in changing the palm oil industry – the recent commitments made by major palm oil trader IOI to no longer produce or buy dirty palm oil is a big step in the right direction.
But we must turn these industry promises into concrete and immediate action. We must stop other companies from clearing more land to create plantations. And we must force the Indonesian government to provide long-term protection for the Sumatran Tiger and its rainforest home.
David Bailey's Tigers runs from Tuesday 23 May – Thursday 1 June 2017, and Greenpeace will receive proceeds from the sale of the tigers.
Other posts by Jamie Woolley